Three takeaways from the Ontario Reign's 6-2 win vs Grand Rapids
The Ontario Reign netted six goals and clinched a playoff spot in a 6-2 win against the Grand Rapids Griffins Tuesday night.
Goal breakdown
1st period: 
ONT: Martin Frk (32) ASST: T.J. Tynan (65), Taylor Ward (1)
ONT: Martin Frk (33) ASST: T.J. Tynan (66), Thomas Hickey (10)
GR: Dominik Shine (9) ASST: Turner Elson (18), Jonathan Berggren (25)
ONT: T.J. Tynan (12) ASST: Taylor Ward (2), Martin Frk (28)
GR: PP Riley Barber (11) ASST: Jonathan Berggren (26), Kyle Criscuolo (20)
2nd period: 
ONT: Aidan Dudas (9) ASST: Brett Kemp (1)
ONT: Jaret Anderson-Dolan (22) ASST: Vladimir Tkachev (18), Christian Kasastul (7)
3rd period:
ONT: T.J. Tynan (13) ASST: Taylor Ward (3), Martin Frk (29)
Goals: 
GR: 2
ONT: 6
Shots: 
GR: 26
ONT: 20
Power-plays: 
GR: 1/5
ONT: 0/4
Three takeaways from Tuesday's victory:
1. Playoff bound
Breathe a sigh of relief Reign fans. The four-game losing streak is over. With their 6-2 win against the Grand Rapids Griffins, the Ontario Reign have officially booked their ticket to the Calder Cup Playoffs for the first time since 2018. The Reign struck first just 57 seconds into the game off a goal from Martin Frk and never looked back the rest of the way.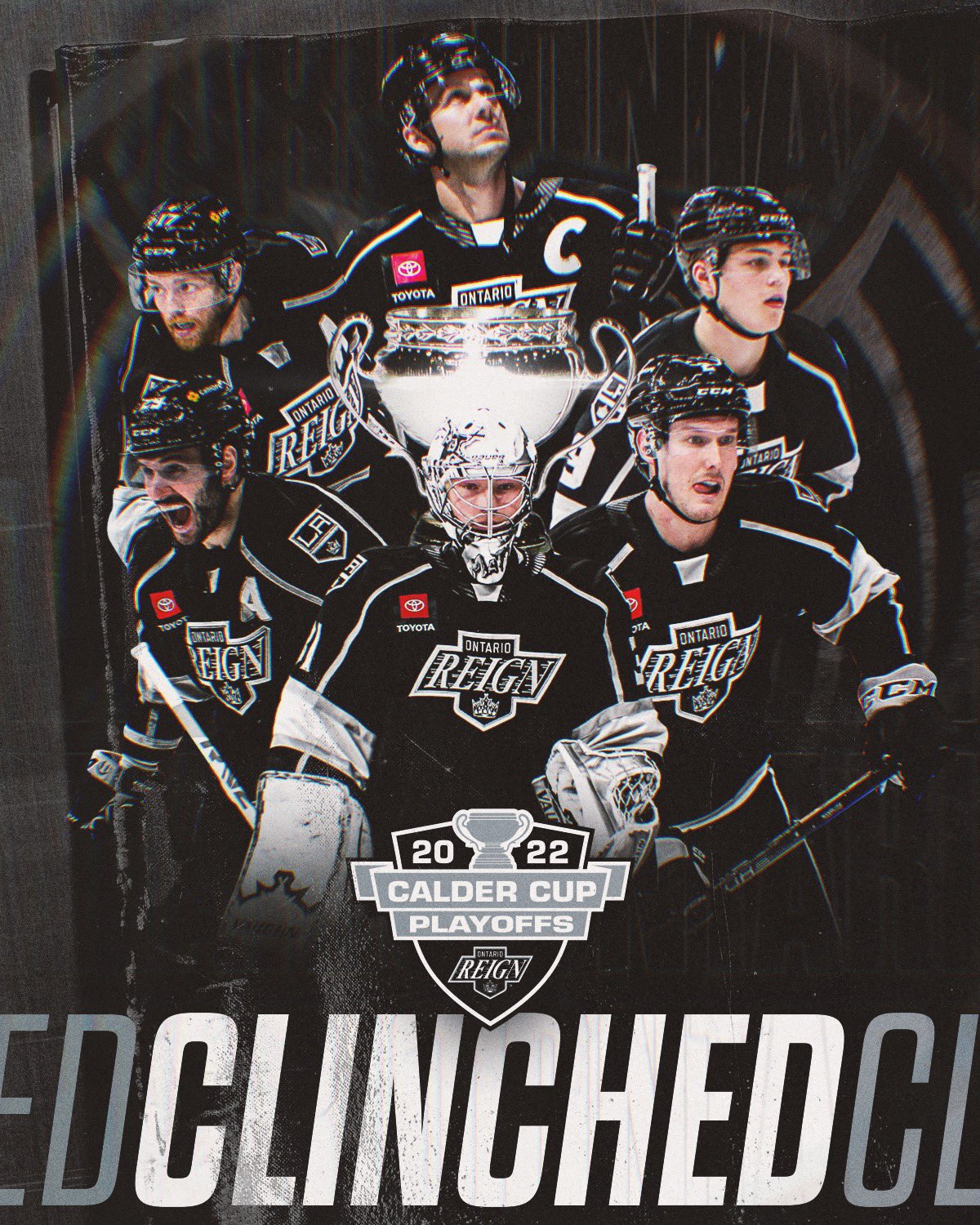 The Reign will probably take a couple of days to enjoy this and get right back to work. They can still catch the Stockton Heat in the standings for first place in the division but will need a little luck to do so. If they can't, then they will have to cushion their lead for second place in the division. Remember, the first-place team in the division gets a first-round bye.
2. First-line dominance
Last night was all about the first line. Taylor Ward, T.J. Tynan, and Martin Frk all came to play last night. Martin Frk scored two goals against his former team in just under five minutes in the opening frame. Frk ended up having a total of four points on the night with two goals and two assists.
Great second chance by @Frky91 pic.twitter.com/SRNNpjtfgl

— Ontario Reign (@ontarioreign) March 23, 2022
T.J. Tynan had himself a four-point night as well with two goals and two assists. The reigning AHL MVP now has a total of 79 points on the year and is tied with Chicago Wolves forward Andrew Potualski for the league lead in points. In both of Tynan's goals, he showed off a great shot. Normally known as a passer, Tynan registered his second multi-goal game of the season.
TJ Tynan now has 4 points tonight! pic.twitter.com/eESWZpLHNN

— Ontario Reign (@ontarioreign) March 23, 2022
Let's not leave out Taylor Ward either. After signing an ATO with the Reign on Saturday he made his debut on Sunday. On Tuesday, in just his second game, Ward registered three assists for his first career professional points. All in all, the first line had a combined four goals and seven assists for eleven points along with a +/- of 12. Great night by all three of them.
3. Standings watch
After last night's game, the Reign have 14 games remaining on their schedule and sit four points behind the division-leading Stockton Heat. While the Reign took care of the Griffins, the Heat had beaten the San Jose Barracuda 3-1. Stockton has a game in hand on the Reign so they will need a bit of luck to catch them. The two teams meet up on April 8th and April 10th for the final two meetings against one another. You can expect those games to have a playoff-like atmosphere. But, the Reign can't look ahead. They have to take care of what's in front of them before they get to those dates. You can only control what you can control.
Next up: The Ontario Reign travel head to San Diego to meet the Gulls on Saturday at 7:00 pm PT.