Samuel Helenius will reportedly join Reign after Liiga season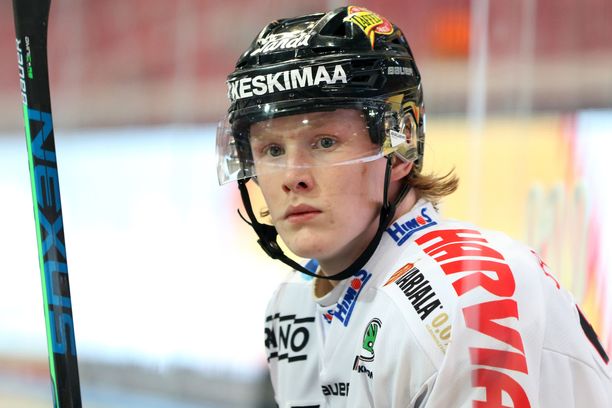 Another Kings prospect could be joining the Ontario Reign in the coming weeks when the Finnish Liiga regular season ends.
The LA Kings 2021 second-round draft pick Samuel Helenius is expected to join the Ontario Reign when his season with JYP in Liiga is finished.
In 48 games in Finland's top professional league, Helenius has scored three goals and nine points. In channeling his dad, former NHL tough guy Sami, he also added 76 penalty minutes.
Tuesday was the last game of the season that Helenius will play for JYP. He scored in the second period to give JYP the 1-0 lead.
The 6-foot-6 forward was excellent in the abbreviated World Junior Championships. In just two games he had three goals and an assist and was impactful at both ends of the ice:
Kings prospect Samuel Helenius getting it done at both ends of the ice for Finland in Game 1 of the #WorldJuniors pic.twitter.com/id3XL7iXew

— Jared Shafran (@ShafReign) December 26, 2021
At just 19 years old, Helenius has already played over 100 games of pro hockey in his native Finland. While he's struggled in terms of his production at that level, the experience he's gained at a young age should help him as he makes the transition to North America.
When playing amongst his own age group, he has excelled. This would have been his second World Junior Championships. He participated in the tournament as an 18-year-old as well, scoring four points in seven games.
In his recent 2022 Prospect Pool Rankings, The Athletic's Scott Wheeler ranked Helenius 18th in the Kings organization. Wheeler noted the skill level that he brings in that "he's got some soft skill that you might not expect out of a player that size". He also mentioned how Helenius is viewed by his coaches and teammates, "He's also a coach's favorite who is by all accounts a good teammate, a leader, and someone coaches feel they can trust him to win battles and play reliably defensively."
One of the things that stuck out to me in watching the World Juniors was his defensive play. He was a very responsible player on the backcheck and was well-positioned as a penalty killer. Good traits to show as a young player.
JYP is not going to make the Liiga playoffs so it's conceivable that Helenius could join the Reign before April. Though, he will need to wait for his passport situation to get straightened out, "I have dual citizenship. My old American passport had become old, so I will leave when the new passport arrives" he said.
There is some thought that the smaller ice surface in North America will better suit Helenius' game:
Samuel Helenius (LAK) will go to play in AHL after his Liiga season is over. Interesting to see how that works out. His style could suit the smaller rink and NA style more in my opinion. https://t.co/hL8QRj3xuT

— Eetu Siltanen (@siltaneneetu) March 20, 2022
Helenius seems to agree, "AHL's style of play is also better suited to my own style of play when I get to take advantage of my big body."
We will keep an eye on this development. It would certainly give Kings fans yet another reason to tune into the Ontario Reign the rest of the season.