Three things to watch for in Ontario Reign vs Bakersfield on Monday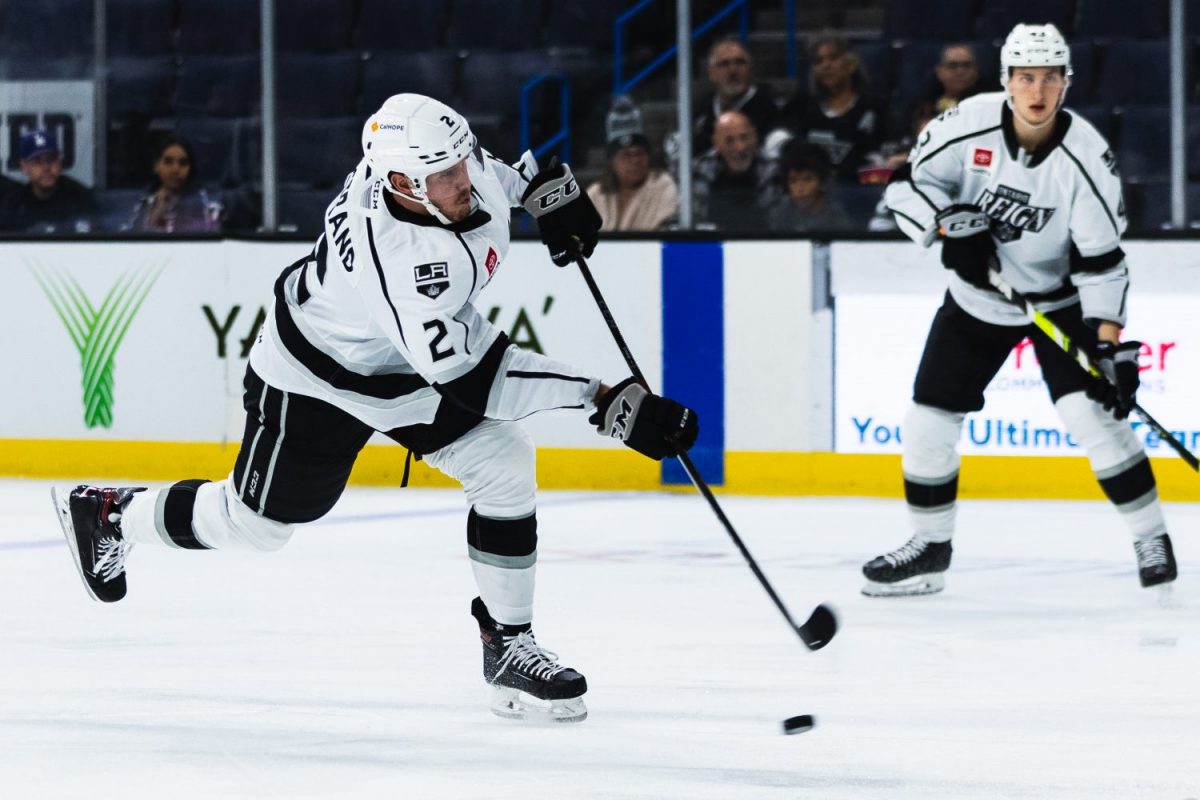 The Ontario Reign takes on the Bakersfield Condors for the 3rd time at Toyota Arena and 7th time this season tonight.
Tale of the tape
Powerplay
BAK: 18.9% (21st)
ONT: 26.9% (1st)
Penalty kill
BAK: 79.3% (23rd)
ONT: 77.4% (25th)
Goals for
BAK: 153 (13th)
ONT: 197 (1st)
Goals against
BAK: 137 (6th)
ONT: 148 (11th)
Key players
BAK: Seth Griffith – 20 goals, 32 assists, 52 points
ONT: T.J. Tynan – 11 goals, 59 points, 70 points
Three things to watch for in tonight's matchup:
1. Have a shoot-first mentality
It's rare you hear someone say that about this year's Ontario Reign team. Assistant coach Chris Hajt, who is taking over for John Wroblewski, brought up having a shoot-first mentality going forward after Friday night's game. Last Wednesday and Friday's game, the Reign didn't get a lot of shots towards the opposing net even though they won both games. Saturday's game they were better at getting shots towards the net and that will need to continue tonight against the Condors. Ontario is three goals away from the 200 goals scored mark and in order to reach that mark, they will need to have a shoot-first mentality again.
2. T.J. Tynan
What a pick-up T.J. Tynan has been for Ontario this season. In 42 games played, Tynan has 59 assists and 70 points on the year. Including tonight, the Reign has 20 games left on the schedule. The record for assists in a season came in the 1953-1954 season by George Sullivan with 89 assists. As you can see, Tynan has to get 31 assists in 20 games to break the record that has stood 67 seasons. Tonight, Tynan will look to inch closer to that record. Keep an eye on him tonight and see how many goals he gets an assist on. As each game goes on, it'll be fun to see him try and break the record.
3. Extend the winning streaks
The Ontario Reign have won seven straight home games and their last four games overall. Tonight, the Reign will look to extend both of those winning streaks against a Bakersfield Condors team that has won two straight games. Ontario has won both games at home against the Condors this year by identical 3-2 scores.
With the Condors winning two straight and the Reign winning four straight, one of those winning streaks will end tonight. In the last meeting between the two clubs, the Condors gave Ontario a 5-1 thumping in Bakersfield, perhaps Ontario will look for some revenge. While the Reign are ahead of the Stockton Heat by three points in the standings, they are still in second place because of percentage points. Tonight will be another big game for Ontario.
The puck drops at 7:00 pm PT at Toyota Arena and can be seen on AHLTV.