Three takeaways from Ontario's 6-3 win over Henderson on Saturday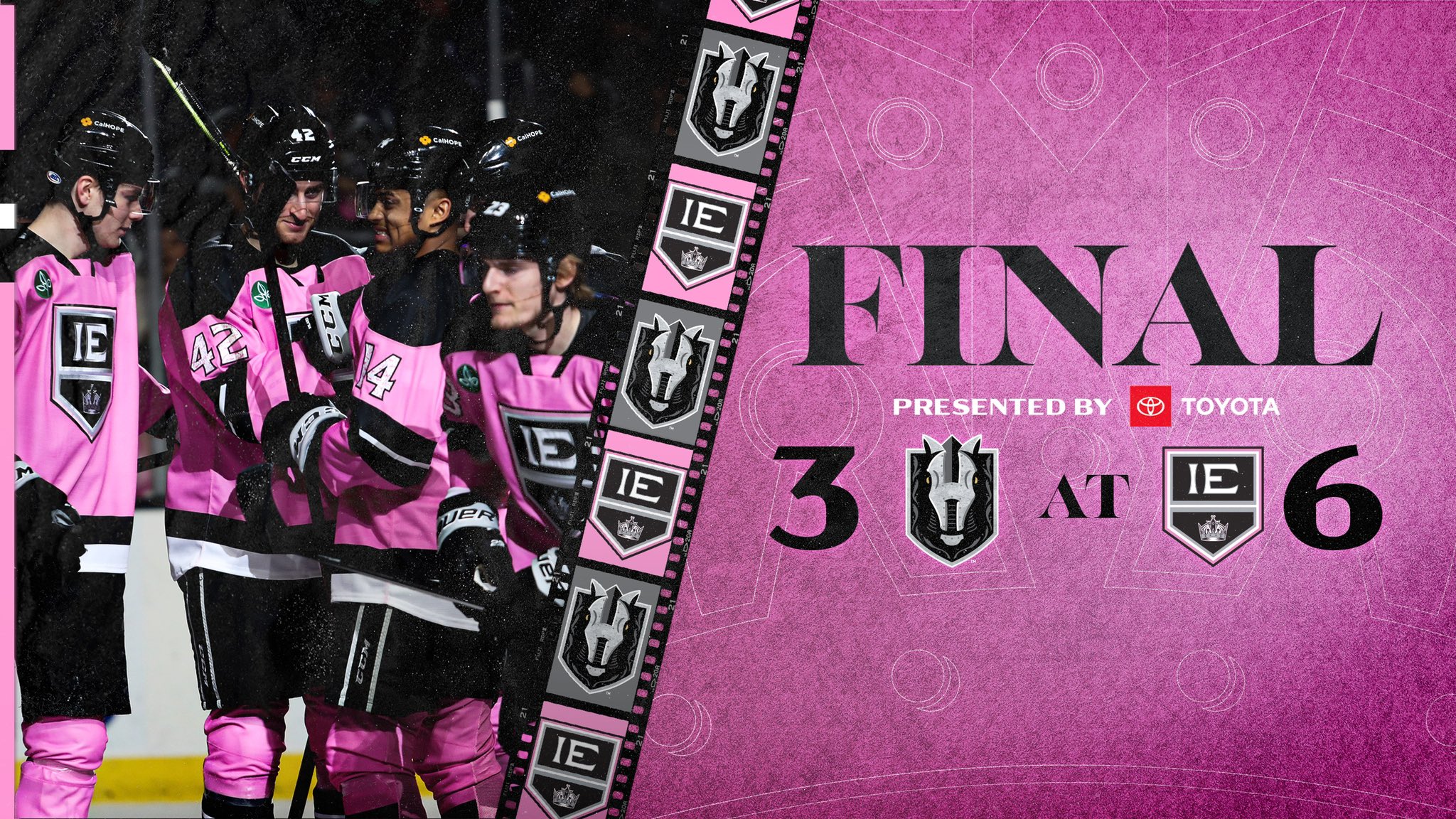 Lias Andersson's goal streak continues and Rasmus Kupari pots two as the Ontario Reign beat the Henderson Silver Knights 6-3 on Saturday.
The Ontario Reign needed third-period goals by Rasmus Kupari and Vladimir Tkachev to break a 3-3 tie, ultimately knocking off the Silver Knights 6-3 to complete the sweep of the back-to-back set.
Ontario is now 32-10-3-3 (70 points) and still in second place in the Pacific. Stockton has three games in hand on the Reign and holds the edge in win percentage.
The loss drops sixth place Henderson to 23-19-3-1 (50 points).
In a period that saw the two teams trade a pair of goals each, the first 20 minutes were relatively quiet. Henderson outshot the Reign 8-5 but used two power-play goals to offset goals by Helge Grans and Lias Andersson.
Andersson's goal was his fifth goal in his last five periods of AHL hockey.
2-1 Andersson(5)-ASST: Wolanin(10), Thomas(2): https://t.co/hTYwhmU5kj#Reign pic.twitter.com/LMQOjRe0Y9

— Eric (@kingsgifs2) March 6, 2022
In the middle frame, two of the Reign's hottest players connected when Gabriel Vilardi made a pretty move around a defenseman before feeding Jordan Spence to give Ontario a 3-2 lead:
3-2 Spence(4)-ASST Vilardi(22), Gaunce(15): https://t.co/0mu7RA8cWe#Reign pic.twitter.com/viWVOG28eI

— Eric (@kingsgifs2) March 6, 2022
It was a feisty second period as the two teams combined for seven penalties, including a fight between Austin Wagner and Brayden Pachal.
The Silver Knights tied things up early in the third period when Derrick Pouliot got a good bounce off of Christian Wolanin's stick. The game wouldn't be tied long as just over three minutes later, Kupari would score a beauty:
4-3 Kupari(4)-ASST Fagemo(11): https://t.co/bODw18IttZ#Reign pic.twitter.com/zGPbyejxsC

— Eric (@kingsgifs2) March 6, 2022
After Tkachev's tally off of a nice passing play with T.J. Tynan and Martin Frk put the Reign up by two, Kupari sealed the deal with a short-handed empty-net goal.
Here are three things that stood out on Saturday:
1. Paging Blake?
It seemed that everyone that has either spent time in Los Angeles this season – or was expected to spend significant time in Los Angeles – got on the scoresheet on Saturday.
Rasmus Kupari played 37 games for the Kings this season before being sent down to Ontario. He had two third-period goals against Henderson, the first of which proved to be the game-winner.
Gabriel Vilardi (one assist), Lias Andersson (one goal), and Samuel Fagemo (one assist) all picked up points in this one as well. Martin Frk (two assists) and T.J. Tynan (two assists) aren't necessarily prospects but each spent some time with the Kings earlier this season.
There's no shortage of options for forward help should the Kings need it. And as the trade deadline looms, all of these players could conceivably be NHL players. Will they get a look again this season? If so, will it be in LA?
2. A chippy affair
As tends to be the case when playing the same team on back-to-back nights, things got a little heated between the Reign and Silver Knights on Saturday. In the second period, Brayden Pachal edged off Austin Wagner along the wall as the latter was entering the zone. Wagner seemed to think it was late and took a swing at Pachal. The two ended up dropping the gloves with Wagner getting the additional roughing minor.
Later in the period, Martin Frk took a stick up high from Paul Cotter behind the Henderson net but nothing was called. The Reign nor the fans were too pleased and as the play went up ice, T.J. Tynan clipped Jack Dugan up high with what was close to being a dangerous hit in its own right. However, like the Frk play just before it, there was no call on the play.
Samuel Fagemo would bowl over Logan Thompson just minutes later which would draw yet another crowd.
While the third period was tamer, there will be plenty of time for the two sides to cool off, they don't play each other again until the final game of the season on April 30th.
3. Lethemon earns second win
In his second start of the season, John Lethemon was solid in net to pick up his second win. He ended the night with 27 saves but nearly half of those came in the third period when he turned away 13 shots.
He allowed two power-play goals in the first period. The first of which Jack Dugan was left all alone in the right circle and the second was a deflection in front by Pavel Dorofeyev.
The early third-period goal was an unlucky bounce off of the stick of Wolanin and after that, shut the door as Henderson outshot the Reign 30-21.
While it isn't worth reading too much into just two starts, Lethemon has looked very good and has an opportunity to stick around if his strong play continues.
The Reign are back in action on Monday when they host Bakersfield.