Three things to watch for in Ontario Reign vs Bakersfield on Monday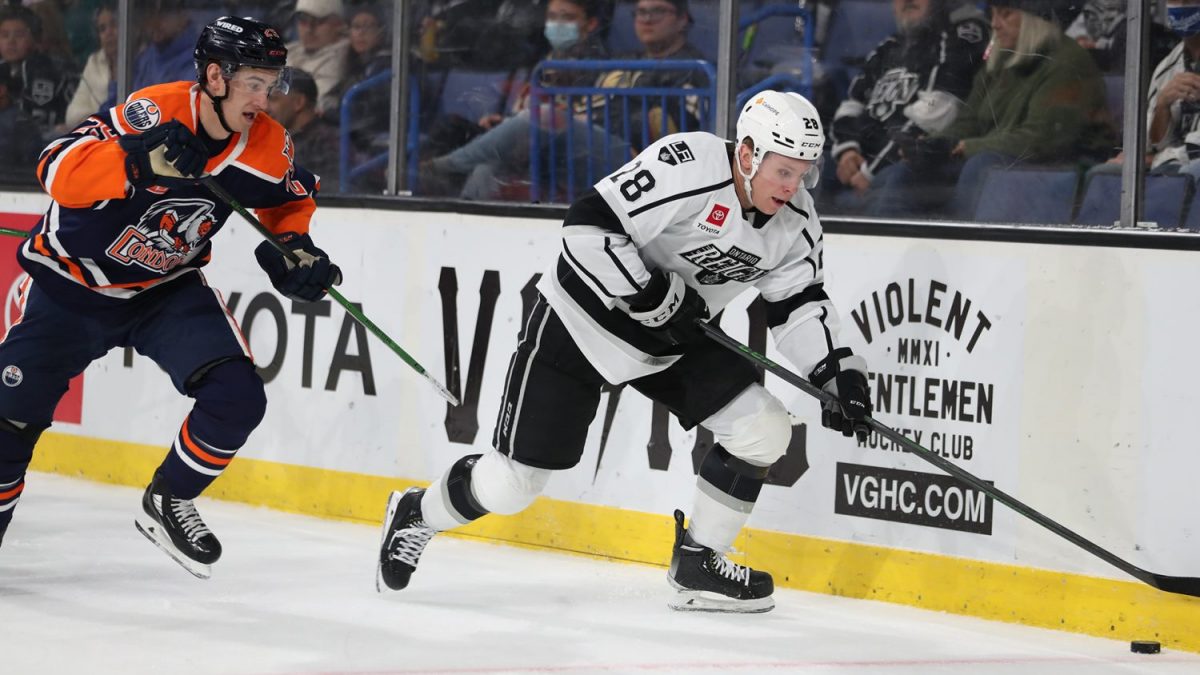 After a split in Stockton, the Ontario Reign takes on the Bakersfield Condors in the fifth game of their six-game road trip.
Tale of the tape
Powerplay
ONT: 28.1% (1st)
BAK: 18.4% (19th)
Penalty kill
ONT: 76.3% (27th)
BAK: 81.6% (14th)
Goals for
ONT: 161 (1st)
BAK: 118 (20th)
Goals against
ONT: 121 (14th)
BAK: 106 (4th)
Key players
ONT: T.J. Tynan – 8 goals, 44 assists, 52 points
BAK: Seth Griffith – 15 goals, 27 assists, 42 points
Three things to watch for in tonight's game:
1. Contain Cooper Marody
Cooper Marody is in his fifth season with the Bakersfield Condors and has been an absolute pain in the neck for the Ontario Reign. In 29 career games vs the Ontario Reign, Marody has registered 14 goals and 14 assists for 28 points. Marody recorded half of his 14 goals (7) in the shortened season against the Ontario Reign last year. In five games against the Ontario Reign this season, Marody has scored three goals, including a two-goal game on December 29th.
Bakersfield has plenty of good players like Marody, but it will be very important for the Reign to make sure that he, alone, doesn't do damage tonight. They might not shut him down completely, but they have to make sure he isn't a factor. Will Ontario be able to make him a non-factor tonight? We'll just have to wait and see.
2. Success in Bakersfield
The Bakersfield Condors have the sixth-best record on home ice this year and have won seven of their last eight home games. The Condors have a 11-4-1-1 record on home ice this year, with two of those losses coming at the hands of the Ontario Reign. In the last three seasons, including this year, the Reign are 9-3-1-0 in their last 13 games in Bakersfield.
In order to continue their success in Bakersfield, Ontario will need to get off to a great start. With the Condors trailing the Reign by 10 points in the division standings and on fire at home, they will need to continue that success in Bakersfield. Good teams find a way to win on the road, and the Ontario Reign will look to do that on Monday.
3. Another close game?
Four of the five meetings between the two teams have been decided by one goal, and the last three games have gone to overtime or a shootout. If history repeats itself, we could be in for another close game from these two clubs.
All of the games decided by one goal have had the final score end up being 3-2 (where have we heard that before?). Playing on the road and with the possibility of being a close game, the Reign will need to get off to a good start and strike first early. Every game from here on out will be important.
The puck drops at 6:30 pm PT in Bakersfield at the Mechanics Bank Arena and can be seen on AHLTV.
Even though it is Valentine's day, there will be no love on the ice between these teams.