Three takeaways from the Ontario Reign's 4-3 OT win vs Tucson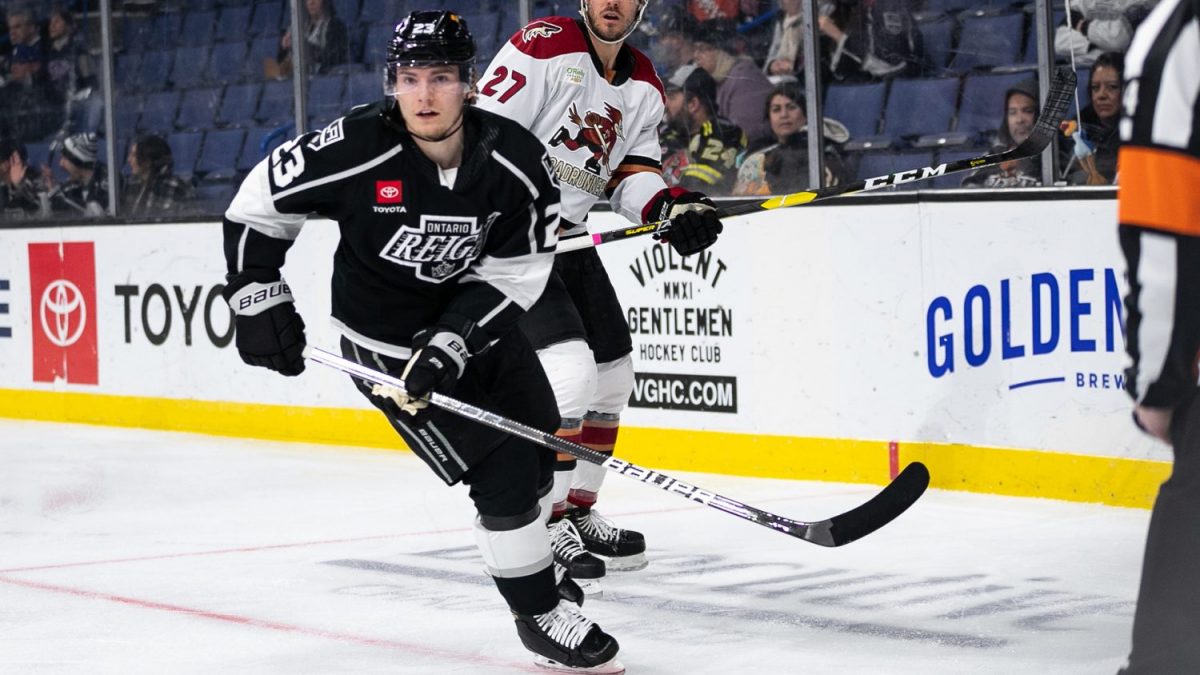 The Ontario Reign was able to overcome a slow start and rally in the 3rd period for a 4-3 overtime win against Tucson.
Goal breakdown
1st period:
TUC: Michael Carcone (22) ASST: Cam Dineen (14), Travis Barron (9)
TUC: Terry Broadhurst (5) ASST: Jan Jenik (17)
TUC: PP Hudson Fasching (8) ASST: Jan Jenik (18), Cam Dineen (15)
ONT: Jacob Doty (1) ASST: Austin Wagner (8), Christian Kasastul (6)
2nd period:
None
3rd period: 
ONT: Lias Andersson (1) ASST: Samuel Fagemo (9), Gabriel Vilardi (21)
ONT: Lias Andersson (2) ASST: T.J. Tynan (53)
Overtime:
ONT: Martin Frk (28) ASST: T.J. Tynan (54)
Goals:
TUC: 3
ONT: 4
Shots:
TUC: 29
ONT: 28
Power-plays:
TUC: 1/3
ONT: 0/3
Three takeaways from Wednesdays' win:
1. Slow start
It was a slow start for the Ontario Reign once the puck dropped. Tucson's forward Michael Carcone broke the ice scoring just 22 seconds into the opening frame. Tucson came out with energy from the jump as the Reign looked to be sleepwalking most of the first period. With just under five minutes left, Ontario found themselves down 3-0 while getting outshot 11-4 but would get a goal by Jacob Doty before the period ended heading into the intermission down 3-1.
But like they say, hockey is a game of 60 minutes. Going forward, Ontario will have to get off to better starts if they want to avoid a 3-0 deficit early in the game. The good thing is they have ten games remaining this month with eight of them at home.
2. Third-period comeback
As they say, hockey is a game played for 60 minutes, not 20 minutes. While the Reign didn't have their best start for 58 minutes, they ultimately made up for it in the final two minutes. Earlier in the afternoon on Wednesday, Lias Andersson was sent down from Los Angeles to Ontario for a conditioning stint. In a span of 1:24, Andersson brought the Reign to within a goal and would eventually tie it with just over 30 seconds remaining in regulation.
So @liasandersson welcome back pic.twitter.com/krX2xdNL1I

— Ontario Reign (@ontarioreign) March 3, 2022
Here's the tying goal – Courtesy of @liasandersson !!! pic.twitter.com/elgAGuGSFB

— Ontario Reign (@ontarioreign) March 3, 2022
As you can see, the second goal scored was from the goal between the legs. "I think it's instinctive. It's actually not as hard as it looks", said Andersson when asked about his game-tying goal. Do you think it's hard or not? We'll let you be the judge.
3. Martin Frk caps off the comeback
In the overtime session, only one shot on goal was recorded between the two clubs. That shot on goal would off the stick of Reign forward Martin Frk at the 1:22 mark. Frk's 28th goal of the season capped off the Reign's thrilling 4-3 overtime comeback. Any shot is a great shot when Martin Frk has the puck on his stick and this wrist shot beat Tucson goalie Ivan Prosvetov blocker side for the game-winner and giving Ontario the season series win against Tucson as well.
All hail @Frky91 🌧🚂👑 pic.twitter.com/atTQfNvY5f

— Ontario Reign (@ontarioreign) March 3, 2022
Next up: At home vs the Henderson Silver Knight Friday at 7:00 pm PT.