Three takeaways from the Ontario Reign's 4-3 win vs San Diego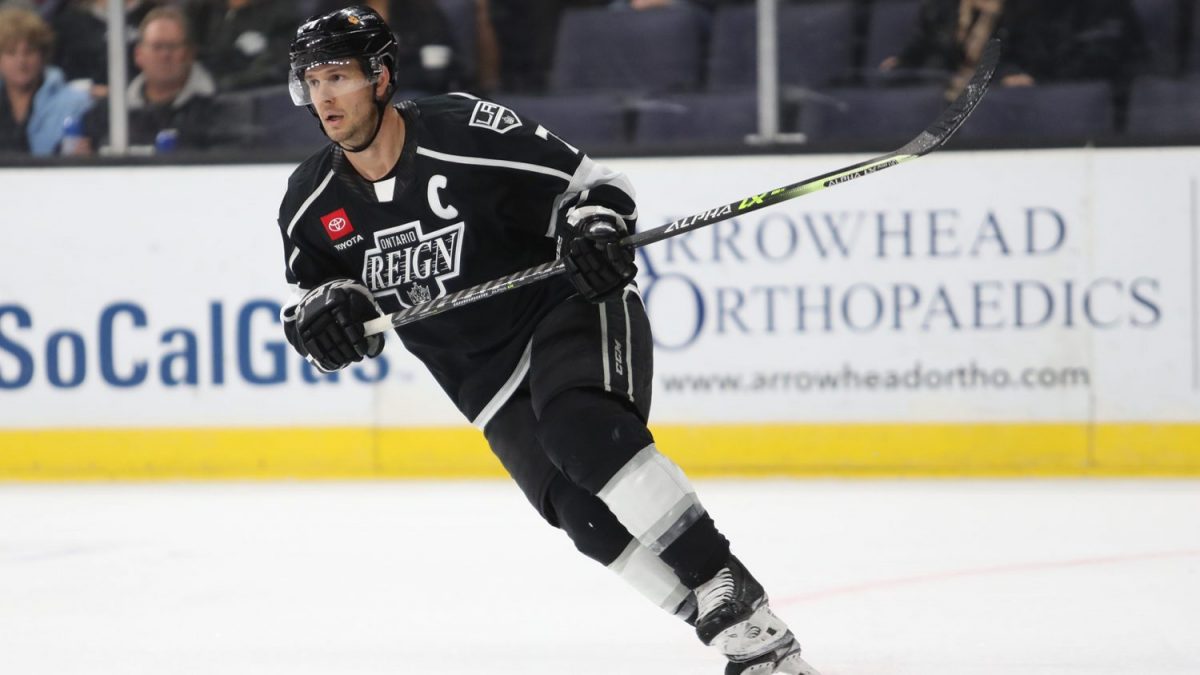 The Ontario Reign complete the weekend sweep against the San Diego Gulls with identical 4-3 victories in both games.
Goal breakdown
1st period:
SD: Brent Gates Jr. (7) ASST: Hunter Drew (12)
2nd period: 
ONT: Tyler Madden (13) ASST: T.J. Tynan (47)
SD: Hunter Drew (9) ASST: Brogan Rafferty (14)
ONT: Cameron Gaunce (3) ASST: Gabriel Vilardi (17), Jordan Spence (30)
ONT: Gabriel Vilardi (14) ASST: Rasmus Kupari (1)
SD: Hunter Drew (10) ASST: Benoit-Olivier Groulx (6), Greg Printz (6)
ONT: PP Gabriel Vilardi (15) ASST: T.J. Tynan (48), Jordan Spence (31)
3rd period:
None
Goals: 
SD: 3
ONT: 4
Shots: 
SD: 20
ONT: 29
Power-plays:
SD: 0/3
ONT: 1/3
Three takeaways from Sunday's win:
1. Home cooking
The Reign train keeps on rolling at Toyota Arena this season. With Sunday's 4-3 victory over the San Diego Gulls, the Ontario Reign improved their home record to 15-2-2-2 on the season. Goaltender Matt Villalta earned his 17th win of the season (good for 3rd in the AHL) and improved his record to 8-0-0-2 on home ice this season as well.
While improving their home-ice record to 15-2-2-2, the Ontario Reign also defeated the Gulls for the sixth time and now have won all five matchups on home ice against their Southern California rivals. After a quick stop at home, the Reign head to Henderson to play the Silver Knights on Wednesday.
After that, they will head to Tucson for two games next weekend against the Road Runners to end the month of February before returning home to play nine of their twelve games in March on home ice.
2. Wild second period
A wide-open second period saw the two teams combine for six goals in the middle frame. The Reign scored four goals while the Gulls scored two of their own. Although the Reign had a few good chances, there wasn't much action in the opening period that ended with the Gulls leading 1-0 heading into intermission.
Less than two minutes into the second period Tyler Madden tied the game beating Gulls netminder Olle Eriksson Ek blocker side off a great feed from T.J. Tynan.
Just @tp_madden10 sneaking down the middle pic.twitter.com/ILCGot70XQ

— Ontario Reign (@ontarioreign) February 21, 2022
The tie would be short-lived as Gulls forward Hunter Drew beat Reign's netminder Matt Villalta glove side with a wicked wrister for a 2-1 Gulls lead 47 seconds after Madden tied it.
The Reign wouldn't trail for long as Cameron Gaunce would find the net for his 3rd goal of the season after the Reign generated some good pressure in the offensive zone. Gabriel Vilardi would then give the Reign their first lead of the day at 3-2 off a slap shot from the left circle as Ontario would score three goals on their first five shots in the second period. The lead wouldn't last long as Hunter Drew scored his second of the period just 1:33 later, tying the game at 3-3.
After killing a penalty, the Reign would go on a power play where Gabriel Vilardi broke the tie scoring his second goal of the period. That would be the game's last goal and eventually the game-winner for the Ontario Reign as they chased Eriksson Ek from the game as well.
The Reign did all of their scoring damage in the period which was good enough for an eventual Ontario 4-3 victory.
3. Gabriel Vilardi
What more can we say about Gabriel Vilardi?
Sunday's game was just another impressive outing for Vilardi in Ontario this season. Vilardi scored his 14th and 15th goals of the season, which marked his 4th multi-goal game this season. In 30 games, Vilardi has registered 15 goals and 17 assists for 32 points which is good enough for a point per game. His three points yesterday (2 goals and 1 assist) earned him first star of the game honors.
Wonder if @Gabe_Vilardi13 had to clear this rocket with NASA? pic.twitter.com/miBAVs90TZ

— Ontario Reign (@ontarioreign) February 21, 2022
Now the question remains, will we see Vilardi on the Kings soon? One would certainly hope so with his play in Ontario this year. Vilardi certainly has done enough deserving of a call-up to the Kings and deserves a second chance on the roster. Whether that call-up is tomorrow, after the trade deadline, or next year, Vilardi will still be playing the wing position in Ontario for the time being.
Next up for the Reign: At Henderson to play the Silver Knights Wednesday at 7:00 pm PT.
Here's @sutter_brett on tonight's festivities! pic.twitter.com/52SHQrbWf3

— Ontario Reign (@ontarioreign) February 21, 2022