Three things to watch for in Ontario Reign vs San Diego Sunday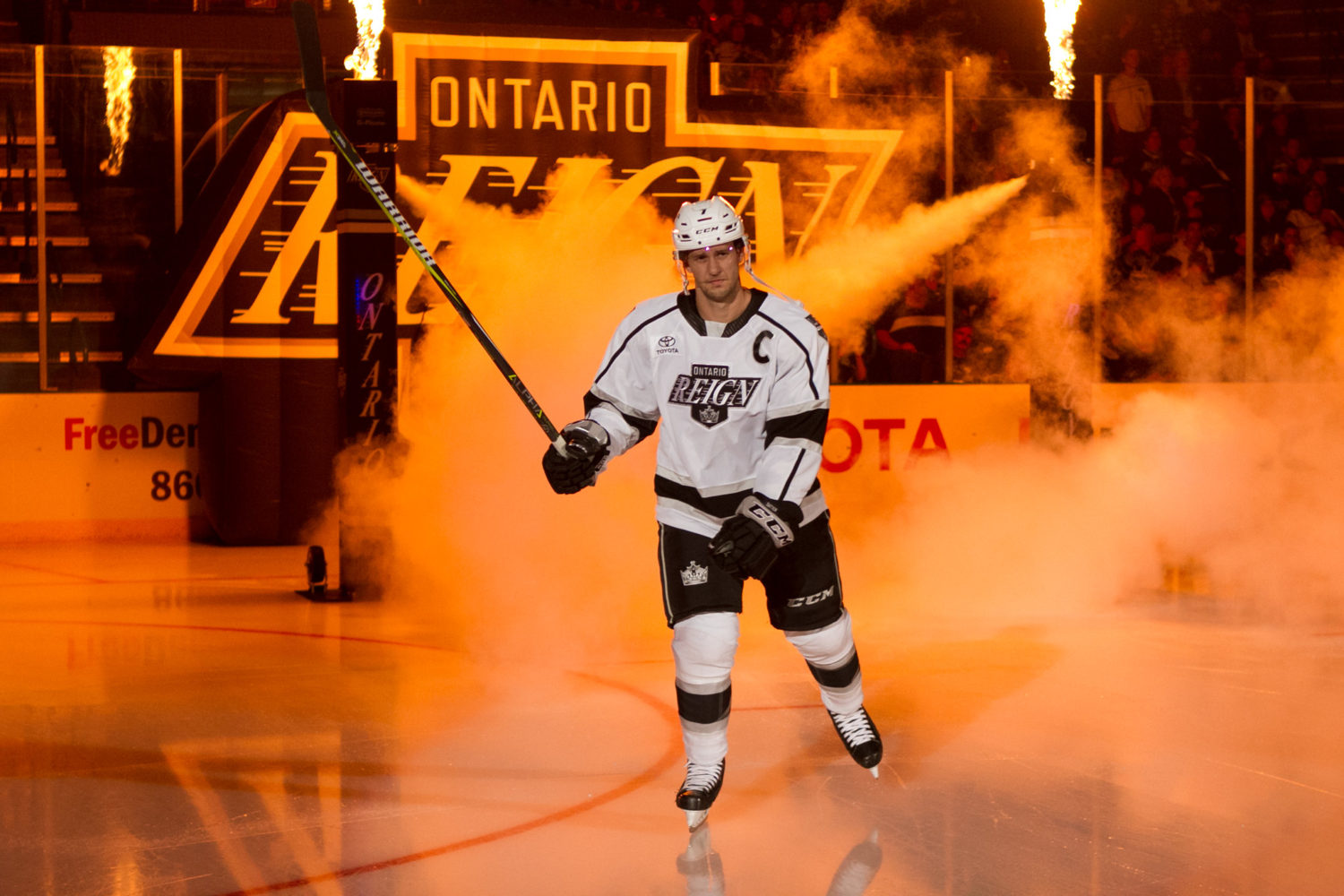 The Ontario Reign return home for the series finale with the San Diego Gulls following their 6-game road trip.
Tale of the tape
Power play
ONT: 26.6% (1st)
SD: 16.1% (27th)
Penalty kill
ONT: 76.9% (27th)
SD: 79.5% (22nd)
Goals for
ONT: 166 (1st)
SD: 109 (31st)
Goals against
ONT: 129 (14th)
SD: 130 (16th)
Key players
ONT: T.J. Tynan – 9 goals, 45 assists, 54 points
SD: Brayden Tracey – 9 goals, 17 assists, 26 points
Three things to watch for in tonight's game:
1. Home sweet home
The Ontario Reign return home for the first time since January 31st. Ontario is 14-2-2-2 on home ice this year which is good for the third-best record at home in the AHL. The Gulls and Reign meet for the seventh time this season and the fifth time at Toyota Arena.
Although they have not played many home games recently, playing at home for the Reign has been key to why they have gotten off to great starts this year. In their last ten home games, the Reign have a record of 6-1-2-1.
The Reign and Gulls have met four times in Ontario, with the Reign winning all four matchups. If the Reign get off to a great start, perhaps we can see that home-ice success in general and against the Gulls continue.
2. The rivalry continues
A matchup between the Reign and Gulls means another edition to the Southern California freeway series. In each game, there has been some "chirping" and some fights between the two clubs.
The most notable one occurred on opening night when Gulls captain Sam Carrick (now with the Anaheim Ducks) hit Reign forward Aidan Dudas with a high stick to the face after Dudas was going to the Reign bench after he scored the Reign's fourth goal of the night and a big brawl ensued with a couple of players getting misconduct penalties.
Fast forward a week later, and Reign defenseman Cameron Gaunce and Gulls defenseman Nikolas Brouillard dropped the gloves after Gaunce threw an elbow at him behind the Reign net. In their last matchup in Ontario, Reign forward Jacob Doty and Gulls forward Hunter Drew had a few incidents between whistles, although they didn't drop the gloves.
With it being a rivalry and a hard-fought Ontario Reign win last night, perhaps tensions will be high, and some bad blood will carry over from last night or previous matchups from this season. These teams don't like each other.
3. The Captain
It's a special day for the Ontario Reign captain Brett Sutter. After accomplishing the 1,000 career professional games played milestone on January 26th in San Jose, Ontario will hold a pre-game ceremony to honor his accomplishment.
Today also marks Sutter's 354th game with the Ontario Reign since he joined the club in the 2015-2016 season. Sutter is well-liked and is a beloved figure by the young players on this Reign team, who often look to him for guidance.
With a lot of these young players looking to make the jump from the AHL to the NHL, Sutter is the guy not only the players lean on for leadership, but the coaching staff does as well.
In his 1,000th game, Sutter recorded an assist in a Reign 7-1 win over the Barracuda. On a special day like this, maybe Sutter might be in line for a special day and find himself on the scoresheet.
The puck drops at 3:00 pm PT at Toyota Arena and can be seen on AHLTV. Don't miss out on the Sutter ceremony as well!