Is Matt Roy the LA Kings' 2022-23 MVP?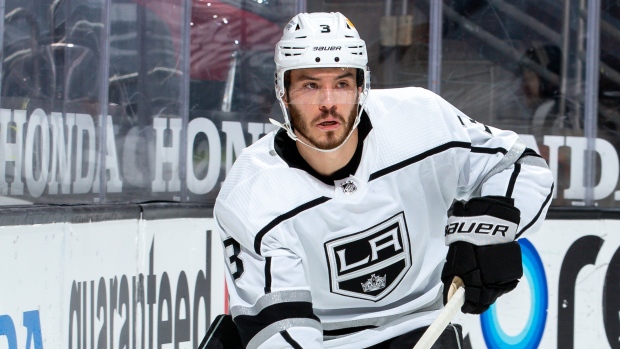 Steady Eddie. That was the moniker given to LA Kings' defenseman Matt Roy by head coach Todd McLellan back in 2019. And it's spot on.
For all the questions surrounding the Kings throughout the 2022-23 season, one thing has stood constant. Matt Roy will give the Kings 18-20 minutes a night, playing on the right side of the second defensive pair, providing excellent defense, with the occasional offensive impact during 5v5 play. There's never a doubt.
As one of only 21 NHL skaters drafted in the seventh round to play 20+ games this season, Roy provides the Kings' coaching staff a calm cool presence on the right side of the blueline. And that was none more evident than in Sunday's playoff-clinching win against Vancouver where he played a season-high 24:49 in the 4-1 win.
'Steady Eddie'
Roy's played in all 77 games this season for the Kings, the only defenseman to do so. He's tied for the team lead among defensemen in goals (9) and leads the team in blocked shots with 146 (15th in the NHL).
He also leads the Kings in relative expected goal share with +4.4% during 5v5, according to MoneyPuck.com (Relative xGF% is the difference between the team's expected goals when they are on the ice and their team's expected goals when they are off the ice). And has elevated the play of his teammates, including Sean Durzi and Vladislav Gavrikov.
With the all talk of Sean Durzi having to adjust to the left side of the blueline as a right-shot defenseman, lost in that discussion was Roy having to make the adjustment of playing with another righty on his left side.
On the season:

Durzi with Roy: 52.28 xGF%
Durzi without Roy: 47.37 xGF%

— Russell Morgan (@NHLRussell) April 2, 2023
As for the new guy on the roster Vladislav Gavrikov, the pair of Gavrikov-Roy has worked out quite well since the trade. In their 187 minutes together, they possess a 58.16% Corsi, a 71.50% expected goal share, and have outscored their opponents 9-1.
Without Roy on his side, Gavrikov is having a bit more trouble, putting up a 45.45% Corsi and 34.80% expected goal share, all according to NaturalStatTrick.com. Truly displaying the impact Roy can have on his defensive partners.
JFresh Hockey
Matt Roy isn't just one of the better defensemen on the LA Kings roster, he's also one of the best in the NHL, according to JFresh Hockey's Wins Above Replacement statistic. With a shooting-adjusted WAR of 1.884, Roy sits ninth among all NHL defensemen.
Not a bad group to be among when comparing him to some of the other players on this list when he owns a cap hit of only $3.125 for this season and the next, according to CapFriendly.com.
WAR is a cumulative stat that estimates a player's contribution to his team's success relative to a replacement-level player. It considers a player's isolated impact on his team generating scoring chances and preventing opponents from doing so, drawing more penalties than he takes, and finishing his chances.
With only five games remaining on the season, a crucial five games even with a spot clinched in the postseason, Matt Roy will continue to be leaned upon as an unfortunate injury bug hampers the LA Kings. And we shouldn't expect anything less than what we've seen from his play so far during his time in Los Angeles.
Featured Image Credit: LA Kings Insider