Three things to watch in Ontario Reign vs Tuscon on Saturday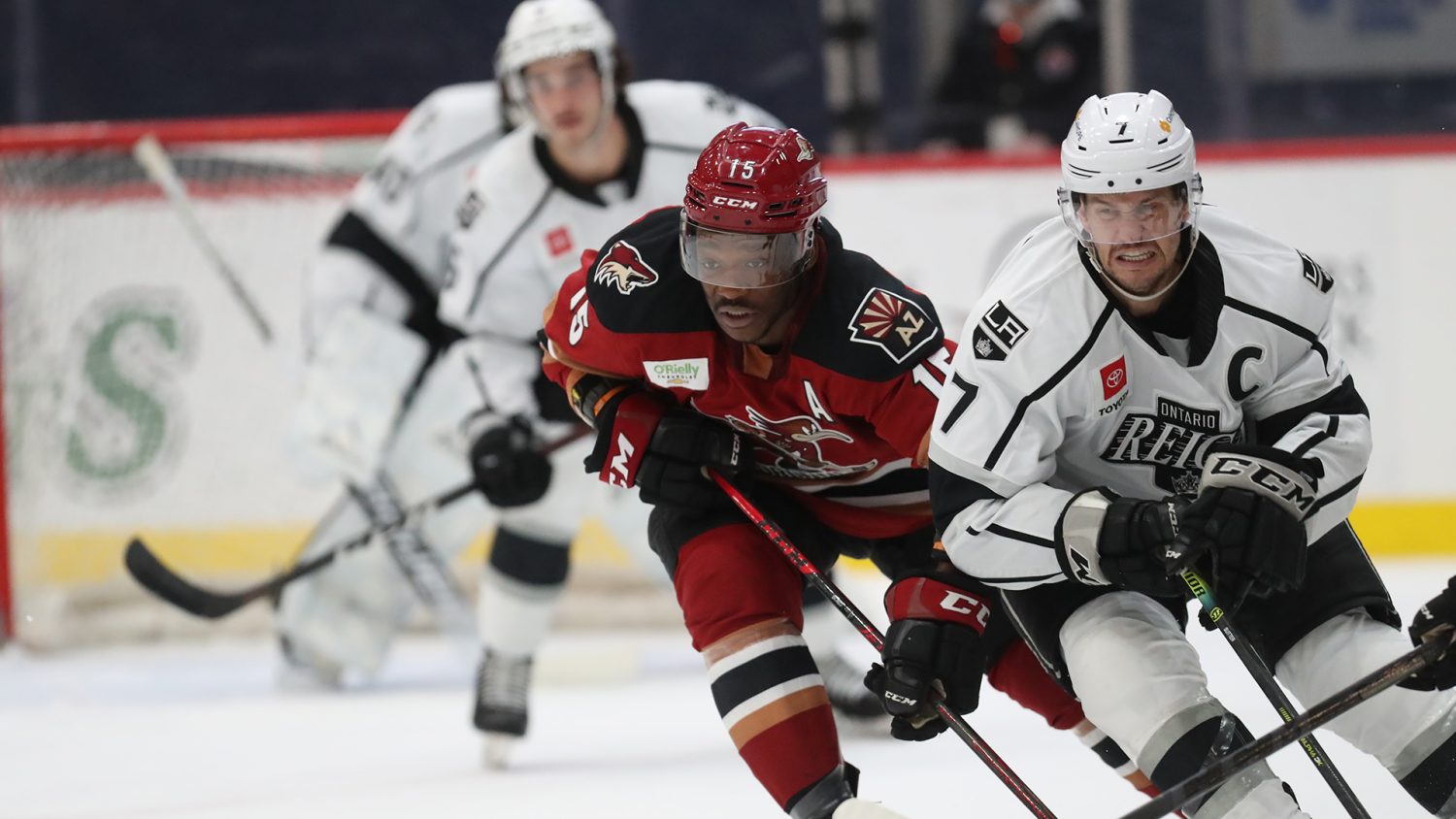 The Ontario Reign have a weekend back-to-back against the Tucson Roadrunners starting on Saturday at 6:00 pm PT.
This is an odd weekend for the Reign in that Sunday's matinee game puts just a few hours between the final buzzer on Saturday and the following puck drop. But the Reign, a resilient and fine-tuned machine of a team at the moment, should be more than up to the challenge.
Tale of the Tape
Powerplay
ONT: 25.4% (2nd)
TUC: 19.5% (14th)
Penalty Kill
ONT: 73.2% (30th)
TUC: 80.7% (19th)
Goals Per Game
ONT: 3.79 (6th)
TUC: 2.55 (30th)
Goals Against Per Game
ONT: 3.07 (10th)
TUC: 3.41 (21st)
Key Players
ONT: T.J. Tynan – 6 goals, 28 assists, 34 points
TUC: Matias Maccelli – 9 goals, 19 assists, 28 points
Here are the three things to watch during Saturday's matchup:
1. Special teams are always a factor
Some hockey games are won and lost by special teams, even at the AHL level. Over the past three games, the Ontario Reign were gifted 13 chances on the power play, converting on three of those; an acceptable rate even if below the team's high standards. However, they also allowed three goals on 12 penalty kills. It will be hard to continue being among the AHL's best with a 75% penalty kill.
With Jaret Anderson-Dolan and Martin Frk moving between the NHL taxi squad and the AHL roster along with Quinton Byfield's recent call-up, the Ontario Reign have to find some more power-play finishers to see the numbers stay where they are. JAD and Frk have 12 power-play goals between them. That's 12 of the Reign's total 31 and most problematic of all things.
It seems the entire NHL world has decided that the deepest organization is the Los Angeles Kings and these underlying numbers show that players like Frk and Tynan are holding this team together.
2. TJ Tynan

Can we talk about T.J. Tynan for a moment, please? Let's start by noting that T.J. was drafted in the third round of the 2011 NHL Draft and has not yet played 25 NHL games. This would sound problematic, at first glance, but it really isn't as bad as one would think. Tynan has, consistently, put up great AHL numbers, tallying 187 points over the last 4 years split between three organizations.
Through the Reign's last five games, Tynan has taken ten shots on goal and while he has only connected with the twine once, he has amassed eight assists over those games with a +3 rating. Tynan is dishing the puck and putting it on net as much as possible. With an overall shooting percentage of 15.4%, his production is sustainable.
He is currently fifth in the American League in scoring, basically showing off with nearly 1.5 points per game. It may not be long before he gets another look from the Los Angeles Kings.
3. Capitalizing on weak goaltending

The Reign are going up against a team that is allowing close to 3.5 goals per game. No goaltender for the Roadrunners has a sub 2.50 GAA and they have a combined 12 wins on the year. The Reign need to shoot for the moon on this one to make sure that they can get a lead in these two games and hold it for the wins.
Tucson holds an 80.7% penalty kill success rate, allowing just 22 goals on 114 times short-handed. With a whole 16 percentage point advantage on Ontario, they could swing momentum in a game with a strong kill. The Reign will need to pounce on the deficiencies in goal at even-strength play if they want to come out of this weekend winners of two straight.
The game can be seen on AHLTV.
Three left-shot defensemen LA Kings should be targeting at trade deadline