Three things that stood out in the Ontario Reign's 3-2 SO win at Bakersfield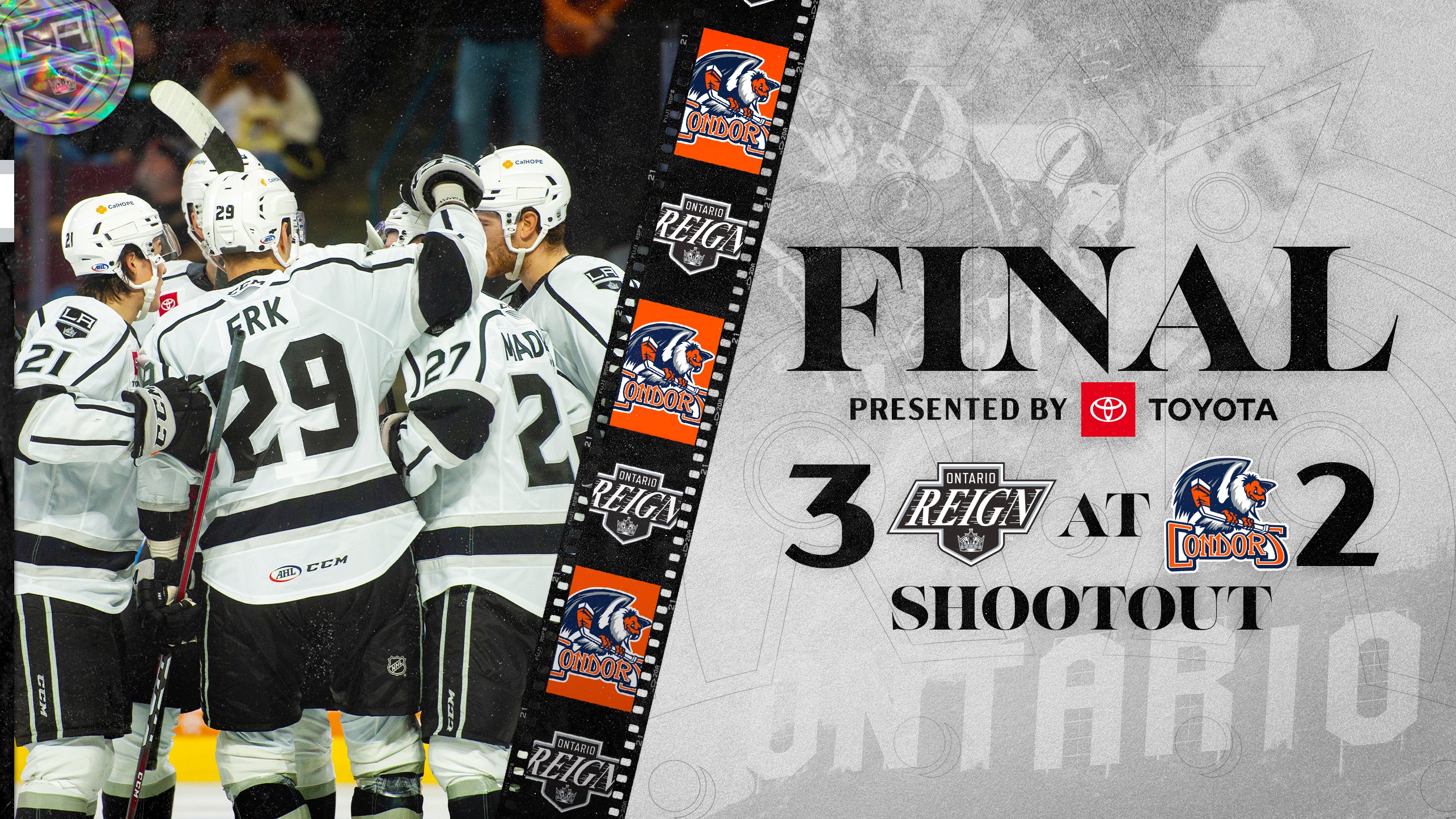 The Ontario Reign let another two-goal lead slip away but are able to knock off the Bakersfield Condors 3-2 in a shootout.
It may not have been pretty, but the Ontario Reign was able to edge the Bakersfield Condors 3-2 in a shootout on Saturday night, snapping their two-game losing streak and improving their record to 12-4-0-1. Bakersfield fell to 6-6-1-2.
Ontario would take a 2-0 lead for the second game in a row on a second-period power-play goal by Vladimir Tkachev and a third-period goal by Tyler Madden. Also, for the second game in a row, however, that 2-0 lead would evaporate. Bakersfield scored twice in the third period — Seth Griffith on the power-play and a Luke Esposito tip-in — to knot things up and eventually get the game to overtime.
An Olivier Rodrigue delay of game penalty gave Ontario a power-play with 41 seconds left in overtime. They created a couple of good chances but were unable to capitalize.
In the shootout, Matt Villalta stopped all three shooters, and Gabriel Vilardi took a page out of Thomas Vanek's book for the only goal Villalta would need:
It's not @kingsgifs2 quality but here it is anyway…

Game winner for the @ontarioreign from Vilardi in the shootout pic.twitter.com/KjniYJRH7S

— ALL THE KINGS MEN (@KingsMenPodcast) December 5, 2021
Vilardi also picked up an assist on Madden's goal as he continues his strong play in Ontario. Madden, by the way, is now up to six goals on the season – third on the team.
The Reign were forced to play with just 11 forwards as there were a number of roster moves on Saturday morning in the Los Angeles Kings' organization. With Blake Lizotte hitting the COVID-19 list, the Kings called up T.J. Tynan and Jaret Anderson-Dolan. This, coupled with Austin Wagner's suspension for his check to the head penalty against Abbotsford last Wednesday, and Alex Turcotte having to miss the game due to a non-COVID-related illness, left the Reign short-handed up front.
Among those 11 forwards was Akil Thomas, as he made his season debut. He ended the game with three shots on goal, the best of which came in the third when he made a very nice move around a Condors' defenseman for a quality shot on goal. He also made a crucial backcheck in overtime on Griffith, who was heading in alone on Villalta. A solid first game for the Toronto native.
Three things that stood out:
1. Low-event hockey
Though the Reign out-shot Bakersfield 29-28, they were out-attempted in this one 50-38. The 88 total shot attempts were the third-lowest of the season and, without the overtime, would have been the lowest.
With the prior two meetings against Bakersfield offering quite a bit more in the shot-attempt department, it wouldn't be a surprise to me if this was an intentional approach by Ontario, given they were playing with a shortened bench.
Credit to the defensive structure for Ontario as they allowed just 11 shot attempts from the "high danger" (or, "home plate") area in the defensive zone. That was the second-fewest they've allowed this season.
2. Missed opportunities
I mentioned above this was the second game in a row where Ontario couldn't hold – or add – to their 2-0 lead. But they had numerous opportunities for more in this one. Helge Grans sprung Samuel Fagemo on a breakaway in the opening period:
Perfect pass here from Helge Grans to set up Fagemo all alone for the chance. Couldn't have timed it better. pic.twitter.com/yywdVdpJgn

— Jared Shafran (@ShafReign) December 5, 2021
Aidan Dudas also had a breakaway in the first period – short-handed nonetheless:
Effort from Johnson that resulted in a shorthanded look for Dudas during the only Bakersfield PP of the 1st. https://t.co/sIZqzKl0Th pic.twitter.com/tkGWt1fhDh

— Jared Shafran (@ShafReign) December 5, 2021
Vilardi also created a partial breakaway for himself that he couldn't quite finish.  At the end of the night, though, the Reign were able to walk away with two points despite making things a little bit harder on themselves.
3. Villalta answers the bell
After the last game stretched the run to eight games in a row of Reign goaltenders allowing three goals or more in a game, Villalta played quite well against the Condors.
The first two periods were relatively quiet, and he was able to hold them off the board. Here's some of his work in the opening 20 minutes:
Here's a look at the best chance for the Condors in the 1st and a good stop by Matty V. pic.twitter.com/9qik3tUIim

— Jared Shafran (@ShafReign) December 5, 2021
The third period was busy for Villalta, he faced 15 shots, and though two of them beat him, he was overall strong in the final frame. The first goal was a great move by Griffith, and though Villalta got a piece of it, it just wasn't enough.
He then stopped all three Bakersfield shooters in the shoot-out, earning his 8th win of the season.
The two teams will meet again on Tuesday in Bakersfield at 6:30 p.m. PT.
LA Kings: Anderson-Dolan, Tynan Recalled; Lizotte to COVID List