Ontario Reign vs Colorado Eagles: Preview, Reign Drops, Broadcast Info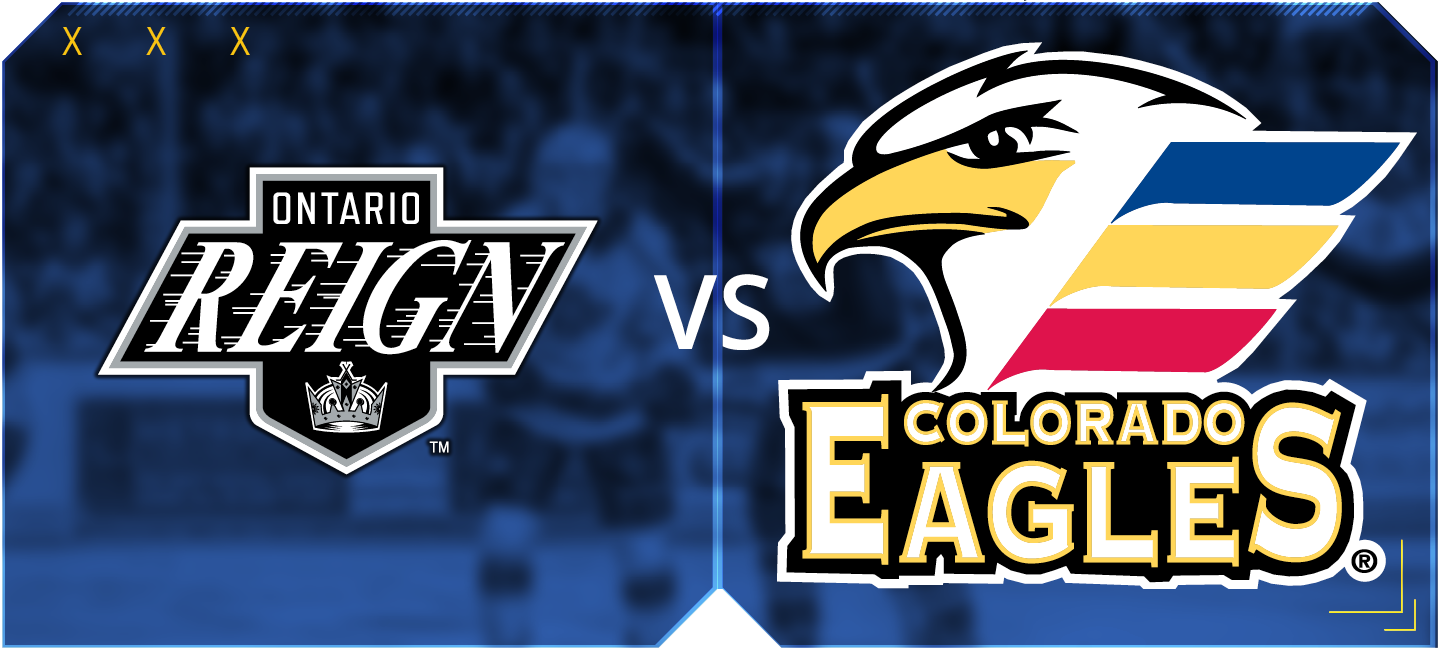 After winning all four on the road trip, the Ontario Reign are back home for one game against the Colorado Eagles.
Both the Ontario Reign and Colorado Eagles are playing their second game in as many days. The Reign won 6-3 last night in Bakersfield to improve to 8-0-1, while the Eagles beat San Diego 3-2, bringing their record to 4-5-1.
Top Performers
Martin Frk's four-point night against Bakersfield has seen him overtake T.J. Tynan for the team lead in points (14) — that's also good for 2nd in the AHL. His eight goals lead the league. Tynan does still hold his team lead in assists with 10.
After a heavy workload for Matt Villalta last night in Bakersfield, I'd expect to see Garret Sparks in goal. He's 2-0 with a 1.95 goals-against average and a .945 save percentage.
For Colorado, Dylan Sikura leads the team in points with 12 (5-7-12). Kiefer Sherwood leads the team in goals with seven — but he has been called up to the Colorado Avalanche. Sikura, Mikhail Maltsev, and Jordan Gross are all tied with seven assists.
In goal, Justus Annunen has led the way, playing in 10 of the Eagles' games so far, including last night. He is 3-3-1 with a 3.15 goals-against average and a .880 save percentage. Hunter Miska has played in two games (0-2, 8.38 goals-against average, .757 save percentage), while Trent Miner has started once, going 1-0 with a 1.00 goals-against average and a .938 save percentage.
Special Teams
Ontario is 12-for-41 on the power play (29.3%). Tynan's seven power-play points lead the Reign, and six of those are assists. Frk's three goals on the man-advantage are tied with Jaret Anderson-Dolan for the team lead.
On the penalty kill, the Reign have killed 26-of-33 (78.8%). Sean Durzi has the team's lone shorthanded goal.
Colorado is 12-for-52 (23.1%) with the man-advantage. Sherwood and Sikura each have five points to lead the way for the Eagles. While Sherwood's three goals are the most on the team, Sikura, Maltsev, Gross, and Rob Hamilton have a team-high three power-play assists.
The Eagles have given up 12 goals on 45 penalty kill attempts (73.3%). They do have two shorthanded goals on the season.
Shot Attempts
The Reign did struggle a bit on the recent road trip in this department. Overall, here's how things look through nine games:
| | | | | |
| --- | --- | --- | --- | --- |
| 2021-22 | Shot Attempts For | Shot Attempts Against | CORSI | CF% |
| All Strengths | 514 | 502 | 12 | 51% |
| 5 on 5 | 373 | 417 | -44 | 47% |
| High Danger | 170 | 145 | 25 | 54% |
| 5 on 5 High Danger | 127 | 117 | 10 | 52% |
Reign Drops
Will this be the game where they have a good start? Perhaps being back home will help that.
Vladimir Tkachev had his best game so far last night. He now has three points in two games, and his effort on the forecheck that led to the Helge Grans' goal was good to see.
I'll be curious to see if Head Coach John Wroblewski keeps Adam Johnson at the center between Austin Wagner and Tyler Madden. This was the first game that I can recall where neither of those wingers created many chances.
I'd like to see Jaret Anderson-Dolan up with Madden. He was excellent last night (a goal and two assists) and had five points in his previous three games.
T.J. Tynan will have to wait until later in the season to face his old Eagles' teammates as he is still with the Kings.
Martin Frk sure didn't miss a beat last night. He's off to a scorching start with an AHL-leading eight goals.
Despite the Reign being pretty reliant on the power play for goals (31.6% of their goals have come on the PP, that's 7th most in the AHL), they are outscoring their opponents 21-12 at 5-on-5.
We haven't seen Johan Sodergran since he left the latest Abbotsford game early after taking a big hit. There hasn't been much in the way of news on him, but the second half of a back-to-back could see some fresh legs in the likes of him, Nikita Pavlychev, or Jacob Doty.
Puck Drop and Broadcast Info
Sunday, November 7 at 3:00 p.m. P.T.
TV: AHLTV