Takeaways from the Ontario Reign's 4-3 win over Colorado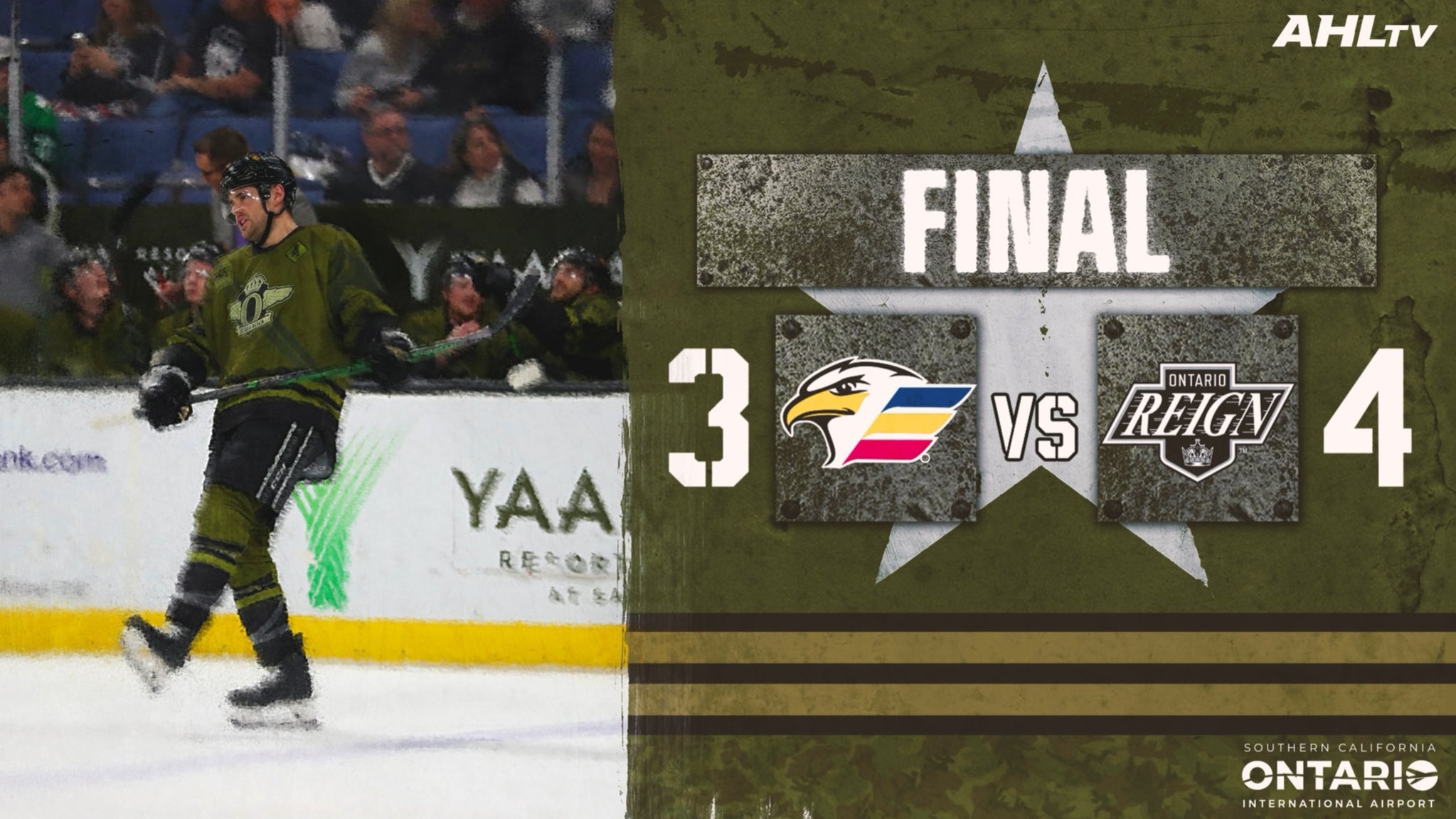 Jaret Anderson-Dolan's two second-period goals lead the Ontario Reign to a 4-3 win over the Colorado Eagles.
A quick pit-stop home before a trip to Arizona didn't slow down the Ontario Reign as they picked up their eighth straight win, beating the Colorado Eagles 4-3. The win improves Ontario's record to 9-0-1 on the season. Colorado fell to 4-6-1.
Jaret Anderson-Dolan led the way with two goals – both coming in the second period. Martin Frk and Vladimir Tkachev each picked up two assists, while Garret Sparks stopped 21 of 24 shots on goal for his 3rd win of the season.
Game Recap
The Sunday afternoon lineup:
Honoring the Military today as the Reign lace em up against the @ColoradoEagles.

Burke — Turcotte — Frk
Wagner — Johnson — Madden
Tkachev — JAD — Fagemo
Dudas — Sutter — Doty

Phillips — Durzi
Moverare — Grans
Gaunce — Spence

Sparks

— Jared Shafran (@ShafReign) November 7, 2021
Stop me if you've heard this before: the Reign would leave the first 20 minutes ahead despite being heavily outshot and out-attempted.
That's right, it happened again. Colorado outshot the Reign 15-4 in the opening period, out-attempting them 20-11, but it was the hosts that would have the 2-1 lead after the first.
It started quickly, with Alex Turcotte putting home a rebound just 61 seconds into the game:
Turcotte(3) scores 1:01 into the 1st period!

Assist: Burke (4) #Reign pic.twitter.com/w3TZJxV1hZ

— Eric (@kingsgifs2) November 7, 2021
Just over four minutes later, Aidan Dudas showed off his underrated release with this beauty to put the Reign up 2-0:
2-0 #Reign! Dudas with his 4th goal of the season! pic.twitter.com/r3y4Z00p3h

— Eric (@kingsgifs2) November 7, 2021
Colorado would get one back 12:29 into the period when Dennis Gilbert fired one past Sparks:
SHEESH

That was Denn-nice!#EaglesCountry pic.twitter.com/7zXUIkBUce

— Colorado Eagles (@ColoradoEagles) November 7, 2021
Ontario started the second period with a 5-on-3 power-play and, well, you can guess who that ended:
Anderson-Dolan(4) scores on the 5 on 3 powerplay! 3-1 #Reign

Assisted by Tkachev(4), Durzi(7) pic.twitter.com/uf6ee45MuK

— Eric (@kingsgifs2) November 8, 2021
As noted earlier, Anderson-Dolan wasn't done in the middle frame. A nice play on the wall by Samuel Fagemo to spring Tkachev on a 2-on-1 with JAD:
Anderson-Dolan with his second goal of the game! 4-1 #Reign

Assisted by: Tkachev(5), & Fagemo(1) pic.twitter.com/luXlMIsBab

— Eric (@kingsgifs2) November 8, 2021
In the third, it was again bend-don't-break from Ontario, just as it was Saturday night. The Eagles got to within one with two power-play goals from Jordan Gross. Here is the first one:
More of this, please 🙂#EaglesCountry pic.twitter.com/JkQj8jfael

— Colorado Eagles (@ColoradoEagles) November 8, 2021
Other than the second half of the first period, the Reign were pretty solid in this one. Their penalty kill let them down in the third, but they could still hang on for the win.
Shot Attempts
| | | | | |
| --- | --- | --- | --- | --- |
| vs Colorado | Shot Attempts For | Shot Attempts Against | CORSI | CF% |
| All Strengths | 44 | 43 | 1 | 50.6% |
| All Strengths HD | 16 | 21 | -5 | 43.24% |
| 5v5 | 28 | 28 | 0 | 50.0% |
| 5v5 HD | 9 | 12 | -3 | 42.9% |
Box Score
The full box score can be found here.
Thoughts and Takeaways
Another power-play goal for Ontario tonight – that's one power-play goal in every game so far this season.
Someone needed to step up and fill the shoes of the playmaking T.J. Tynan after his recall. Well, back-to-back multi-assist games for Vladimir Tkachev is one way to do it. He's been excellent on the power-play. The young Russian is settling in nicely, though I'm sure he's not looking to get too comfortable in Ontario.
Solid outing again from Sparks. He was very good in the first with a few point-blank saves, including a breakaway to keep the game where it was. He was beaten by two power-play goals in the third, one of which was an excellent shot. He's providing the Reign exactly what they need from their backup goalie.
Partial credit on the team's start tonight. In the first 5-10 minutes, Ontario definitely carried the play and deserved the 2-0 lead. However, it was all Colorado for the better part of the period. That said, the Reign continue to be opportunistic and made the Eagles pay for the penalties early in the second.
JAD is hot as can be right now. Two more goals tonight, and he's crept into the top-15 in scoring in the AHL. His four power-play goals are tied for the league lead.
Every game is just another opportunity for Frk to pick up multiple points. Two more tonight, and his assist on the game's opening goal is going to get largely overlooked, but an excellent cross-ice pass to Brayden Burke on the breakout and transition. He leads the AHL in goals (8) and is tied for the lead in points (16).
Cameron Gaunce picked up an assist tonight on Dudas' goal. That's the veteran defenseman's first point of the season, and now every skater (except one, sorry Jacob Doty) that has appeared in a game this year for Ontario has a point.
Reign fans will have a few days to enjoy the eight-game winning streak as the team is off until Friday when they head to Tucson for a back-to-back set with the Roadrunners.
LA Kings: Cal Petersen enjoying friendly rivalry with Jonathan Quick