Ontario Reign @ Henderson: Preview, Reign Drops, Broadcast Info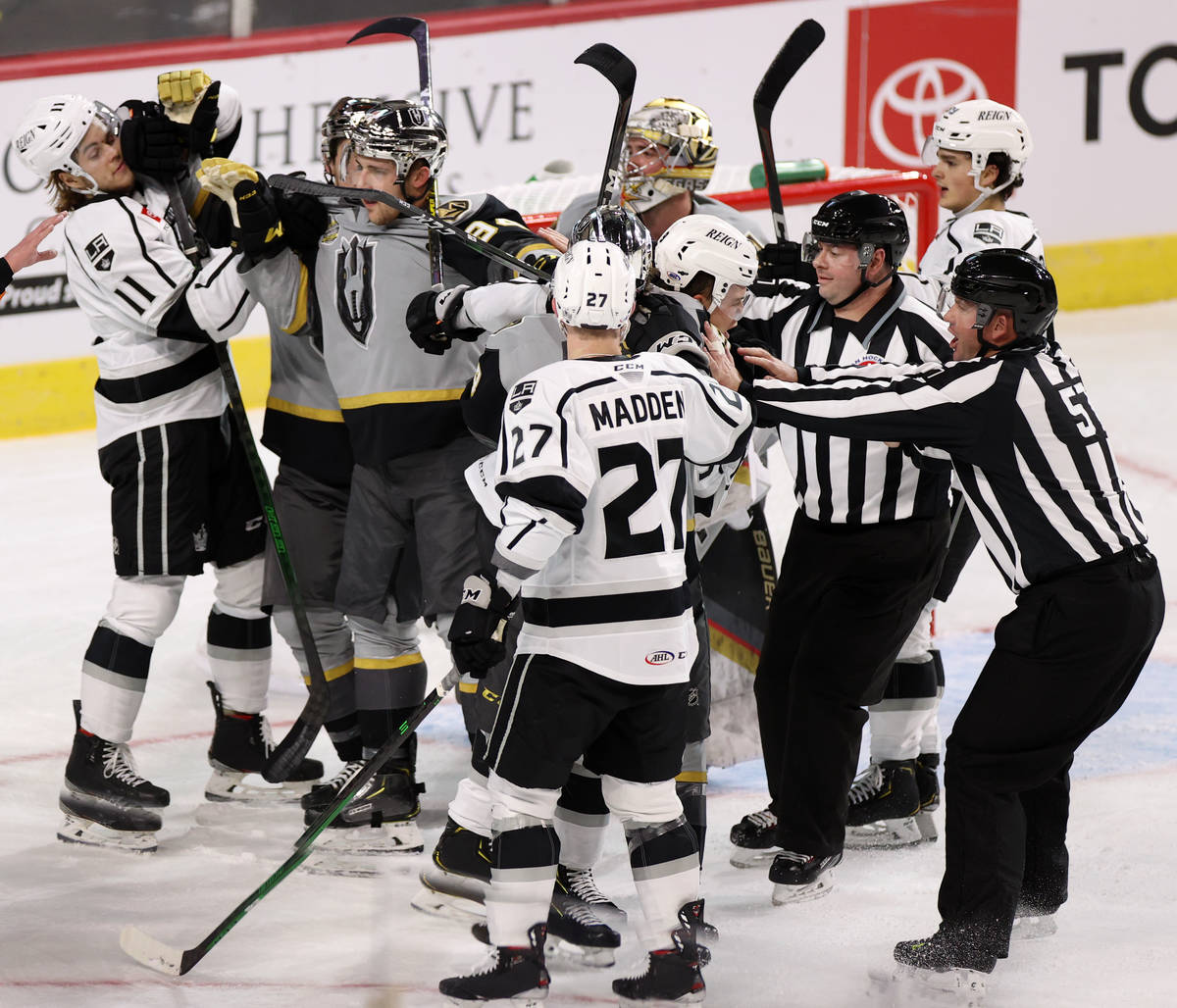 The Ontario Reign is back in action on Wednesday night against Pacific Division rivals the Henderson Silver Knights. It's the third of a four-game road trip for the Reign and will be the first meeting between the two teams this season.
Saturday's overtime win over Abbotsford brought the Reign's record to an AHL-best 6-0-0-1. Henderson snapped a three-game losing streak with a 4-2 win over Bakersfield, also on Saturday. The Silver Knights sit 6th in the Pacific Division at 3-2-1.
Top Performers
TJ Tynan's overtime goal against Abbotsford was his first of the season to go along team-leading nine assists. His ten points are also a team-high. Martin Frk leads Ontario in goals with four.
Sean Durzi is tied with Kale Clague (currently with the Kings) and Jacob Moverare with four assists to lead Reign defensemen. Durzi's six points are also at the top of the team among defensemen.
Between the pipes, Matt Villalta is now 4-0 with a 1.99 goals-against average and .924 save percentage and is expected to start after Garret Sparks handled those duties in the last game.
For Henderson, the team leader in points is Peyton Krebs (5), but he is in Vegas, so he won't be someone the Reign has to worry about. Pavel Dorofeyev's four goals are the most on the team. He's tied with three others in points, also with four. Two of those are defensemen, Daniil Miromanov (2-2) and Peter DiLiberatore (1-3).
Logan Thompson has played five of the six Silver Knights games this season. He is 3-1 with a 2.93 goals-against average and a .923 save percentage. Rookie Dylan Ferguson stopped 26 of 28 shots in a 3-0 loss to Abbotsford.
Special Teams
Ontario is 10-for-35 on the power play (28.6%). Tynan leads the way in power-play points with six – all assists. Frk leads in goals with three and is second in points with four.
On the penalty kill, the Reign have killed 17-of-23 (73.9%).
The Silver Knights are 6-for-27 with the man-advantage (22.2%) and 24f-for-32 on the penalty kill (75%). Krebs leads Henderson in power-play points with three (all assists). Among active players, rookie Lynden McCallum's two points are a team-high. Six different players have tallied a power-play goal; no one has more than one.
Shot Attempts
The Reign were outplayed badly in their last game but still managed to come away with the win. Here are how they shake out in shot-attempts through seven games:
| | | | | |
| --- | --- | --- | --- | --- |
| 2021-22 | Shot Attempts For | Shot Attempts Against | CORSI | CF% |
| All Strengths | 431 | 395 | 36 | 52% |
| 5 on 5 | 305 | 330 | -25 | 48% |
| High Danger | 145 | 115 | 30 | 56% |
| 5 on 5 High Danger | 105 | 93 | 12 | 53% |
Reign Drops
The rich are getting richer. Vladimir Tkachev has gotten off to a slow start in Los Angeles and was sent down to Ontario on Saturday. An extremely skilled playmaker, he could find his way into the lineup on Wednesday.
Similarly, if you want to read into emojis, it appears Akil Thomas is close to a return.
As we see in the shot-attempt chart above, the Reign are really controlling the high-danger chances. Despite their most recent game being their worst of the season, they are doing a good job of creating opportunities in scoring areas, and their defense is keeping them to a minimum.
Tynan has points in every game, but one and has four multi-point games already this season.
Though Ontario has outscored their opponents 14-8 at 5-on-5 this season, they have been one of the teams most reliant on their power play early on this season. 37% of the team's goals have come with the man-advantage (via QuantHockey), only five teams have been more reliant.
Villalta's four wins are tied for the AHL lead. It took him 13 games to get to four wins last season.
Puck Drop and Broadcast Info
Wednesday, November 3 at 7:00 p.m. P.T.
TV: AHLTV
Chromiak's Hat-Trick Leads LA Kings' OHL Contingent This Past Weekend