Three takeaways from the LA Kings 3-2 victory over the Buffalo Sabres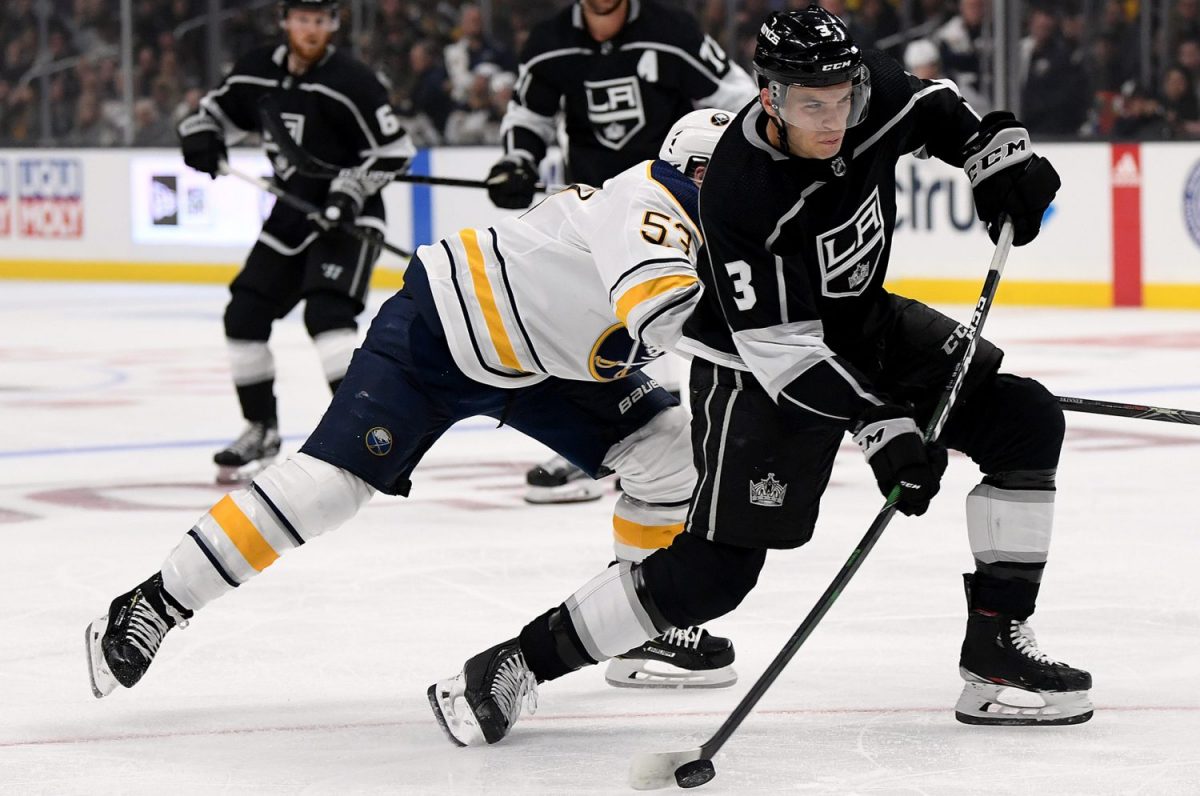 Alex Iafallo scored his third goal in two days as the LA Kings topped the Buffalo Sabres 3-2 in a comeback effort on Sunday.
How good do back-to-back wins feel, LA Kings fans? The Los Angeles Kings stepped up big time against the Buffalo Sabres, winning 3-2 coming back from a two-goal deficit.
What makes this win even better is the fact that the Kings pulled off a gutsy win without Viktor Arvidsson (who was out due to Covid protocol) and without defensemen Drew Doughty and Sean Walker.
Battling hard and eventually winning, Alex Iafallo, Anze Kopitar, and Adrian Kempe all had multi-point games helping the LA Kings overcome the 5-1-1 (now 5-2-1) Buffalo Sabres. It was a hectic game from start to finish, but these three takeaways are what made this game so much more worth tuning in for.
1. The Young Guys stepped up, especially Tobias Bjornfot
What a game it was for Tobias Bjornfot and his fellow young guns. Bjornfot ends this game with a primary- and beautiful- assist on Iafallo's game-winning goal and also a fantastic and speedy game overall. He shut the door multiple times on multiple Sabres players and managed to get the puck out of the defensive zone on many occasions.
This may have been Toby's best NHL career game so far, and this match continues to prove how he deserves a spot on this team as a full-time player. If that doesn't convince you enough, this assist on Iafallo's goal should.
SCARY good, Alex Iafallo. #GoKingsGo pic.twitter.com/D80PqZvRbH

— LA Kings (@LAKings) October 31, 2021
As for the other countless young players that slotted into the lineup in today's matinee game, they all played fantastic as well. Arthur Kaliyev started the game off on the first line but was demoted later, but that didn't stop being LA's best 5-on-5 expected goals percentage player of the night.
Carl Grundstrom was a last-second roster player tonight as Viktor Arvidsson was placed on Covid protocol, but that was no issue for him as he scored this majestic goal that happened to be the first Kings goal of the night.
How to hockey, featuring @CarlGrundstrom. #GoKingsGo pic.twitter.com/KFeDqlp6rW

— LA Kings (@LAKings) October 31, 2021
The speed and effort he used on this goal gave the Kings hope as the Kings heavily picked up their intensity after the puck went in.
Kale Clague also had himself a night as he potted an assist on the powerplay once again and was third on the team in Corsi percentage with 73.7%, just behind Arthur Kaliyev and Blake Lizotte. Clague was also second on the team in Fenwick % with 72.4%.
Rasmus Kupari helped out defensively a ton even though his offensive game took a night off. That's totally fine, though, as he had three points in two games before tonight. 
2. Arthur Kaliyev Demoted
Although Kaliyev was LA's best player statistically, Todd McLellan ended up demoting him from the first power play unit down to the second.
This isn't a time to panic because Kaliyev has been doing his job all season so far. Kaliyev simply made a few mistakes tonight and looked a little bit slow.
The effort was there, and he had a few chances to score, but when you have a young guy struggling in a game, you always want to make sure he calms down a bit and takes a breather. Even though he looked well on Kopitar's line, he wasn't totally ready for the first line quite yet.
As for the powerplay, I think it was quite obvious what got him demoted.
Rasmus Asplund. Big PK kinda guy. pic.twitter.com/4vOa7ab8xt

— NHL (@NHL) October 31, 2021
A tough giveaway and a slow backcheck caused the opening goal of the game, and after that, we didn't see too much of Kaliyev on the first powerplay line.
Again, this is nothing to worry about because Arthur had many good looks today. Him getting moved down in the lineup isn't that big of a deal because he's just a kid, and he's going to grow and become a better player.
3. Brendan Lemieux did his job today and did it well
Where do we even start with Brendan Lemieux after the game he had today? Let's start with his fight against sophomore Dylan Cozens in which he not only took down Cozens but also caused some controversy after the fight by talking smack to every person wearing blue and white on the ice. 
The absolute beating that Brendan Lemieux gave to Dylan Cozens energized that Kings' bench and got them banging their sticks against the boards and got the fans along with the team to be loud.
The Kings carried that hectic and passionate energy into the third period, and you could make an argument saying that Lemiuex was the reason that the LA Kings got those last two goals and beat the Sabres.
The fight was definitely the standout for Brendan, but he candidly had a great game as well. He was fast, he took shots, and he made some really big plays. He was close to scoring a few times, and he had four shot attempts.
He was a bit unlucky as he led the team in percentage of shot attempts blocked with 75%. Not to mention the guy was second in hits on the team with four of them, only behind Dustin Brown, who had six. 
Overall, Lemieux had a great game, and this game proved how much the Kings need him. He's such a chaotic and energizing player that gets the players on their feet, and he's the true example of a skilled yet hard-hitting fourth-line grinder that everyone hates to play against.
The Los Angeles Kings simply outplayed the Buffalo Sabres tonight, and it shouldn't have been a contest. 
The Kings were the faster, stronger, and far more skilled team, and every single player showed up and had a good game. Tonight's game showed how the Kings are truly a great team when they have everything going right for them. Obviously, it's still early but wins like these make the players excited to come to the rink every day and give it their all.
Happy Halloween, Kings fans!
LA Kings' Iafallo, Kupari talk powerplay success in win vs Canadiens