Ontario Reign: Taking a closer look into the team's hot start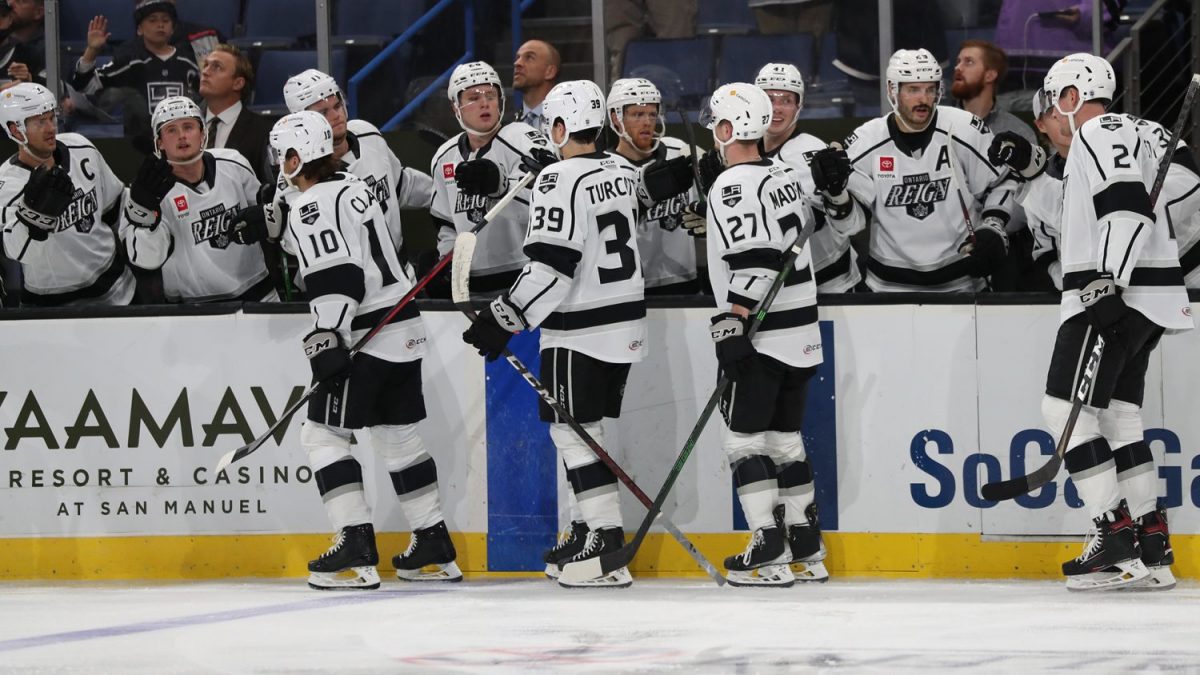 The Ontario Reign have taken advantage of a five-game homestand to start the season, going 4-0-0-1 to kick off 2021-22.
After five games in the 2020-21 season, the Ontario Reign were still searching for their first win. Though they found it in their sixth game, they would go on to lose seven straight before getting the next. Ultimately, it took until game 16 to register their fourth win of the season.
Fast forward to 2021-22 and things look quite a bit different. The Reign have already won four games and have yet to lose in regulation, sitting at 4-0-0-1 after five games.
There has been plenty of hype around the organization. Still, with the AHL team losing Quinton Byfield to injury (and a likely call-up) along with Arthur Kaliyev and Rasmus Kupari to call-ups, and Akil Thomas still recovering from shoulder surgery, it was reasonable to expect there to be a little uncertainty heading into the new season. After all, how many teams can lose four of their top five scorers from the previous season and be contenders?
Then, you add in the lone returning goaltender (not including Jacob Ingham's two starts in 2020-21), Matt Villalta, who ended last season with a 3.43 goals-against average and an .889 save percentage, the start of this season really could have gone any direction.
Fortunately for the Reign and their fans, through five games, pretty much everything has gone right. Offseason acquisition and reigning AHL MVP TJ Tynan has been the team's best player. The young prospects are starting to emerge as Alex Turcotte has four points and Samuel Fagemo has three goals while the defensemen are chipping in, with Jacob Moverare and Kale Clague in the top five on the team in scoring.
Oh, and Villalta? He's 3-0 with a 1.98 goals-against average and .931 save percentage.
Ontario has outscored their opponents 19-11 overall and 11-5 at 5-on-5. Those 19 goals are an AHL-best, and they have 19 different players with points on the season (including Ingham, the backup goaltender). Head coach John Wroblewski talked about the contributions coming from all over the lineup each night:
The power play has also been much improved so far. Last season with the man advantage, Ontario was the worst in the division — third-worst in the AHL — at 14.4%. This season, it's clicking at 26.1% in large part due to Tynan, who leads the team in power-play assists and points with three.
From a possession standpoint, Ontario has been strong. They've had the edge in every game except the last game against the San Diego Gulls in both overall shot attempts and at 5-on-5. That most recent Gulls game certainly skews the numbers a bit. The Reign were up early and had the game put away in the second period, so it's not uncommon to see a team slip in the shot attempt department when they've got a big lead.
| | | | | |
| --- | --- | --- | --- | --- |
| 2021-22 | Shot Attempts For | Shot Attempts Against | CORSI | CF% |
| All Strengths | 253 | 233 | 20 | 52% |
| 5 on 5 | 179 | 185 | -6 | 49% |
What's been noticeable, particularly against Saturday night's game against the Gulls, has been the looks the Reign have been getting in high-danger areas:
| | | | | |
| --- | --- | --- | --- | --- |
| 2021-22 HD | HD Shot Attempts For | HD Shot Attempts Against | HD CORSI | HDCF% |
| All Strengths | 106 | 86 | 20 | 55% |
| 5 on 5 | 80 | 68 | 12 | 54% |
On an individual level, I've mentioned Tynan. He leads the team in assists (6) and points (6) and is tied for second-most and third-most in the entire AHL in those respective categories. To say that he's been as advertised would be an understatement. There hasn't been a more noticeable player than Tynan when he is on the ice. So far, teams haven't had answers for him as he's gone only one game without a point.
I'm not sure if there is a hype train for Tyler Madden yet, but if there is, it's time to hop aboard. Production-wise, it's been modest — just a goal and two assists so far — but his play overall has been excellent. He's playing on the top power-play unit in the bumper role of the 1-3-1 and, with a little more puck luck, would have a bundle of goals by now (he hit two posts against Bakersfield alone). His 15 shots on goal are second-most on the team (Martin Frk has 19), but his shooting percentage is just 6.7%. He's too good of a shooter for that to stay that low.
Madden has spent most of his time with Tynan — be it either 5-on-5 or power-play — but he has also played the last couple of games with Turcotte as his center. It hasn't mattered. He has been all over the ice and finding himself with great opportunities in the offensive zone. Once they start falling, the goals could come in bunches.
Another newcomer, Brayden Burke, has been a welcome addition to the squad as well. He's played up and down the lineup but was alongside Tynan and Frk on the top line on Saturday night. He's picked up a team-high three goals — two of which are on the power-play.
I'd also like to point out Austin Wagner. He spent the prior two seasons in Los Angeles exclusively. With some offseason additions to the offense in L.A., he was sent to Ontario to start the season. To his credit, he's played great. It probably wasn't easy to be sent down after being with the NHL club for as long as he was, but he's used his speed to create chances. Coach Wroblewski talked after Friday night's win against Bakersfield about Wagner and what he's brought so far this season:
On the back-end, there may be even more reason for encouragement. The more veteran defensemen, Sean Durzi and Clague, have been very steady. Durzi is handling most of the PP1 duties and has one assist with the man advantage so far, while Clague has been as reliable a defenseman as the Reign could ask for. He's also second on the team in assists with four.
Perhaps most exciting, though, is the play of Moverare, Jordan Spence, and Helge Grans. Moverare burst onto the scene last season and has continued that right along in this one. He's got a goal and four assists, putting him second on the team in points (5). The 6-foot-3 Swede has spent time paired with some of the older defensemen (Durzi, Austin Strand) and also played with Spence and Grans. It hasn't mattered who he's been with, however, as he has been strong at both ends of the ice.
Spence is someone who is loving the style of play that Wroblewski has implemented. He's up in the play whenever he can be and brings a lot of creativity from the blueline. He's also spent some time on the second power-play unit. While his defensive game will continue to be a work-in-progress, he's showing why he is a very exciting prospect.
Grans has only needed two games to impress. While the first one was more or less him getting his feet wet (though he did pick up an assist while doing so), the second game was Saturday against the Gulls. He picked up two assists and was the most confident with the puck as I've seen from him in a Reign jersey. Coach Wroblewski was a fan of his play that night as well:
Lastly, in goal, it's been night-and-day from last season. I mentioned Villalta's numbers earlier, and he's been great. The Kingston, ON native, may have had a rough go of things in 2020-21, but he's got his sights set on keeping the net in 2021-22. The Kings aren't exactly flush with goaltending prospects, so we're all waiting to see who may emerge as the next-in-line behind Cal Petersen. Villalta's trying to stake claim to that early on here.
Ingham and Sparks have each played one game, and they've both performed well. The 21-year-old Ingham stopped 27 of 29 shots (and three of four in the shootout) in a 3-2 shootout loss to Abbotsford, while the veteran Sparks turned away 35 of 37 in the win against Bakersfield.
If the team continues to get steady production from AHL stars Tynan and Frk, significant contributions from the defense, continued growth from the top prospects, and now sprinkle in good (great?) goaltending? That's a recipe for a Calder Cup run come springtime.
Okay, it may only be five games, but it's got to feel good in that Reign locker room to hit the road with a successful five-game homestand to begin the season. After Saturday night's win, Villalta talked about how much fun it is going to the rink:
The Ontario Reign have been a fun team to watch in the first couple of weeks. We're still probably a month or so out from Akil Thomas being back from his injury, and with the Kings' current struggles, we'll see if there are any changes on the horizon. But for now, we can enjoy the Reign's early season's success.
Takeaways from the Ontario Reign's 5-1 win over the San Diego Gulls