LA Kings: Where the goaltending depth chart stands entering '21-22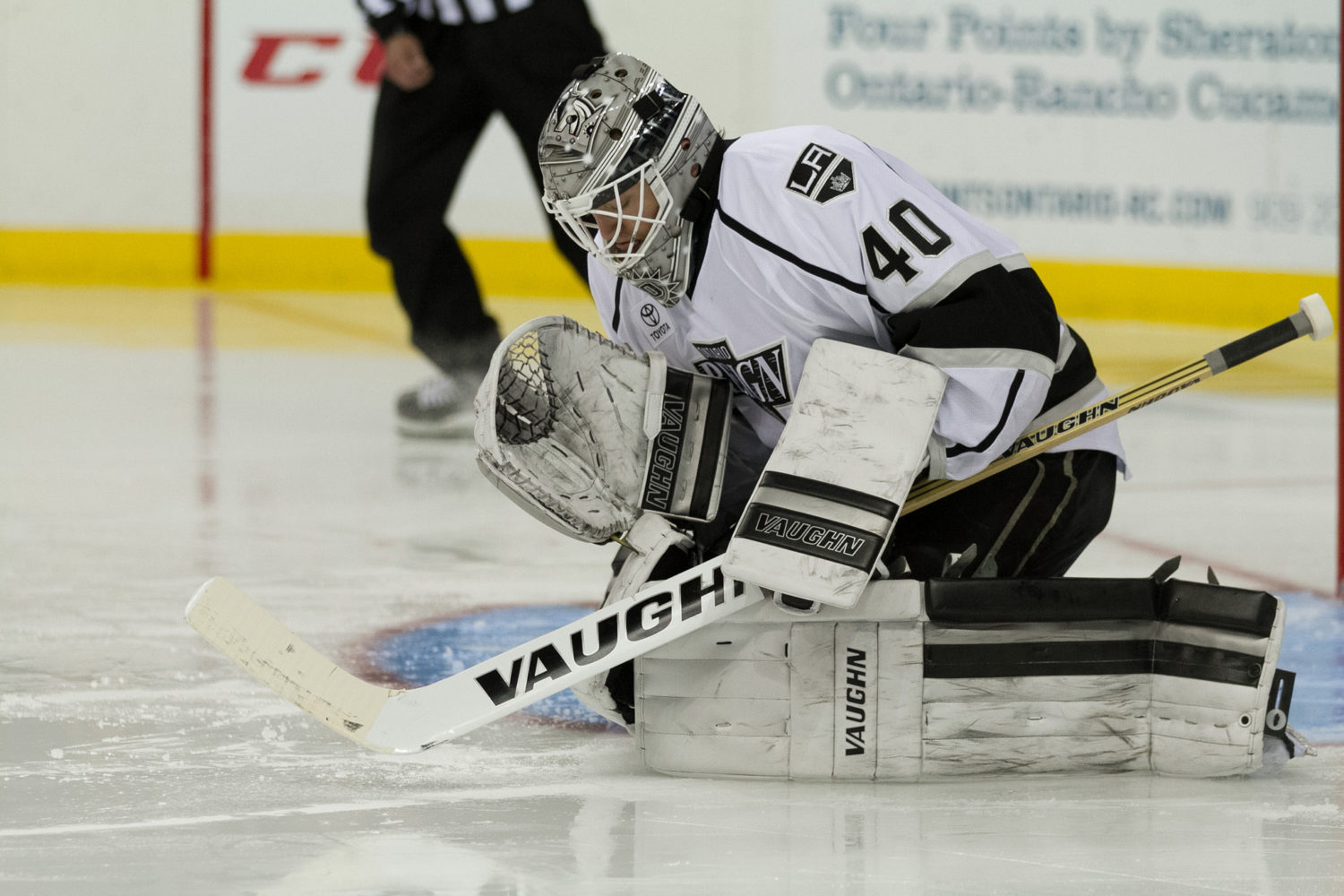 After a flurry of moves this offseason, the LA Kings depth chart has NHL players and prospects jockeying for position.
Finishing up our series of depth chart pieces dives into perhaps the position with the most unknown depth. Goaltending.
Sure, the LA Kings have Cal Petersen and Jonathan Quick at the NHL level. The latter has two years left on his deal, so Los Angeles would like to know who will eventually take over as Petersen's backup.
Goaltending
| | | |
| --- | --- | --- |
| PLAYER | CONTRACT STATUS | AGE |
| Cal Petersen | $858K (2022) | 26 |
| Jonathan Quick | $5.8M (2023) | 35 |
| Matt Villalta | $778K (2022) | 22 |
| John Lethemon | AHL Contract | 25 |
| Garret Sparks | $750K (2022) | 28 |
| Lukas Parik | AHL Contract | 20 |
| Jacob Ingham | $818K (2023) | 21 |
Cal Petersen
Let's start with the most obvious. What more needs to be said about the season that Cal Petersen had in the abbreviated 2021 schedule? In what was his first full season, the 26-year-old fifth-round pick of the Sabres in 2013 played in 35 of 56 games.
The Notre Dame alum logged a .911 SV% and a 2.89 GAA, finishing with the eighth-best save percentage for goaltenders that played in at least 35 games. Similarly, his GAA was 12th best over the same metrics.
Unfortunately, fatigue of a full season's workload took its toll, as Petersen logged a .894 SV% from April 1 to the end of the season. Over that stretch, the Kings' primary netminder carried a 3.36 GAA.
Petersen will turn 27 next month, and he'll also be entering a contract year. After his performance at the World Championships in Riga, Latvia, where he earned two shutouts and was named goaltender of the tournament, he'll be a priority to re-sign before the end of the season.
Jonathan Quick
Quick adjusted to an unfamiliar role in 2021, backing up Petersen as he enters the twilight of his career. Coming off a couple of not-so-great years, the 35-year-old future Hall-of-Famer logged a .898 SV% and 2.86 GAA in 22 games while pitching two shutouts.
Ten of Quick's 22 games were quality starts (.455), marking the second-worst percentage of his career, only to the 2018-19 season. And while his -5.9 goals saved above average (GSAA) was better than the previous two years, Quick continues on a steady decline.
As noted, he has two years remaining on his contract, and it will be interesting to see the goalie split this season. Quick is not going to lie down, and hopefully, he can bounce back while continuing to mentor Petersen.
32 days until the @LAKings' home opener.

Featuring: Jonathan Quick, who is the #LAKings' all-time goaltending leader in games (666), wins (336), shutouts (54), saves (16,321), save percentage (.913), and assists (19).#GoKingsGo pic.twitter.com/k9me88TXrS

— The Kingstorian (@Kingstorian) September 12, 2021
Matt Villalta
One of the areas where the Ontario Reign struggled last season was in between the pipes. 22-year-old Matthew Villalta was given the nod as the primary netminder, with Cal Petersen seeing regular time at the NHL level. In the 2019-20 season, Villalta posted a 3.27 GAA and a .899 SV% in his first year with the Reign. However, he regressed considerably in 2021, logging a 3.43 GAA and .898 SV%. The Kingston, Ontario, native also allowed five goals in the Reign's lone playoff game. In 18 regular season starts, Villalta allowed at least four goals in half of his starts.
John Lethemon
With Villalta struggling to keep the puck out of the net, there figures to be plenty of competition in training camp. One player vying for a role is 25-year-old John Lethemon. The Michigan State product spent all of last season playing for the Greenville Swamp Rabbits, where he compiled a 2.71 GAA and a .903 SV%. And in four playoff games, the Northville, Michigan, native recorded an impressive 1.79 GAA and .941 SV%.
Garret Sparks
Another player looking to carve out a role for himself with the Reign is 28-year-old Garret Sparks, who was inked to a two-way contract at the end of July. The former seventh-round pick in 2011 by the Maple Leafs figures to step into the Troy Grosenick role, who departed in free agency, and Sparks comes with a ton of experience.
He most recently spent last season with the Stockton Heat of the AHL, recording a 2.69 GAA and .913 SV% in 16 contests. Sparks also has NHL experience under his belt, making a combined 38 starts over three seasons with Toronto, boasting a respectable 3.10 GAA in a backup role.
Lukas Parik
The Kings signed Parik to a one-year contract to keep his rights beyond this season. The former third-round pick in 2019 was the workhorse for the Dubuque Fighting Saints of the USHL, logging a 3.35 GAA and .867 SV%. Parik also played made two starts for Team Czech Republic, recording a shutout against rival Team Russia. Where does he fit into the Reign's plans next year? Time will tell.
Jacob Ingham
After making just one start for Ontario last year, Jacob Ingham will look to find a permanent spot on the roster heading into the 2021-22 season. Last season, the 21-year-old played with John Lethemon in Greenville of the ECHL, making 13 starts while posting a 3.15 GAA and .892 SV%. The youngster could potentially use additional seasoning. With Lethemon and Sparks in the fold behind Villalta, it will be difficult for Ingham to get regular starts in net for Ontario.
Others
The Kings also have David Hrenak in the pipeline, who will return for his senior season at St. Cloud State in the fall. The 23-year-old made 27 starts for the Huskies last year, registering a 2.66 GAA and .904 SV% while helping his team advanced to the Frozen Four Finals against UMass.
And finally, the Kings selected Juho Markkanen in the fourth round of the 2020 NHL Draft. The 19-year-old Edmonton, Alberta, native will look for more consistency with one team in 2021-22 after making 21 starts across four different Finnish leagues.
LA Kings: Where the offensive depth chart stands entering '21-22
LA Kings: Where the defensive depth chart stands entering '21-22