LA Kings: Gabe Vilardi ready to provide much-needed secondary scoring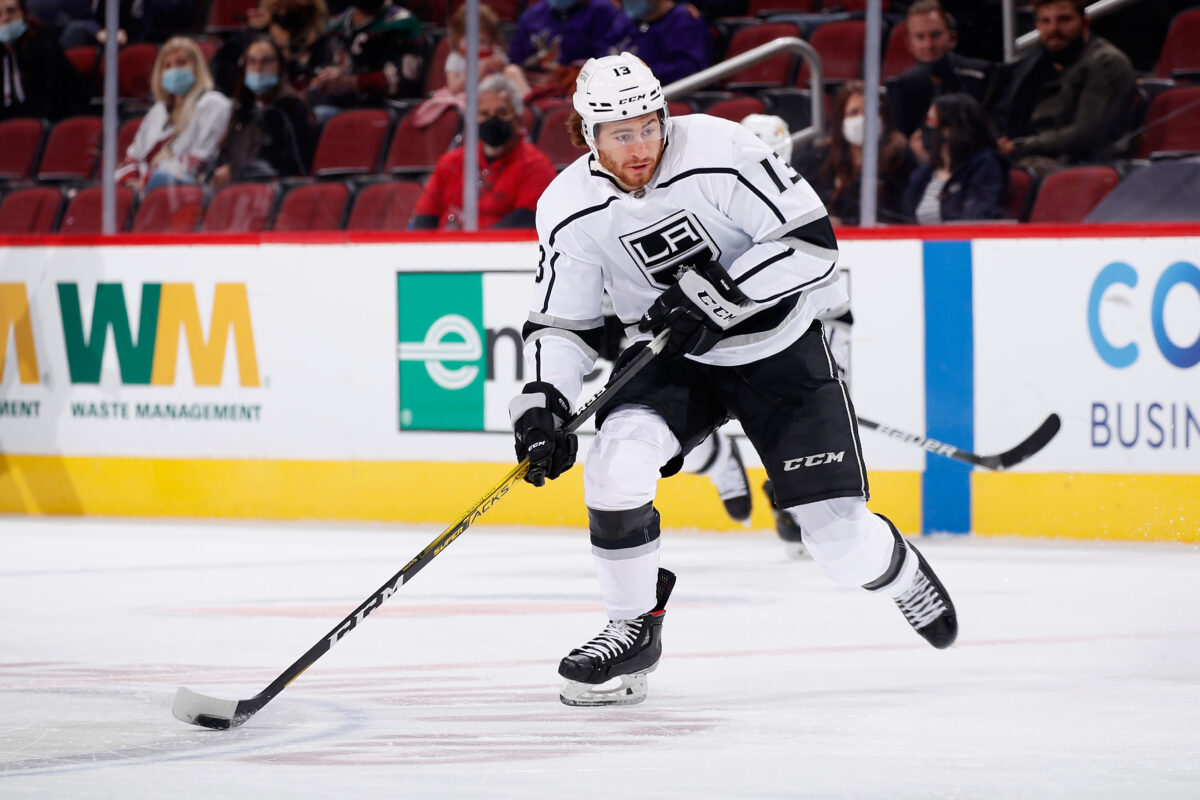 Fresh off a productive preseason, Gabriel Vilardi looks primed to be a player who can bring some much-needed offense to the LA Kings lineup.
When the LA Kings signed Phillip Danault to take over second-line center duties, much of the conversation shifted to "what does this mean for Gabriel Vilardi?" With Anze Kopitar and Danault now locked up above him and the team's prized prospect, Quinton Byfield, knocking on the door, many (myself included) speculated that Vilardi would shift to the wing. He had a season of inconsistent production in 2020-21 and there was talk about how he needed to improve in the faceoff circle, as well. The idea of him moving to the wing seemed to make a ton of sense. That is unless you're Vilardi.
He's been one of the most talked-about Kings during a productive preseason, scoring three goals and adding an assist while playing in six of the team's exhibition games. Three of those goals have come in the last three games, including two in Saturday night's preseason finale. During the preseason, he has also played more minutes at 5-on-5 than any Kings forward (62:42) — except for his linemate, Vladimir Tkachev (65:04). It's fair to say the LA coaching staff wanted to get an extended look at Vilardi.
With Byfield out indefinitely after fracturing his ankle, there isn't anyone coming too close to Vilardi's third-line center position in the immediate future. To be fair, though, to the Kingston, ON native, his play this summer really solidified his role as 3C even with a healthy Byfield.
So, what's next for Vilardi? Let's take a quick step back and see how his tenure so far in the NHL has gone.
After recovering from a back injury, he played just 10 games in the 2019-20 season, so I don't want to harp too much on the raw numbers there. After all, he did finish with three goals and seven points.
In the 2020-21 season, he was tasked with playing a lot of second-line minutes, and the results were a mixed bag. His offensive production showed flashes of the potential he has, but for the most part, he was pretty inconsistent, finishing with 10 goals and 23 points in 54 games. This inconsistency is, in large part, due to his defensive game. He hasn't graded out well in JFresh's model above or Evolving Hockey's:
Let's break down some numbers a bit deeper (note: all CF%, xGF%, scoring chance data is 5v5 and per Natural Stat Trick).
First, here are the players he spent the most time with in 2020-21:
| | | |
| --- | --- | --- |
| With | TOI With | CF% With |
| Jeff Carter | 242.7 | 52.42 |
| Adrian Kempe | 187.4 | 47.51 |
| Lias Andersson | 169.3 | 45.45 |
| Andreas Athanasiou | 157.5 | 49.44 |
| Trevor Moore | 136.3 | 48.97 |
| Austin Wagner | 97.8 | 47.90 |
| Alex Iafallo | 88.9 | 48.03 |
| Dustin Brown | 70.7 | 42.86 |
The first thing that probably jumps out is that he spent the most time with Jeff Carter, who is obviously no longer with the team. The other part that should jump out is the only player he was a positive possession player with was…you got it… Jeff Carter (did I mention he's no longer with the team?).
So far, all we have is preseason action to look at for the 2021-22 season, so while I do want to stress virtually any statistics at this stage, it should be taken with a grain of salt. What I presume the coaching staff would like to see is how Vilardi and his line performed, particularly at 5-on-5 – and if are there signs of improvement.
First, here's how Vilardi's possession numbers shook out for the five games (note: There was no tracking data available for the game in Salt Lake City):
| | | | | |
| --- | --- | --- | --- | --- |
| GP | TOI | CF | CA | CF% |
| 5 | 62.7 | 43 | 75 | 36.44 |
At 5-on-5, Vilardi spent a significant amount of time in his own zone. And it wasn't just one bad game weighing things down (though the second to last game against Anaheim was particularly ugly) – he only had one game where he was a positive possession player:
| | | | | | |
| --- | --- | --- | --- | --- | --- |
| Game | Team | TOI | CF | CA | CF% |
| 2021-09-28 L.A at S.J | L.A | 13.4 | 9 | 14 | 39.13 |
| 2021-10-01 L.A at VGK | L.A | 11.2 | 14 | 9 | 60.87 |
| 2021-10-05 ARI at L.A | L.A | 11.5 | 9 | 10 | 47.37 |
| 2021-10-06 L.A at ANA | L.A | 15.9 | 4 | 28 | 12.5 |
| 2021-10-09 ANA at L.A | L.A | 10.7 | 7 | 14 | 33.33 |
Needless to say, the shot attempts have been heavily in favor of Vilardi's opponents in this handful of games.
I'll say as well, he has received a lot of praise for his two-goal performance against the Ducks on Saturday, and listen, it's not as if he hasn't deserved it. From an offensive standpoint, he's clearly been much more assertive and has been willing to shoot the puck. But, in a game where he was just a 33% possession player, if he doesn't score, the conversation would be different. Sure, he did score, but if we're betting on likely outcomes, can we expect a player who's spending that much time in his own end to come out on top of the goal battle? Not without some elite shooting. That's for sure.
Vilardi was flanked by the aforementioned Tkachev and Lias Andersson virtually the entire preseason. There certainly seems to be a comfort level with Andersson. They have spent some time together in the past. For Tkachev, it really looks like the young Russian can fit with anyone the way he skates and sees the ice. But, with him on the line, there certainly is a decent likelihood that the quality of scoring chances could be very good.
Here's how they fared in their six games together:
| | | | | |
| --- | --- | --- | --- | --- |
| Player 1 | Player 2 | Player 3 | TOI | CF% |
| Lias Andersson | Gabriel Vilardi | Vladimir Tkachev | 47.6 | 43.9 |
Again, not pretty. If you are living in the high 40s percentage-wise but have high-end shooting and can produce high-quality scoring chances, it can work. But low 40s or worse from a CF% will be problematic.
Expected Goals & Scoring Chance
We'll take a look back at how Vilardi fared in 2020-21 with those same common linemates above, only taking a look at expected goals, scoring chances, and high-danger scoring chances:
| | | | | |
| --- | --- | --- | --- | --- |
| With | TOI With | xGF% With | SCF% With | HDCF% With |
| Jeff Carter | 242.8 | 53.76 | 50.98 | 52.44 |
| Adrian Kempe | 187.4 | 42.68 | 44.06 | 40.74 |
| Lias Andersson | 169.3 | 44.16 | 45.31 | 48 |
| Andreas Athanasiou | 157.5 | 51.69 | 48.03 | 54.55 |
| Trevor Moore | 136.3 | 51.62 | 51.85 | 55.1 |
| Austin Wagner | 97.8 | 39.12 | 39.78 | 46.34 |
| Alex Iafallo | 88.9 | 47.31 | 47.62 | 63.16 |
| Dustin Brown | 70.7 | 41.18 | 39.02 | 42.11 |
From an xGF%, his numbers are slightly better than the straight possession numbers earlier.  As you'll see, with a number of those linemates, he was able to generate a good amount of high-danger scoring chances. This is a bit more encouraging, particularly with how well Vilardi shoots the puck — he had a 14.9% shooting percentage at 5-on-5 last season. It's a number that is perhaps slightly high, but I do not think it's egregious to where it'll be cut in half this season. For reference, he was a career 12.3% shooting percentage in the AHL and 15.5% in his early NHL career. Something in the low double digits could be a reasonable expectation given his career to date.
If his line this season is going to be out-attempted if they're able to create higher quality scoring chances, that could make up for it.
Here's how it looked in the preseason:
| | | | | | | |
| --- | --- | --- | --- | --- | --- | --- |
| Player 1 | Player 2 | Player 3 | TOI | xGF% | SCF% | HDCF% |
| Lias Andersson | Gabriel Vilardi | Vladimir Tkachev | 47.6 | 54.8 | 51.28 | 69.23 |
A much more positive showing in terms of scoring chances and expected goals. This could be something to build off of.
To get a little better idea of how Vilardi's numbers look relative to his team's performance when he's on the ice versus when he is not on the ice, NST has Relative data, a similar story here as we see the xG and scoring chances looking better than the shot attempts:
| | | | | | |
| --- | --- | --- | --- | --- | --- |
| Player | CF% Rel | FF% Rel | xGF% Rel | SCF% Rel | HDCF% Rel |
| Gabriel Vilardi | -0.66 | -0.32 | -0.32 | 0.57 | 2.83 |
That may be the best illustration of how, possession-wise, the team is performing worse off when Vilardi is on the ice. However, this again shows he is contributing positively to scoring chances, particularly high-danger chances.
Faceoffs
Faceoffs can be a bit of a touchy subject at times when you're browsing through Hockey Twitter. While I do not fall into the camp that suggests it's a meaningless stat, I also don't think it's one to necessarily lose much sleep over – or get too excited about – barring the extremes.
That said, faceoffs have been something that is a talking point around Vilardi. He ended last season at sub-50% (45.9%) and was an area that he hoped to improve on this season.
In the preseason, here's how the percentages shook out by game:
9/28 at San Jose: 11/23 (48%)
10/1 at Vegas: 4/12 (33%)
10/5 vs Arizona: 4/13 (31%)
10/6 at Anaheim: 4/14 (29%)
10/9 vs Anaheim: 2/5 (40%)
So far, not anything in the way of improvement.
I should say – I don't want this to come across as a negative piece on Vilardi. I am a very big fan of his. What I'm hoping to illustrate is, despite some of the excitement on the heels of his two-goal performance, we should be wary that his game is not yet a finished product. He hasn't shown to be a player that's strong in his defensive zone yet. I think it's fair to expect that to improve playing mostly third-line minutes, but the fact it hasn't happened in the past and the small preseason sample wasn't very good either, I don't think we should be blindly assuming it will happen.
Given the Kings' roster moves on Sunday, placing Austin Wagner and Austin Strand on waivers, the opening night lineup is more or less set.
LAK have placed Austin Strand and Austin Wagner on waivers.#GoKingsGo

— Russell Morgan (@NHLRussell) October 10, 2021
Here's how I'd expect the Kings to the lineup to start the season (using JFresh Hockey's WAR Roster Builder):
For me, there are a few things I'd change with this. But for the purposes of this article, I'll focus on the Vilardi line.
As I've illustrated, his defensive game needs to improve quite a bit. What I'd like to see is to have a couple of wingers who are strong defensively – but who in a 3rd line role could still provide offense:
I understand this is highly unlikely to happen, but I am a believer in possession statistics. Eventually, if a player or a line is being hemmed in their own zone night in, night out, it's going to be something that needs to be addressed. I am not sure if Alex Iafallo and Adrian Kempe have the offensive production to sustain top-six roles (though, I've quite liked what I've seen from Iafallo with Danault). Still, they'd both be strong third-line wingers for Vilardi and would be able to help on the defensive side of the puck.
As noted in the above charts, Vilardi did spend some time with each of Iafallo and Kempe in 2020-21, albeit not on the same line as a trio.
Look at it this way – If Vilardi has shown to have the ability to create high-danger chances despite spending too much time in his own zone, perhaps he just needs to spend less time in his own zone (crazy, right?) so he can create even more scoring chances in the offensive zone (insert mind-blown emoji). My thinking is if he isn't capable/ready to drive that as a center, helping him with a couple of effective defensive wingers could be a solution.
Obviously, this messes with the rest of the lineup. For illustration purposes, I'll give you what I would open the season with:
It isn't any different in terms of the projected point differential, but I think it helps balance out the lines. You'll see the only line that takes a serious hit is Kopitar's line. This is due to replacing Viktor Arvidsson with Arthur Kaliyev; there's a massive difference in their WAR projection. But if you want to be an optimist in Kaliyev (which I am), then you'd be willing to bank on that projection being low.
Overall, we should be excited about what Vilardi has the potential to do offensively this season. However, I also think we need to make sure we're acknowledging the fact that his defensive game is still a work in progress. By the end of the season, I am expecting to see Vilardi slide to the wing. This would open up many more options for him. He can play the wing on the third line with Byfield when he returns or on one of the top two lines with Kopitar or Danault.
Not having to shoulder the same defensive burden as a winger and allowing him to do what he does best – create scoring chances for him and his teammates – could be the best thing for Vilardi.