LA Kings: Gabe Vilardi on a Full Season, Line Chemistry, and More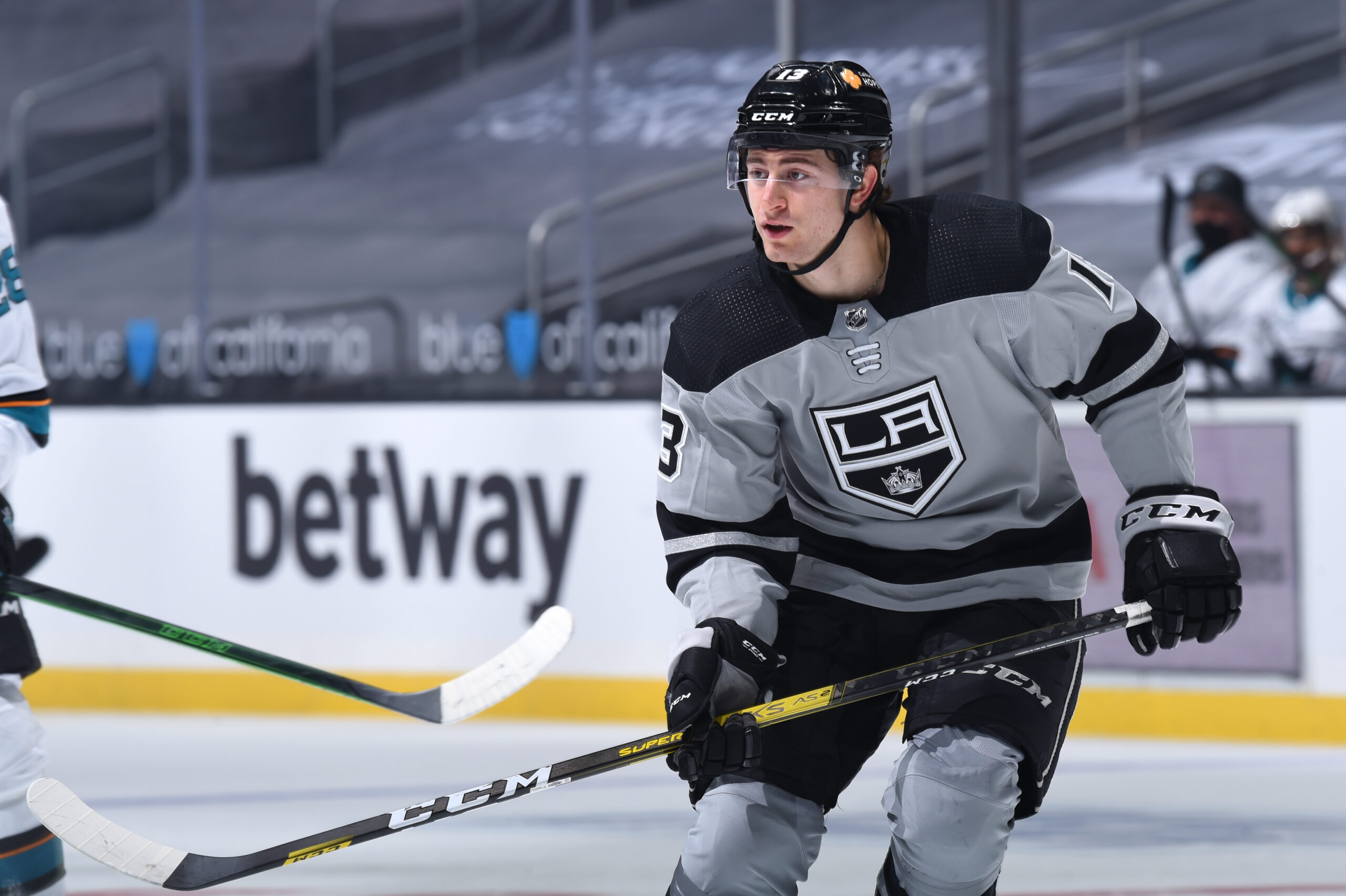 With the beginning of the regular season just around the corner, LA Kings center Gabe Vilardi shares his thoughts on getting started.
While the emergence of Quinton Byfield was already a factor, this summer's signing of Phillip Danault only seemed to emphasize an odd-man-out sort of predicament for Gabe Vilardi. The LA Kings certainly aren't short on depth at the center position, but Vilardi has certainly proven this preseason that he's worthy of another look. Plus, now with Byfield sidelined for an indefinite amount of time, the early stages of the regular season may just be what Vilardi needs to redeem himself.
While they lost to Arizona on Tuesday night, the LA Kings had early offensive support from Vilardi, who potted a power play goal en route to his club's defeat.
"I think it's just whatever I see," Vilardi said on Tuesday in response to whether he has more of an emphasis to shoot on the man advantage. "I saw the shot lane, kind of thing, and I took it and it went in."
Speaking of the man advantage, the former Kingston Frontenac was also asked on Tuesday whether his special teams line — which includes Adrian Kempe and the aforementioned Danault — is starting to find their way, so to speak, and gel as a unit.
"Yeah, definitely," an emphatic Vilardi noted. "I mean, if you look back at last year, I think I was on the second unit the whole year, and I think I had two points on the power play. So, I mean, that needs to be better, for sure. I like the way we're moving in practice and today's the first time we got the full unit together. I thought we looked good actually. But definitely, we need to help produce goals, score goals."
LA Kings: Gabe Vilardi in High Spirits as He Continues to Improve
If Danault's addition is supposed a threat to Vilardi, someone forgot to notify the latter. In fact, Vilardi is feeling more confident on even strength this year, thanks to the former Canadien's arrival as well as the unwavering presence of captain Anze Kopitar.
"When you look at it, yeah. I mean, those guys are going to be playing against the top six every night. If I'm going to be playing center, I'm going to be slated in the bottom six," admitted the 22-year-old. "So [I've] definitely got to take advantage of what I'm up against, and I think that can be a good thing all year."
In regards to his even-strength line, Vilardi's been working with Lias Andersson and new Kings arrival Vladimir Tkachev. While he may only have one goal this preseason, the Kingston native nonetheless feels good playing with Andersson and Tkachev as the trio has developed a fair bit of chemistry thus far.
"It's really good in the O-zone," Vilardi observed of said chemistry. "They both think the game really well. I think we've got to keep working on the D-zone. It's tough, especially since [Tkachev] doesn't speak much English, which is common in a lot of communication. But, I think we're working on it and doing a lot of videos. I like what we're at right now."
As for the language barrier, Vilardi is confident that it doesn't deter his chemistry with Tkachev and that the two communicate very well despite the language gap.
"It's just on the bench," the centerman noted. "Sometimes [Tkachev will] come to me and say something, I don't really get it; sometimes I'll say something, and he doesn't get it. So I mean, obviously, there's a barrier there but a lot of communication on the bench."
For Vilardi personally, the 2021-22 season will mark a new chapter. While he will be entering his third NHL season, the big center has yet to play a full season in the big league. Due to COVID, the 2019-20 season was cut short, and with an abbreviated 56-game schedule last season, a full 82-game campaign is uncharted territory for Vilardi. If this is fodder for concern or panic, though, Vilardi missed the memo.
"I'm really excited," he beamed. "I mean, just having fans again, it's just so much more fun, honestly. I can't say it wasn't fun last year, obviously — playing hockey, it's my dream — but I am looking forward to a full 82-game [schedule] and traveling, doing everything that I look forward to as a kid."
The LA Kings are now just six days away from their regular-season debut. The entire team is ready, including Gabe Vilardi, who will be out to prove a thing or two to skeptics and even to himself.
LA Kings: Martin Chromiak "Left a Teenager and Came Back a Man"