LA Kings Player Expectations: Defense and Goalies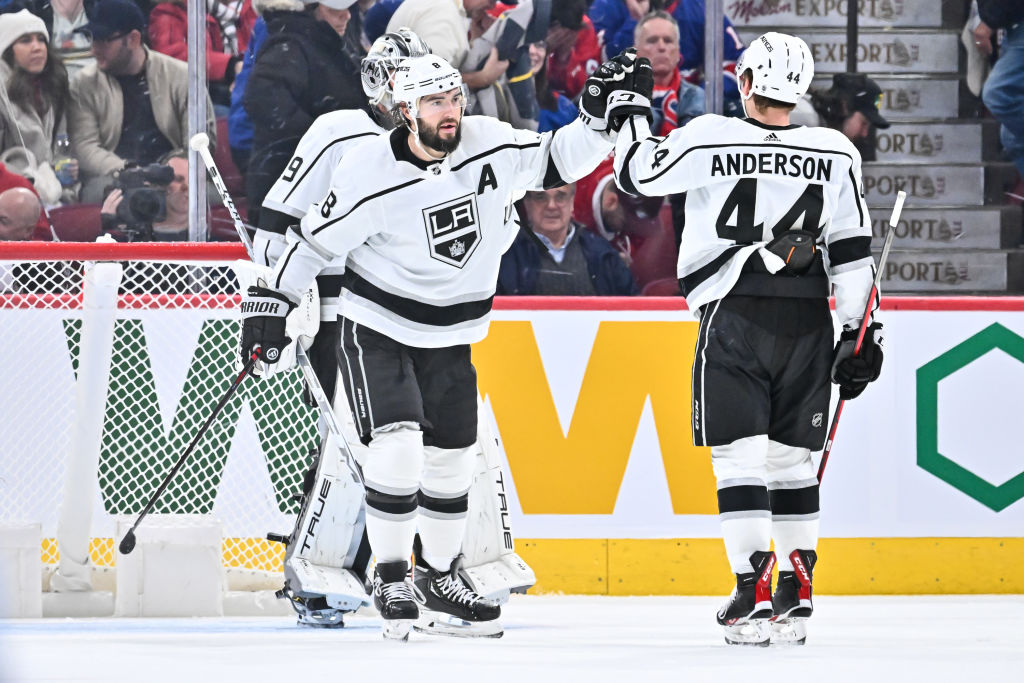 Defensemen
Drew Doughty
2022-2023 statistics: 81GP, 9G, 43A, 52P. +/-: +12
Despite his age and length of service, veteran defenseman Drew Doughty continues to play at a very high level for the LA Kings. Drew's point total of 52 points last season stands as his best offensive season since 2017-2018 and is the third-best mark of his career, while still playing solid defense and leading the team in time on ice per game.
If there is one area in which Drew can improve it is 5-on-5 scoring. Last season, he scored 27 points on the power play, with only 4 of them being goals. Almost all of his offensive resurgence came from power play assists, many of which were secondary assists.
Drew has a penchant for missing the net high when taking shots from the blueline and doesn't leave the blueline to join the play as often as he once did. Given his pairing with the defensively gifted Mikey Anderson, I would like to see Drew show the trust he has in his partner by taking offensive opportunities more often in a return to his younger style of play.
Mikey Anderson
2022-2023 statistics: 77GP, 5G, 15A, 20P. +/-: +20
Mikey Anderson is the secret weapon of the LA Kings. Paired with Drew Doughty, Anderson is known for a hard-nosed style, and excellent zone-entry defense, and has quietly lived under the skin of opposing superstars, goading the Penguins' Sidney Crosby into his first career ejection and getting into his fair share of skirmishes with Connor McDavid and Leon Draisaitl of the Edmonton Oilers.
The adult named Mikey also set career highs in all offensive categories this year, adding an element to his game that was a welcomed surprise. This coming season, I would like to see Mikey continue developing his offensive game.
He has a hard shot and is not afraid to join the high cycle, and making opponents respect him offensively will only increase the offensive efficiency of his forwards. Otherwise, you just keep doing you, Mikey.
Matt Roy
2022-2023 statistics: 82GP, 9G, 17A, 26P. +/-: +8
Continuing the trend of stellar Kings defensemen that no one else knows about, Matt Roy really solidified himself as a fan favorite among Kings fans for his excellent defense, smooth and efficient style, and managing to maintain his game even when tasked with helping young defensemen playing their off side in Sean Durzi and Sean Walker.
Roy also set a career-high in games played, goals, and points, looking downright offensively dynamic on some of his goals. However, Roy presents a complicated set of roster decisions for the upcoming season. As will be mentioned later in the article, both Brandt Clarke and Jordan Spence will be vying for spots on the right side of the defense, which currently includes Drew Doughty and Matt Roy.
Roy was on the list of players that could have been moved earlier in the offseason for cap relief before Alex Iafallo ultimately became the most notable cap casualty. However, this did not clear up the logjam on the right side of the defense, and I don't feel that the left side was adequately addressed during this offseason either.
I want to see the Kings try Matt Roy on the left side this coming season. I think that his defensive acumen will help him make that move more easily, and it would balance out Todd McLellan's preference for one defensive defenseman on the left and one offensive defenseman on the right of each defensive pairing.
Otherwise, Roy remains atop the list of potential cap casualties along with Viktor Arvidsson, this time at the trade deadline. Keeping Matt Roy on the right side of the Kings' defensive lineup long-term at the expense of Spence would be a mistake.
Vladislav Gavrikov

2022-2023 LA King statistics: 20GP, 3G, 6A, 9P. +/-: +12
Acquired as part of the trade that sent Jonathan Quick to the Columbus Blue Jackets, Vladislav Gavrikov immediately found chemistry playing alongside Matt Roy, creating a strong defensive pair with sneaky offensive potential.
Optimally, I would like to see Gavrikov play alongside one of the younger defensemen that should populate the right side of the defense this season, but the coaching staff will likely be hesitant to split up a pairing with Roy that was so effective.
Aside from that, it will be interesting to see what Gavrikov can do once he has a full training camp and preseason to get even more comfortable with the Kings system.
Andreas Englund
2022-2023 NHL statistics: 47GP, 0G, 4A, 4P. +/-: -1
After splitting last season between the Colorado Avalanche and Chicago Blackhawks franchises, Andreas Englund signed a 2-year, $2 million contract with the Kings, ostensibly to vie for the spot vacated by Alex Edler after last season.
Englund is a big, bruising defender, known more for his hits and punishing style of play than his defensive acumen, capping his potential as a third-pairing NHL defenseman who has also spent time substantial in the AHL.
Given that Englund is a left-shot defenseman, he will have less competition for his spot than if he played on the right side. However, Kings prospects Tobias Bjornfot and Jacob Moverare have both gotten notable NHL time and are getting to an age where you'd expect them to not have many more chances to solidify an NHL roster spot with the Kings. Englund, Bjornfot, and Moverare would all have to clear waivers to return to the AHL, and given the cap-related roster size constraints, this will be another battle to watch throughout training camp.
Jordan Spence
2022-2023 NHL statistics: 6GP, 0G, 1A, 1P. +/-: +1
This brings us to possibly the most fascinating training camp battle of them all. If Matt Roy and Drew Doughty start the season on the right side, this leaves our two best defensive prospects to battle it out for the final remaining right-shot defenseman slot, with the outside chance that the other will make the roster on the left side.
Jordan Spence had played games at the NHL level, including playoff games, and has been one of the AHL's best defensemen for the past few years. Given his age and his last year of waiver-exempt status, I would expect that Spence has the inside track for the RD3 slot on this team, likely as the quarterback of the second power-play unit.
If that's the case, I would like to see Spence translate his offensive prowess to the NHL level and improve on the instances in which he's looked somewhat overwhelmed defensively at the NHL level.
Brandt Clarke
2022-2023 NHL statistics: 9GP, 0G, 2A, 2P. +/-: -1
Easily the Kings' best prospect, Brandt Clarke started last season with the Kings and posted 2 points in the nine games allowed before burning a year of his entry-level contract. Given a surface-level glance, his numbers weren't all that impressive. Although his NHL stint was brief, Clarke showed Kings fans his potential, displaying excellent vision, unpredictability, and instant chemistry.
This coming preseason will be an important one for Clarke, and even if he does well, he still might find himself back with the Reign. All I want to see from Clarke is for him to become a force at whichever professional level he finds himself playing at, and for him to continue to round out his defensive game. We might have a very special prospect on our hands, so having patience will be a frustrating necessity.
Goalies
Pheonix Copley 2022-2023 NHL statistics: 37GP, 24-6-3 record, 2.64GAA, .903sv%
Cam Talbot 2022-2023 statistics: 36GP, 17-14-2 record, 2.93GAA, .898sv%
Dave Rittich 2022-2023 statistics: 21GP, 9-8-1 record, 2.67GAA, .901sv%
Signed initially last offseason to play in an AHL tandem with the Ontario Reign, Pheonix Copley was called up to the Kings when Cal Petersen was sent down to the AHL, and the boutique tea manufacturer from Alaska never looked back. Slowly taking the starting role away from a struggling Jonathan Quick, Copley put together a great winning record, despite only average personal statistics.
With the departure of Quick, Petersen, and Joonas Korpisalo, GM Rob Blake acquired both Cam Talbot and David Rittich on one-year deals, setting up a three-way goalie battle this preseason, with one goalie expected to start in the AHL in tandem with goalie prospect Eric Portillo.
I put all three goaltenders together in one section because while we can speculate about an expected NHL tandem of Copley and Talbot, there is not a large gap between any of the three goaltenders, making room for a surprise. "Big Save Dave" Rittich has plenty of experience as an NHL backup, making it a significant possibility that he claims that role with the Kings, setting up a scenario in which any possible tandem of two of the three goaltenders making the NHL roster wouldn't be remotely surprising.
Regardless of the tandem, getting an average of around .905-.910 save percentage goaltending between the eventual tandem should be enough to make sure that goaltending isn't a glaring weakness in this roster. Last season, the Kings acquired 77.2% of the possible points in the standings with Copley in net, and he had a .903 save percentage in those games, proving that this roster creates a goalie-friendly environment that can sustain a very good record with a similarly average save percentage.
Conclusion
The idea of predictability and the game of hockey does not exist in the same conceptual universe. Hockey is a game defined by high levels of randomness, unpredictable breakouts and frustrating regressions, and constant injury struggles. Heck, we're just over three years removed from the entire world temporarily shutting down and taking the game of hockey with it.
A not insignificant number of the players mentioned above will deal with injuries, promotions and demotions, and other forms of roster instability. However, Rob Blake has done a good job of adding talent to this roster in key areas, and the depth of the LA Kings organization put them in a position to handle the inherent randomness of roster struggles more than most teams. Assuming that we see many of the hopeful player performances highlighted above and get good hockey
(FEATURED IMAGE BY MINAS PANAGIOTAKIS/GETTY IMAGES)