LA Kings make late-night trade for Gavrikov and Korpisalo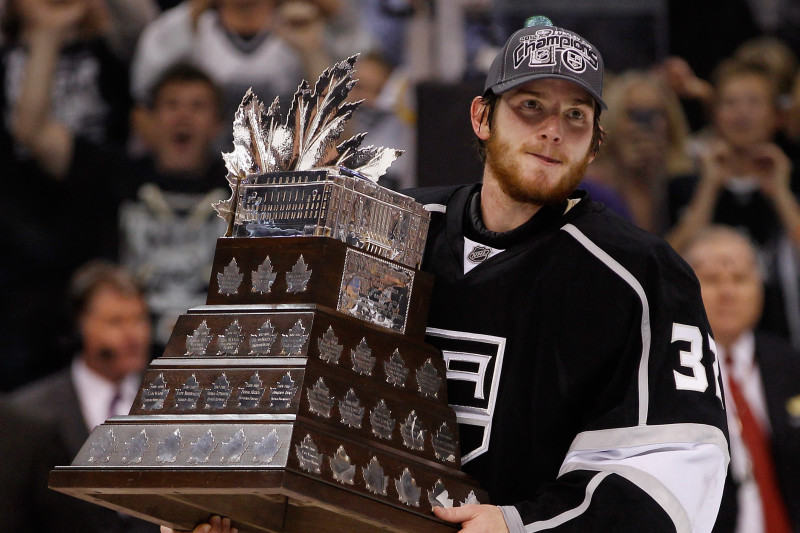 After their 6-5 comeback win in a shootout against the Winnipeg Jets, the LA Kings made a late-night trade that shocked everyone.
With LA/CLB working on a Korpisalo/Gavrikov deal, word is one of the pieces in return will be Jonathan Quick. Loved watching him during his fantastic run with the Kings, backbone of their two Stanley Cup championships. A first-round pick will also be involved.

— Elliotte Friedman (@FriedgeHNIC) March 1, 2023
#LAKings have traded Jonathan Quick to #CBJ. He is part of a deal that will send back Joonas Korpisalo.@DailyFaceoff

— Frank Seravalli (@frank_seravalli) March 1, 2023
Yes, after weeks of speculation, the LA Kings made a trade for a left-handed defenseman and a goalie. Vladislav Gavrikov and Joonas Korpisalo are heading to LA. It's also reported that there won't be an extension coming with Gavrikov, per David Pagnotta of The Fourth Period.
There is no extension coming with Gavrikov as part of this trade.

— David Pagnotta (@TheFourthPeriod) March 1, 2023
What's shocking is the return. Franchise icon, Jonathan Quick, was also involved in the deal along with a first-round pick. While it's been a rough year for Quick it's shocking to see LA trade their franchise goalie for the past decade-plus.
Thank you for the memories Quick! I'll make sure to attend your jersey retirement in the future🥲. #GoKingsGo pic.twitter.com/YJSiwC2eN4

— Kyle Garcia (@Kopitar4HOF) March 1, 2023
No better player I've enjoyed watching more than Jonathan Quick during his time with LA.

Sad day for Kings fans. Number 32 will be in the rafters of Crypto soon.#GoKingsGo

— Russell Morgan (@NHLRussell) March 1, 2023
Thank you, Jonathan Quick. We shall see you soon to celebrate your great career.#GoKingsGo https://t.co/vBDTxLJxat

— West Coast Hockey Bias (@MarcelAndRogie) March 1, 2023
Jonathan Quick. I'm in shock. Absolutely in shock. I'm so glad I got to meet you as a king. I'm a new fan, but you're the first kings goalie I've ever watched play. I'm speechless actually pic.twitter.com/3iMXsRZh6p

— Ryan T. (@ryantk343) March 1, 2023
Thank you Jonathan quick I will miss you so much. I'm lucky enough to have seen him play with the kings,Now I'm extremely thankful for that.
I know he has had a few tough years but he will always be a king pic.twitter.com/f8peY24FT2

— hockey talk with Aly (@hockey_talkAly) March 1, 2023
Thank You Johnathan Quick for everything you have done for the @LAKings Organization. I grew up watching you I saw you lead us to the only Cups in franchise history. You're the best in Kings History. Thank you Jonathan Quick from the bottom of my heart.

— Carson McNitt (@CarsonMcNitt26) March 1, 2023
Fans were quick (no pun intended) to post thank-you tributes for the franchise's best goalie. It's easy to understand their emotions right now, and who can blame them? The man is single-handedly the reason the Kings won the Staley Cup in 2012 as he won the Conn Smythe trophy for his performance that playoff run. I'm not really high on Gavrikov but I don't think Rob Blake isn't done making moves yet. The trade deadline is Friday at 12 pm PT.
UPDATE: In addition to the first-round pick, the Kings will also be trading their third-round pick in next year's draft. The first-round pick is also conditional if the Kings miss the playoffs. If the Kings miss the playoffs then that first-round pick in 2023 turns into a second-round pick in 2023 and 2024.
Deal will be announced later this morning by #CBJ and #LAKings, but told the deal is this:

To #LAKings:
D Vladislav Gavrikov
G Joonas Korpisalo

To #CBJ:
G Jonathan Quick
First-round pick
Third-round pick

— Aaron Portzline (@Aportzline) March 1, 2023
There's also a condition on the 1st from LA, in the unlikely event the Kings miss the playoffs. https://t.co/H0dlwe9wSU

— Darren Dreger (@DarrenDreger) March 1, 2023
Trade is official:

To #GoKingsGo:
Vladislav Gavrikov
Joonas Korpisalo

To #CBJ:
Jonathan Quick
Conditional 2023 1st round pick*
2024 3rd round pick

*Columbus gets LA's 2023 and 2024 second round pick if the Kings miss the playoffs this season.

— Russell Morgan (@NHLRussell) March 1, 2023
The Blue Jackets have acquired G Jonathan Quick, a conditional first-round pick in the 2023 NHL Draft and a third-round pick in the 2024 NHL Draft from the LA Kings in exchange for D Vladislav Gavrikov and G Joonas Korpisalo.@RuoffMortgage | #CBJ https://t.co/iRw1xlOyYE

— Columbus Blue Jackets (@BlueJacketsNHL) March 1, 2023
Featured image credit: Bruce Bennett/Getty Images