On Wednesday, the LA Kings announced that Dustin Brown will have both his jersey retired and a statue outside of Crypto.com Arena.
The ceremony will take place on February 11th when the Pittsburgh Penguins come to town.
Forever a King.

02.11.23

🎟 https://t.co/iFIdVlmK5s pic.twitter.com/M8okfwWEVk

— LA Kings (@LAKings) July 26, 2022
Number 23 will be going to the rafters and it'll be the seventh jersey number retired by the Kings. Many people expected Dustin Brown's jersey to be retired; it was just a matter of when. But, along with the jersey retirement came something special. Not only will Brown get his jersey retired, but he will also get a statue outside of Crypto.com Arena.
It's great to see Dustin Brown recognized for what he meant to the Kings organization. While there was much excitement from the Kings fanbase, I did notice some negative comments from people outside the Kings fanbase.
The Kings fans that have seen Dustin Brown's 18-year career know how much he has meant to the franchise. Those who didn't watch Brown's career on a daily basis don't understand his value beyond numbers.
Here are three reasons why Dustin Brown deserved his statue:
The first building block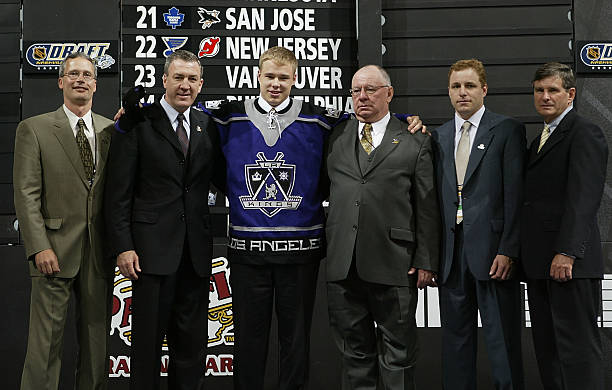 The 2002-2003 season saw the Kings miss the playoffs for the first time since 1999. With that, they held the 13th overall pick. That 13th overall selection was used to draft an 18-year-old kid named Dustin Brown from Ithica, New York.
When then-general manager Dave Taylor shook Brown's hand, little did he know he would draft the man that would break the franchise record for most games played by a King (Taylor held that record until 2019).
Brown also became the first building block of the "core four." While not being the best player on the team, his hard work, preparation, and physical play caught the eyes of teammates and coaches.
In the video above, when the Kings honored Dustin Brown for his 1,000th career game, at the 3:39 mark, Luc Robitaille made some great remarks about how important Dustin Brown is to the franchise.
"We never won a Stanley Cup until he was leading our team, and he's helped us win two. You can't put numbers, goals, assists, or anything like that to what this meant to the LA Kings", Robitaille said.
Dustin Brown's importance to the franchise means more than just the numbers.
A leader on and off the ice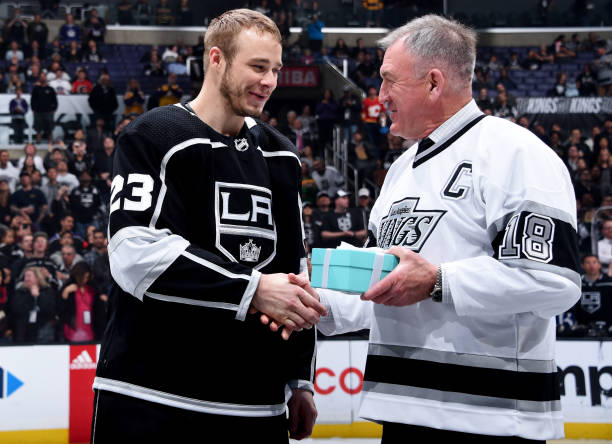 On October 8, 2008, Dustin Brown was named the 13th captain in Kings history. With Rob Blake departing as a free agent to San Jose that summer, someone had to fill the role of captain. At just 23 years of age, Brown became the youngest captain in team history at that time. When explaining the decision, then-head coach Terry Murray cited Brown's work ethic, commitment, and desire to win.
On the ice, Brown was known to be quiet when he came into the league. Once Mattias Norstrom and Rob Blake departed the team, Brown started becoming more vocal. While becoming a bit more vocal, he always let his play on the ice do that talking. He led by example.
One moment I can point to his leadership qualities was in the 2012 playoffs. Brown stepped up huge in both the scoring and physicality department. Most memorable was game three against Vancouver in the first round of the 2012 playoffs.
10 years ago today Dustin Brown laid the smackedown on Henrik Sedin #GoKingsGo pic.twitter.com/EPaCeWeMQc

— Kyle (Thank You Dustin Brown) (@Kopitar4HOF) April 15, 2022
The whole playoffs Brown came up in big moments, whether it be scoring or throwing a big hit. Captains lead by example and come through when their team needs them to. When Brown hoisted the Cup, as the first-ever King to do so, he had done something no one in Kings history did.
Off the ice, Brown did plenty of charity work and won the Mark Messier leadership award in 2014. In the 2012-2013 and 2013-2014 seasons, Brown selected Children's Hospital Los Angeles' Newborn and Infant Critical Care Unit, where he would donate $50 per hit. Not just on the ice was he a great leader, but off it as well.
The numbers and impact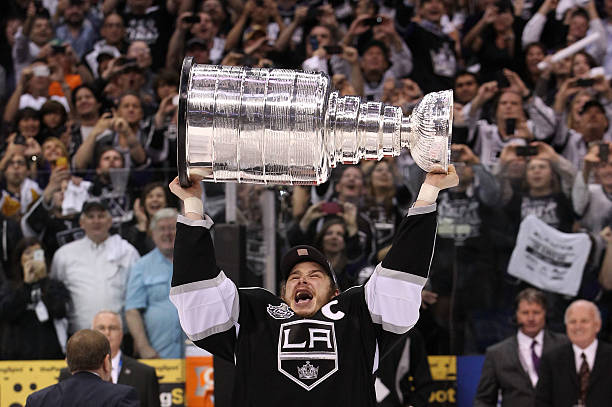 Dustin Brown spent his entire 18-year career as an LA King. That is the longest by any player who has donned an LA King uniform.
While people may look at his numbers and not see them as "statue worthy," it's not always about the numbers. First, 18 years as a King is impressive. What is even more impressive is the 1,296 games played. While that is the most ever in Kings history, it's impressive given how much of a physical style Dustin Brown plays. Brown only missed 57 games in his entire career due to injury.
Speaking of physicality, he is the all-time hits leader in NHL history with 3,632.
Throughout that 18-year career, Dustin Brown put 325 goals (6th), 387 assists (8th), 712 points (7th), 106 power-play goals (4th), and 6 hat tricks (tied for 6th) as a King. He was one of the cornerstones of the Kings for over a decade. He led them to two Stanley Cups and was the first piece that helped guide the Kings from the dark days to the glory days. As Dustin Brown stated in his press conference, he wanted to leave the Kings in a better spot than when he came into the league.
He did just that and has meant more to the Kings franchise in every way possible. Those who don't follow the Kings haven't realized the impact he made for the organization both on and off the ice. He'll always be an icon for hockey in Los Angeles and perhaps the most important player in Kings history, helping change the culture.
He deserves his statue.
(Main photo credit: Juan Ocampo/Getty Images)