Three things that stood out in Ontario Reign's 4-3 loss to Tucson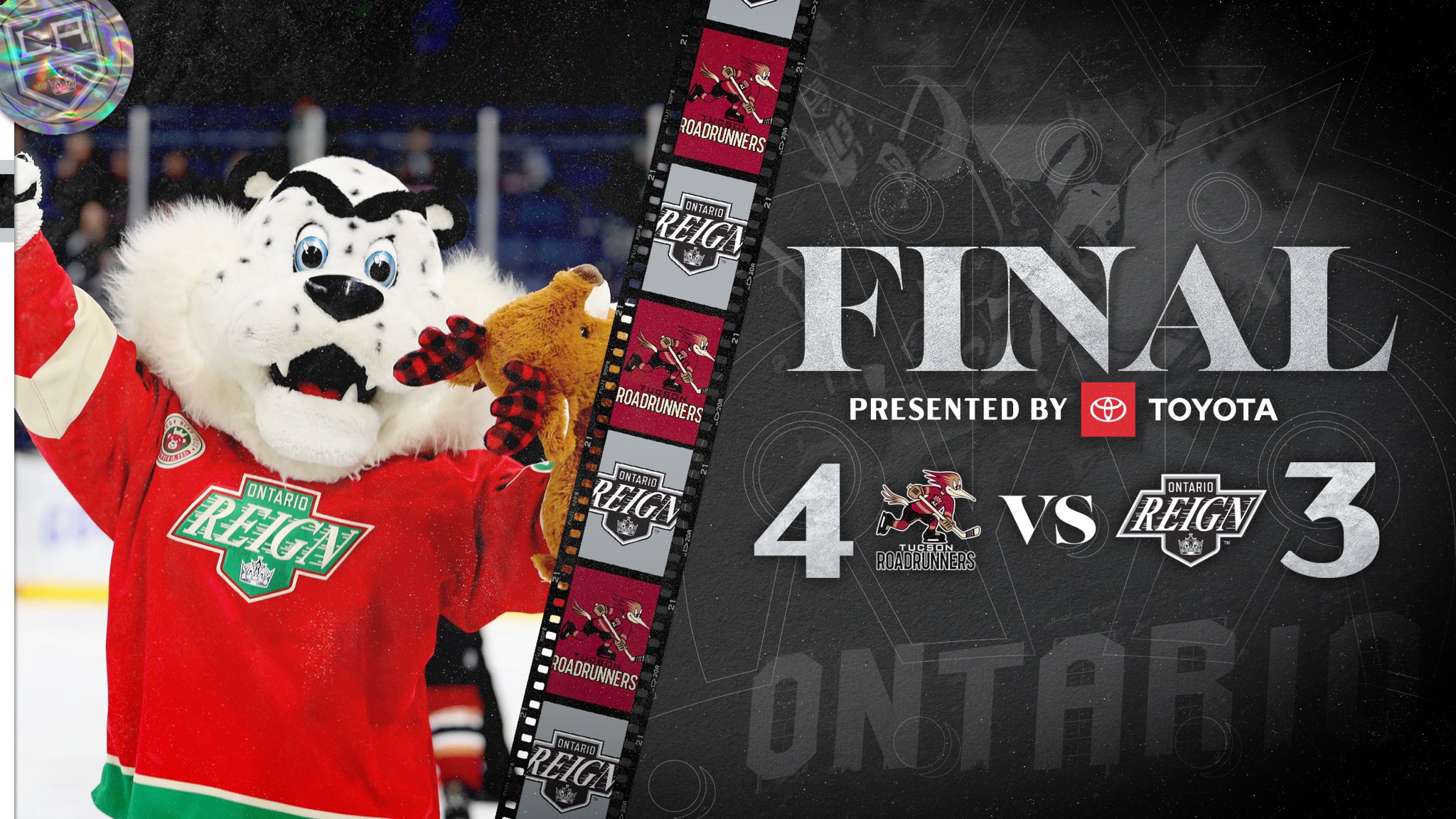 After taking a 1-0 lead, the Ontario Reign twice fought back in the third to get the game to overtime but fell short against Tucson.
T.J. Tynan's second-straight three-point night wasn't enough for the Ontario Reign as they lost to the Tucson Roadrunners 4-3 in overtime.
Tynan also led all players in shots on goal in this game with four, while his linemates Martin Frk (one goal) and Vladimir Tkachev (one goal, one assist) also contributed.
It was the visitors, however, that walked away with the two points thanks to Vladislav Kolyachonok's overtime winner.
Frk started the scoring in this game off an outstanding pass from Tkachev:
MARTIN FRK BRING IN THE BEARS pic.twitter.com/z9o0oQTILV

— Ontario Reign (@ontarioreign) December 19, 2021
The lead lasted less than three minutes as Cameron Hebig scored to tie it at one.
It would stay that way heading into the third period, where Tucson would twice take leads, only to see the Reign answer right back each time.
Tynan scored just 16 seconds after Michael Carcone's power-play tally early in the third. Just 40 seconds after Cole Hults regained the lead for the Roadrunners, Tkachev and Tynan combined on a pretty passing play to even the game at three:
great move, great pass, what more can you ask for? pic.twitter.com/fv2mKrxqrn

— Ontario Reign (@ontarioreign) December 19, 2021
Matt Villalta was great through two periods and didn't get too much help overall in this one. He stopped 28 of 32 in the loss. Ivan Prosvetov wasn't as busy, stopping just 18 shots for the win.
Ontario falls to 14-5-1-1 while Tucson improves to 10-9-2.
Here are three things that stood out on Saturday:
1. Emotions kept to a simmer
It was a very quiet first 35 minutes in this game. The score was tied 1-1, and Tucson held a healthy shot advantage (17-9). Something you would imagine the visitors would like to continue. This is why it seemed strange that Carcone went hard into Villalta before throwing punches at Christian Kasastul. The Reign weren't able to capitalize on the man-advantage, and though there was some extracurricular activity toward the end of the second period, nothing bubbled over like it did last month.
While the third period had plenty of fireworks, it was the four goals the teams combined for that contributed more than any physical play.
2. Penalty kill let down
The Reign's penalty kill is one of the worst in the AHL at just 73.9%, good for 30th of the 31 teams. Though they only gave the Roadrunners two power-plays, they could not kill them both. Carcone gave the visitors a 2-1 lead (albeit briefly) as he was left alone on the right circle and fired a one-timer through Villalta's legs.
There has been a lot that's gone right in Ontario this season, but the penalty kill has not been one of them. It would be easy to point to an inexperienced D-corps in this one, but given it's been a problem all season, it wouldn't be very fair.
The old adage is your goaltender has to be your best penalty killer. While that sounds good in theory, it just isn't always the case. It's hard to place blame on Villalta on this one.
3. Character test
Considering the fact that three of the six defensemen in the lineup were recent ECHL signings, another was Cameron Gaunce, who missed a bulk of time recently due to injury and another was a forward (Adam Johnson), it's safe to say the Reign weren't playing with their 'A' squad.
All that said, to come out of the weekend with three points of a possible four in these two games with all of the transactions going on around them and playing with a bit of a disjointed roster is no small feat.
The roster will have a few days to settle as they are off until Wednesday when they travel to Henderson for a date with the Silver Knights.
Three things that stood out in LA Kings' 5-1 loss vs Carolina Hurricanes