Preseason Finale: Ontario Reign 2, San Diego Gulls 5 Recap and Takeaways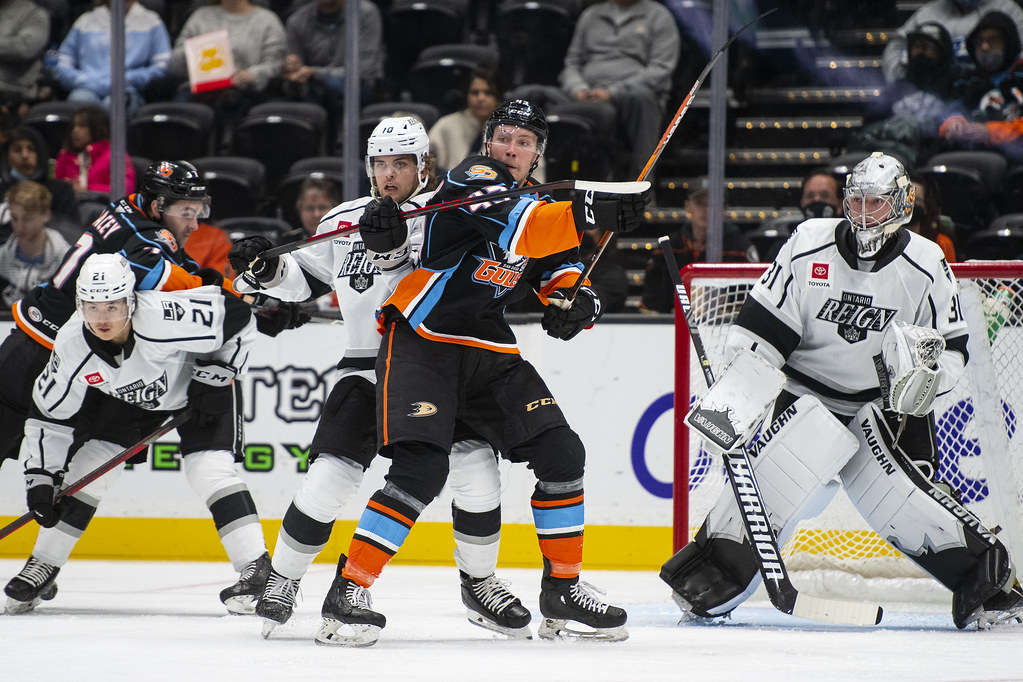 On Monday night, the Ontario Reign dropped their final preseason game 5-2 to the San Diego Gulls. Sutter and Sodergran scored in the loss.
In the final preseason game, the Ontario Reign fell to the San Diego Gulls 5-2.
As expected, it was a different lineup than we saw in the first preseason game:
Here's how the @ontarioreign lineup is expected to look tonight:

Madden – Turcotte – Kupari
Burke – Anderson-Dolan – Dudas
Gerads- Sutter – Doty
Sodergran – Pavlychev – Brett Kemp
 
Moverare – Grans
Clague – Spence
Phillips – Durzi
 
Sparks
Villalta

— Jared Shafran (@ShafReign) October 12, 2021
Game Recap
The Reign had jumped out to a fast start, controlling much of the play early in the first period, but it was San Diego who struck first.  An unlucky bounce off of Helge Grans led to a bit of a broken play. Alex Limoges was left alone in front to give the Gulls the 1-0 lead:
There's no way @LimogesAlex is missing this!#LetsGoGulls | #ONTvsSD pic.twitter.com/p7DN2Sbev9

— San Diego Gulls (@SDGullsAHL) October 12, 2021
The lead was short-lived as Brett Sutter tied things up for Ontario, darting through the center of the San Diego zone:
Woahhhhh😍😍😍 pic.twitter.com/8KGbiAIPht

— Ontario Reign (@ontarioreign) October 12, 2021
Brogan Rafferty put the Gulls back ahead with a nice play through the neutral zone before splitting the Reign defense:
Brogan Rafferty cut through Ontario's "defense" like a hot knife through butter!#LetsGoGulls | #ONTvsSD pic.twitter.com/XMH3gUtr0V

— San Diego Gulls (@SDGullsAHL) October 12, 2021
With the Reign on the power play, Vinni Lettieri took advantage of a misplay in the neutral zone, beating Sparks on a pretty move to the backhand for the short-handed goal:
Ingredients for a filthy shorthanded goal:

1️⃣ part great fake
1️⃣ part fantastic backhand
1️⃣ part incredible finish@19Lettieri95 wasn't messing around! pic.twitter.com/zI72kSnFbx

— San Diego Gulls (@SDGullsAHL) October 12, 2021
Other than the score, it was really not a bad period for the Reign. They outshot the Gulls 11-6 and at 5-on-5 out-attempted them 28-17.
Matt Villalta took over in net at the start of the 2nd period, and he made a point-blank glove save to keep the score at 3-1:
The score would stay 3-1 until Nikita Pavlychev made a nice play down the left wing before dishing the puck in front to Johan Sodergran, who pulled the Reign within one:
— Ontario Reign (@ontarioreign) October 12, 2021
Ontario again controlled much of the play at 5-on-5 in the second period, out-attempting the Gulls 13-7. Thanks to some special teams, San Diego outshot the Reign 10-9.
In the third, after some pressure put on by the Reign, the Gulls would regain their two-goal lead with a Bryce Kindopp goal that beat Villalta up high after a deflection:
Good shot (and a little help from our friends) puts us up by ✌@kindoppian | #LetsGoGulls pic.twitter.com/W2ABuo6Tfj

— San Diego Gulls (@SDGullsAHL) October 12, 2021
San Diego would add an empty netter to close it out.
Box Score:
The full box score is here.
Thoughts and Takeaways
The score-line wasn't too kind as the Reign were the better team in this one. At 5-on-5, they out-attempted San Diego 50-33 (57% CF%), including 15-9 in the High Danger area. Overall, they outshot the Gulls 25-21.
Again, the defense was very active, particularly in the offensive zone, as they were very involved in the cycle. It's going to be fun to watch, but, especially with a young crop of D, it'll leave them exposed at times to chances off the rush.
Kale Clague looked very poised. He was perhaps lucky to slide through waivers. He'll likely be back with the Kings at some point this season.
Jordan Spence continues to shine. There will be some rough patches on the defensive side of things, but overall his skating is very smooth. He saw some time on the second power play unit as well.
I didn't particularly like the Moverare-Grans pairing. I was intrigued by it initially, but I felt like they struggled at times. I would say they each need a stronger skater as a partner.
Villalta was strong in this one. He made a big save to keep the game at 3-1, and I thought he played very well.
Nikita Pavlychev had a very good game. Not only setting up the Johan Sodergran goal, but he had some jump to his game from the start. He tied with Tyler Madden and Alex Turcotte for the team lead in shots on goal with three.
Speaking of Sodergran, he was solid again as well. I thought he looked good in the first preseason game, and that continued tonight. He's likely in a dog fight for a spot on the fourth line, but he's not going quietly.
The Reign begin their regular season on Saturday night against the Gulls, 9 pm PT from Toyota Center in Ontario.