Ontario Reign: Previewing Jacob Moverare's 2021-22 Season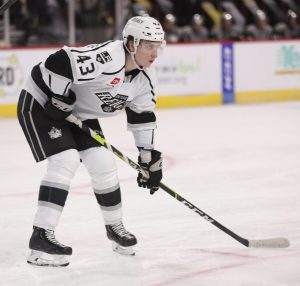 Flying mostly under the radar, Swedish defenseman Jacob Moverare will look to build off of a strong debut season with the AHL's Ontario Reign.
For good reason, many of the LA Kings' prospects get all sorts of press. However, there's one defenseman who has flown completely under the radar, even after his strong AHL debut last season with the Ontario Reign: Swedish defenseman Jacob Moverare.
Drafted in the fourth round of the 2016 NHL Entry Draft by the Kings, Moverare spent the following two seasons in the OHL with the Mississauga Steelheads. In 95 games, he had 48 assists and 53 points. His assists- and points-per-game were among the better in the league as a 19-year-old (charts via QuantHockey):
For the 2018-19 and 2019-20 seasons, he'd head home to Sweden to play for Frolunda of the SHL. In 96 games in Sweden's top professional league, Moverare had 11 goals and 26 points. While we wouldn't call that elite, it was above average for the league as a whole, and from a young defenseman who was known more for his defensive game coming out of the draft, it's something to note:
With the pandemic affecting the start of the 2020-21 AHL season, Moverare was loaned to SaiPa of Liiga in Finland. He played 11 games there, picking up five assists, before coming to North America to begin his AHL career.
Drafted for his defensive play and hockey IQ, I'm not sure if even the Reign expected 14 assists and 15 points in just 26 games.
He had an assist-per-game mark in the upper echelon of the league:
So what is to be expected of the 6'3″ blueliner? Is he " more likely to develop into a solid stay-at-home defenseman at the next level" as the scouting consensus would seem to believe, or is there more here?
Let's go back to the "hockey IQ" comments from Mark Yannetti after the Kings drafted Moverare:
"Jacob Moverare, in my opinion, he's got the highest hockey IQ of any defenseman in the draft. Now, unfortunately, he also has an equally deficient attribute, and that's his skating. The one thing I pride obviously the most is hockey IQ, and our staff balances each other out with what our go-to assets are. So for me, that's obviously the most intriguing, but for a guy with that hockey IQ to be there then, there's a serious deficiency. So, can we fix his skating? And that's the age-old question in hockey."
If you've followed my player previews, skating is one of the biggest attributes that will either get me excited about a player or have me question a player. So to have some significant questions about Moverare's skating ability would probably lead you to believe that I'd be a bit down on the big defenseman. Well, not necessarily.
It's about expectation. Take, for example, Jordan Spence and Helge Grans, a couple of other more highly-touted defensemen in the Kings' system. For their game, skating is crucial. They are expected to be contributors offensively and either lead the rush in Spence's case or join the rush in Grans' case. But that's not where I see Moverare fitting in.
Make no mistake, Moverare's skating will need to improve. But he's been putting in the work since he was drafted to make those improvements, and it's paying off. Where I see him slotting in as that 4/5/6 defenseman, there's already a lot to like about his game.
His play in his own zone is already a strength—both from a defensive point of view and making the first pass. As Yannetti pointed out, he's an extremely smart player. If you can be effective in your own end and skilled enough to start a breakout or transition with a first pass, that will play.
And let's not forget – of those 14 assists in 26 games for the Reign last year, three of them were on the power play. Moverare seeing some time with the man advantage is a little indication that head coach John Wroblewski sees a bit of offensive potential in the young, left-shot defenseman's game.
Wroblewski noted how impressed he was with Moverare's rookie season:
"Just, you weren't sure how a first-year North American pro would fare coming in; then, a little bit of an injury to start off a season, so then you really don't know what you have," Coach Wrobo noted. "And then, you're sort of underwhelmed initially because he's not the most fluid skater but then, all of a sudden, you notice he does a good beat and then he's facilitating all kinds of offense and making such heady plays with the puck on a consistent basis."
Just watch how calm he is on the puck here before making a very nice pass-through traffic to set up a goal:
There may not be a whole lot of sexy in that clip, but the way he fakes the shot to buy him an extra second, pivots his hips to get himself into more ice, and then fires a pass through a set of legs right onto Arthur Kaliyev's tape. You don't need to be an elite skater to contribute when you can make little plays like that.
Here is Moverare working the top on the power-play. It's not anything that's going to get you to jump off your couch, but again uses the fake slap-shot to buy some time and space before moving the puck to Alex Turcotte for a goal:
Often, making simple plays and not looking to do too much with the puck is most effective.
Though I ambitiously listed Moverare as someone who could make the opening night roster in LA (note: LD2 is not settled in my opinion, but I digress), we're probably a year away from him pushing for an NHL job (barring injuries). The left side of the Kings' defensive depth chart is (sort of) deep. However, I think it's very conceivable to see him leapfrog the likes of Olli Maatta, Alex Edler, Christian Wolanin, and potentially Tobias Bjornfot and Kale Clague in another year or so. That's a whole lot of question marks, and there's no reason that Moverare can't try to wedge his way into that conversation in the near future.
Signed to a one-year deal, the other thing to remember with Moverare is he needs to clear waivers to begin the season in Ontario. While that is probably likely to happen, there is a risk of exposing a young, left-shot blueliner coming off a strong debut professional campaign.
Given the number of bodies even at the AHL level, and depending on who makes the NHL roster, Moverare could have his work cut out for him to land consistent top-four minutes. That said, there's a slow-cooking, intriguing prospect here. Keep an eye on him in Ontario this upcoming season.