LA Kings: Samuel Fagemo has a real shot to make the NHL roster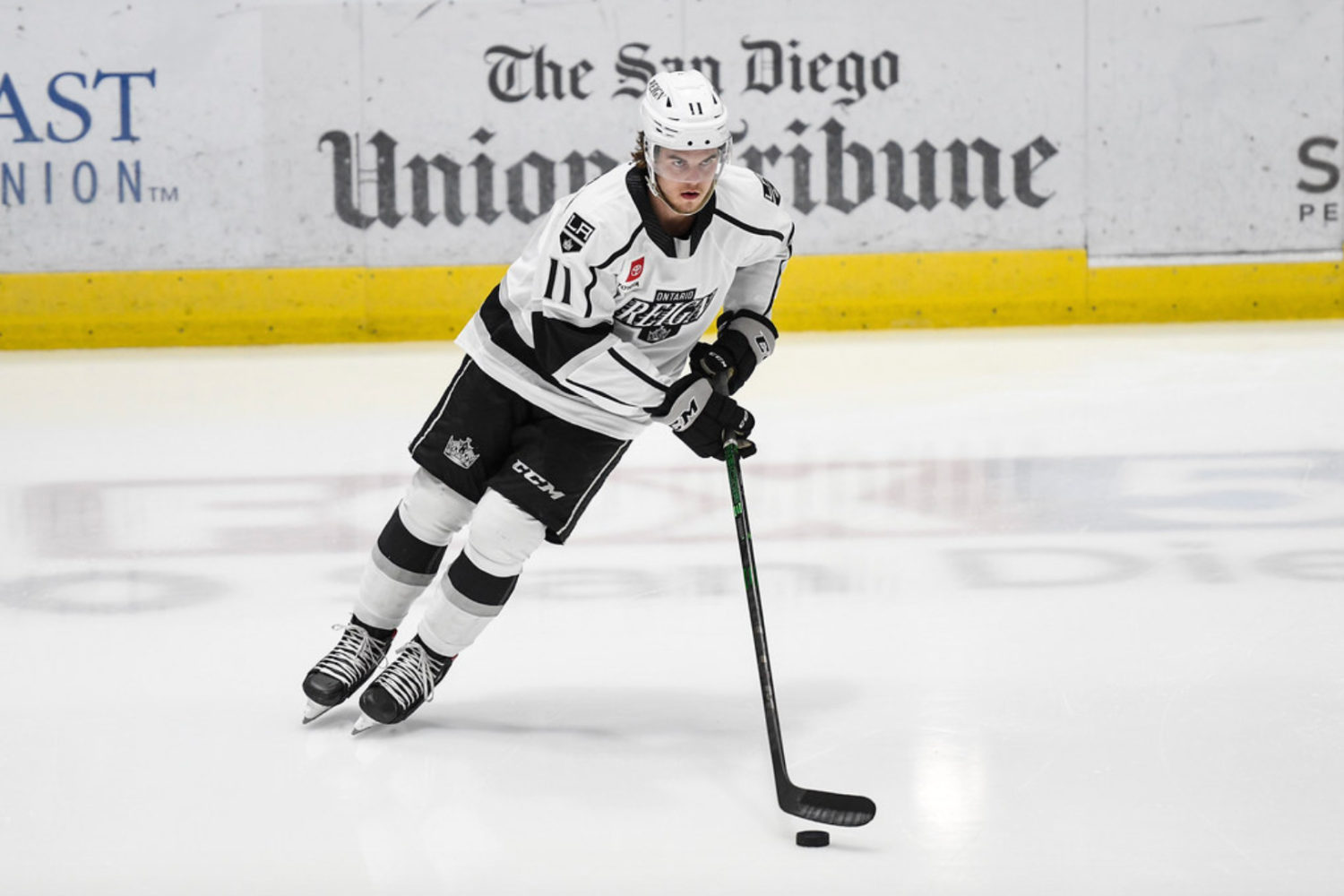 While he was expected to begin the year in the AHL, Samuel Fagemo's strong training camp has him pushing for a spot with the LA Kings.
Who had Samuel Fagemo making a real push for the LA Kings' lineup on their training camp bingo card this year? I know I definitely did not.
Most Kings fans were heading into training camp with the same mindset on how Alex Turcotte, Quinton Byfield, and Arthur Kaliyev could make the opening night roster. I mean, rightfully so. What do you expect to see from your best prospects? But one thing people forgot about were the other handful of star prospects that the LA Kings have in their system and what they are capable of doing.
Samuel Fagemo was one of those players.
Let's turn the date back to June 22nd, 2019. The Kings traded up to pick number 50 in the second round of the NHL Draft to select Fagemo. He was recently coming off of a fantastic SHL season where he recorded 25 points in 42 games playing on one of the best SHL teams out there — Frolunda HC.
Staying in the SHL the following year, Fagemo had another stalwart year as he put together a total of 22 points in 42 games. Not as proficient as the previous season, but he was still exceptional, considering his age and limited time on the ice. Fagemo finished the year in Sweden with the idea of coming to play in the NHL in 2020-21, but that ended up not being the case completely. Fagemo started the season off in the HockeyAllsvenskan but concluded the year in North America with the Ontario Reign, where he notched 18 points in 32 games played. 
The pure sniper looked to be a couple of years away from the NHL. Therefore, fans had put him aside until he would begin to dominate. Come training camp, Fagemo did exactly that. As hockey season approached, fans and reporters noticed his vast improvement. His speed, shot, and game smarts improved, which caused him to start to look like a bona fide NHLer. It was obvious that Fagemo worked tirelessly in the off-season, and he was at camp to make a mark.
Fagemo played alongside some of LA's best players during camp, and people were certainly impressed. He kept scoring highlight after highlight goals during the scrimmages, which Todd McLellan noticed, and immediately wanted to see how he would play alongside some of LA's best players in a real game…or sort of a real game, if you count the Kings vs Kings game a real game.
Kings vs. Kings rosters. 👀👀👀

Who you got? pic.twitter.com/nizpEsGw3K

— LA Kings (@LAKings) September 26, 2021
Fagemo played on Team Black in the annual intra-scrimmage, but more importantly, he was slotted at the right wing on the first line to play with the newly acquired Viktor Arvidsson and LA Kings captain Anze Kopitar. What a reward it is to play alongside a fellow Swedish sniper and one of the most famous Kings players of all time after a successful camp.
It was clear that Fagemo impressed Todd McLellan and the rest of the coaching staff, so they wanted to see how he would play on a line that felt like the NHL. As you can guess, Fagemo played spectacularly on the right side with Kopitar and Arvidsson. Something about that line clicked. He generated multiple scoring chances, got a few pucks on net, and stayed responsible defensively throughout the game.
It's more than fair to say he didn't look out of place and that he looked like an experienced NHL player. He managed to keep up playing against Alex Iafallo and Vladimir Tkachev, but what impressed me most was how well he handled playing against Phillip Danault. The former Montreal Canadien is easily a top-ten defensive forward in the NHL. He managed to single-handedly shut down Auston Matthews and Mitch Marner during the 2021 Stanley Cup Playoffs. Fagemo was able to keep up with Danault and made Denault's job much more difficult.
I'm not comparing 21-year-old Samuel Fagemo to Auston Matthews, but I am saying how well he handled playing against one of the best two-way players in the game.
Is that not enough of a case for Samuel Fagemo to make the NHL? Alright, how does scoring the only goal of the game sound to you?
⬛️ 1-0 ⬜️

Nifty move from Samuel Fagemo, who drives the net, dekes to the backhand and scores the first goal of the game.

— Zach Dooley (@DooleyLAK) September 26, 2021
The Kings vs Kings game ended up being a 1-0 victory for Team Black, and Samuel Fagemo scored the only goal. The goal (as described by Zach Dooley) was a nifty move made by Fagemo where he drove to the net, deked it to the backhand, and scored.
It's crazy how the only player that could score during that entire game was Samuel Fagemo – not Kopitar, not Arvidsson, not Danault, not Iafallo, but Samuel Fagemo. The praise around the 21-year-old doesn't stop there, as people around social media and other media outlets have praised him endlessly.
My three stars of the Kings vs Kings showcase.

* Samuel Fagemo
** Jonathan Quick
*** Phillip Danault#GoKingsGo

— Russell Morgan (@NHLRussell) September 27, 2021
What this guy has done during training camp has been nothing short of jaw-dropping. We always knew that Fagemo was good, but never this good. He's making McLellan's life so much tougher now that he looks like he could be another possible depth player for the Kings this year. The competition between LA's bottom-six forwards is fierce, and now Fagemo is attempting to make the roster, too.
Fagemo is one of the most underrated NHL prospects, and now he's finally getting some attention for it. He's a goal scorer, and he's a playmaker at the same time too. We've seen how good he is, and he just keeps getting better. He's certainly made a case for himself when it comes to playing in the NHL, and you can't help but root for him to make the NHL team this October.
Ontario Reign: Previewing Samuel Fagemo's 2021-22 Season