Ontario Reign: Previewing Samuel Fagemo's 2021-22 Season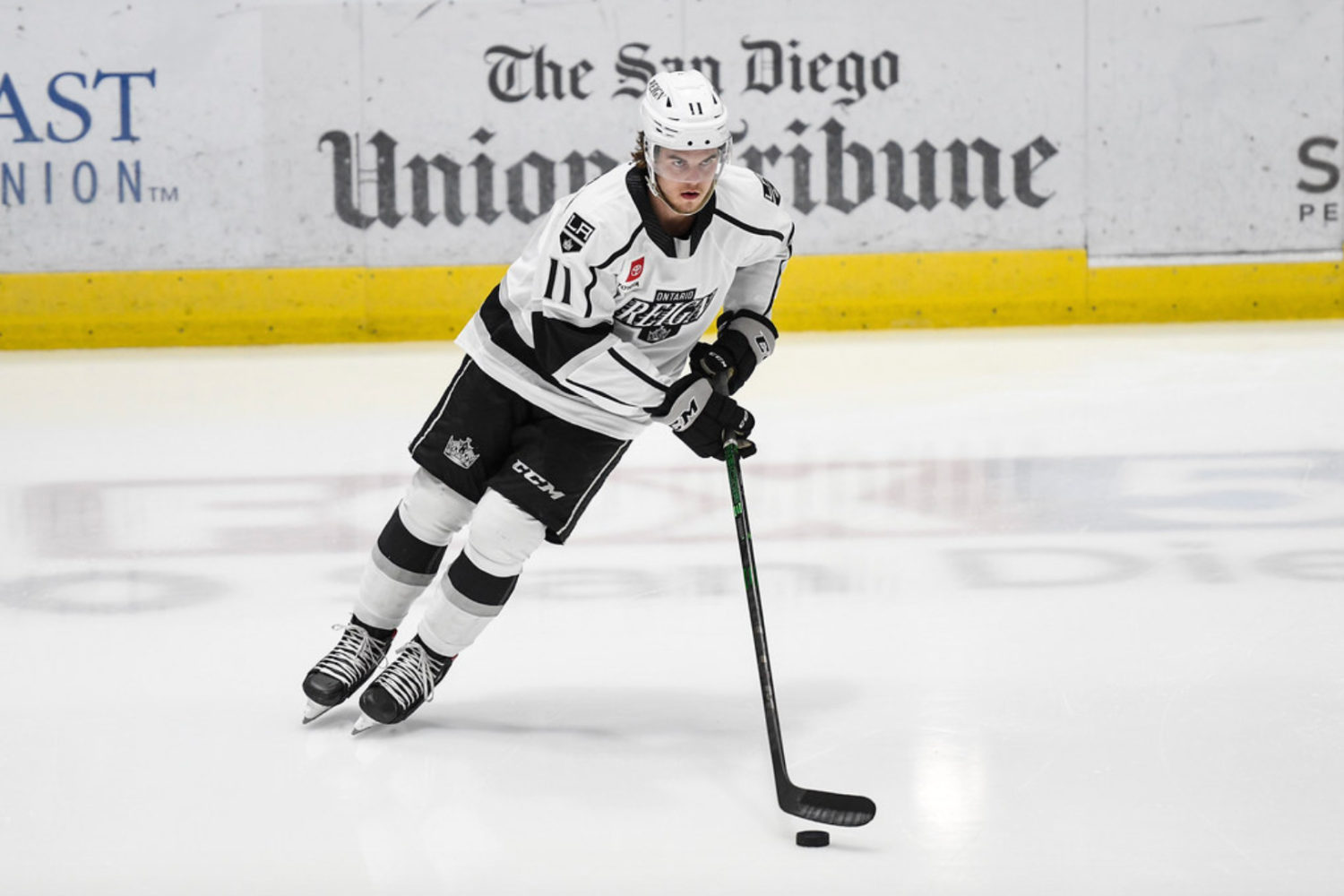 Swedish winger Samuel Fagemo is building off his strong rookie campaign with the Ontario Reign as he pushes for a spot with the LA Kings.
Fresh of a strong rookie season, winger Samuel Fagemo is putting together an impressive summer in an attempt to make the opening night roster for the LA Kings.
With 10 goals and 18 points in 32 games for the Ontario Reign in 2020-21, Fagemo was a solid per-game goal scorer in the AHL as a 20-year-old (chart via QuantHockey).
Known as a shoot-first, goal-scoring winger, this is exactly the type of production the Kings were hoping for from the young Swede. This was the scouting report on him during his days in Sweden:
"He is a creative player with good hands, but his offensive game depends on his drive to shoot the puck."
–McKeen's Hockey 2019
"His shot is great and he can score with his hard accurate slapshot or his quick-released wristshot."
–Hockeyprospect.com 2019
"Fagemo is a goal scorer with a terrific shot, and good speed and hands."
–Mikael Ström 2018
As a teenager, he was among the best goal-scorers in the SHL, scoring 27 goals in 86 games during the 2018-19 and 2019-20 seasons (chart via QuantHockey):
He lived up to this in the 2020 World Junior Championships, leading the tournament with 13 points and these eight goals:
We're now past the offseason and looking ahead to 2021-22 with training camp upon us, and Fagemo has had a very strong summer. What can Reign — and Kings — fans expect to see from him this season?
Starting back at Development Camp in August, Fagemo talked about getting stronger and improving his defensive game. At the Rookie Faceoff in Arizona earlier this month, he turned some heads with his play:
Samuel Fagemo (LAK) looks like a guy who wants to go into LA's camp and take a job. Plays with great pace, gets inside and was a scoring chance machine today. He did have last night off, so was fresher, but he was probably the most threatening player on the ice today. Also scored

— Chris Peters (@chrismpeters) September 20, 2021
His performance at Development Camp and the Rookie Faceoff clearly caught the Kings' attention as he played on a line with Anze Kopitar and Viktor Arvidsson for the Kings vs. Kings game on Sunday afternoon:
Samuel Fagemo postgame on how it was playing on the same line with Anze Kopitar.

"I was starstruck. It was such a cool experience."#GoKingsGo

— Russell Morgan (@NHLRussell) September 26, 2021
And wouldn't you know it, he scored a goal:
Immediately after hopping on the ice, he swings and makes himself available to his defenseman. After looking over his shoulder and seeing all sorts of ice after Helge Grans had gone off for a line change, he demands the puck in the neutral zone. Eventually, he gets the chip from Arthur Kaliyev and, by this point, is in full stride. The strong skating defenseman Sean Durzi is caught a bit flat-footed due to the late Grans change, and Fagemo uses his strong stride, lowers his shoulder and goes right to the net, beating Cal Petersen to the far post.
It was an impressive goal all around for Fagemo, who received plenty of praise from head coach Todd McLellan:
"I think Sammy gets lost in the talk, or the hype, about the early first-round picks and that type of stuff, but we haven't forgotten about him, he's a hell of a player. 18 months ago, he was one of the top scorers at the World Juniors tournament, and he does a lot of things well. Not only did he score tonight, but he checked well, he made smart plays with the puck in different areas. His game has grown, and he has an opportunity, he has a real good chance of staying if he continues it."
The 6'0″ winger has been one of the Kings prospects I've written about a couple of times this summer. In August, I wrote about the potential breakout years for Fagemo and Rasmus Kupari at the AHL level.
The lone Kings vs. Kings goal-scorer also made my five prospects who had a shot at making the opening-night roster for the Kings. This is mainly due to his skill set, that of a goal-scoring winger, something the Kings have lacked. Though I've had Kaliyev pegged to make the roster ahead of him, the way Fagemo is playing, he could very well get the call for an injection of goal-scoring potential into a top-six forward group that desperately needs that.
There are a number of things I like about how Fagemo goes about his business. Like a true goal-scorer, he can score in a variety of ways. The first two goals in this clip below are on the power-play from the left circle — on a one-timer, the second a sharp wrister (note: the first one he makes it well known he wants the puck):
This next clip is something you love to see from a young player. He's hungry to score goals, and the first two here show how he is not afraid to engage in the front of the net. First, he battles with his defenseman but keeps his eyes on where the puck is behind the net. Eventually, he can shake the defensemen to get just enough space to get a shot off. In the second one, he uses his hockey smarts to sneak in behind the defenseman, gain body position just at the top of the crease, and makes himself available for a quick redirection in-tight:
As further examples of his willingness to engage without the puck, I want to isolate an early shift he had with Kopitar and Arvidsson in the Kings vs. Kings game on Sunday.
As soon as he gets on the ice, he makes himself available to Kaliyev, gets into the zone and fires a shot. Though it's blocked, he recognizes the play is going the other way, and he is hard on the back-check, providing pressure on Tyler Madden to force a dump in. After his defenseman collects the puck, he begins his swing and again is someone that wants the puck on his stick. He enters the zone, dishes to Kopitar and continues on through to be an outlet if needed.
Arvidsson enters the zone with the puck at the 20:31 mark of the video, and again we see Fagemo going hard, this time directly to the front of the net. He is not at all shy about going to the dirty areas of the ice when need be.
In that same shift, off the ensuing faceoff from the Arvidsson shot, we see the work off the puck from Fagemo:
As the puck goes behind the net, he's first in on the forecheck to apply pressure. The best part about this, though, is as the puck makes its way back around into the far corner, Fagemo is relentless with his pressure on the defenseman and eventually helps force a turnover near the blueline to keep the puck in the zone momentarily.
He is showing he's a player who is talented enough to score goals but ready to roll his sleeves up and do what he has to in all three zones to make an impact.
In this next clip, another example of him realizing he's going to take a hit but fights through the check to beat his man and score off a tight angle:
In Fagemo, the Kings don't just have a winger who loves to shoot and can score, but this is a good skater who is hungry for an opportunity. Whether he makes the team out of camp or not, he is NHL ready. I'd fully expect to see the former second-round pick in Los Angeles at some point during the 2021-22 season, and it could be for good.