Ontario Reign: Previewing Sean Durzi's 2021-22 Season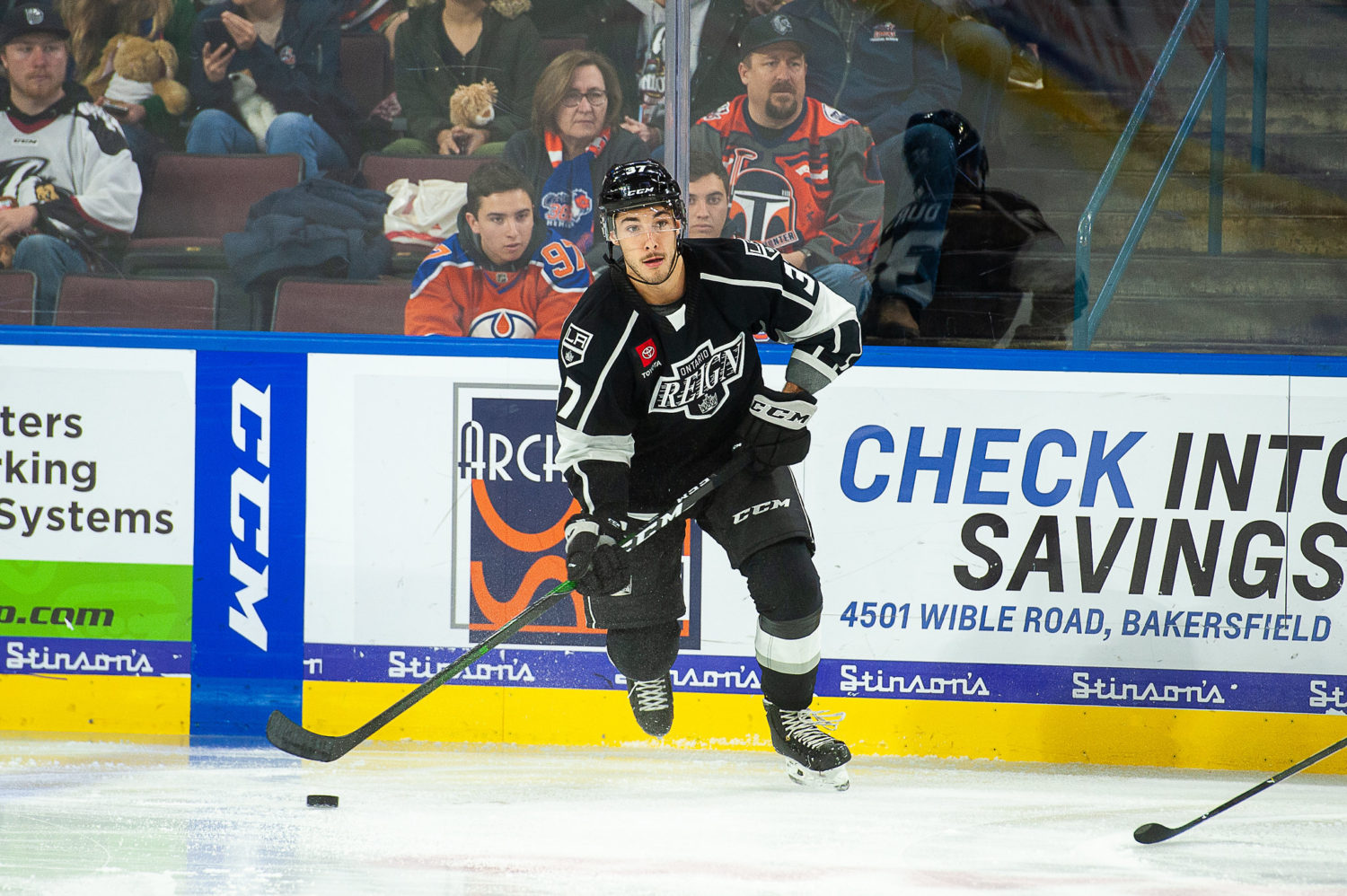 Toronto-born Sean Durzi will lean on his smooth skating and "elite" puck-moving to turn some heads with the Ontario Reign in 21-22.
It's not too often you see hockey players being compared to football players. Well, when Ontario Reign defenseman Sean Durzi signed a three-year entry-level contract with the Los Angeles Kings, one scout mentioned him in the same sentence as Tom Brady and Peyton Manning. That's enough to gain some attention.
That scout mentioned Durzi's puck-moving as "elite" and that he uses "very good feet and vision and a poise that was compared to Tom Brady and Peyton Manning in the sense that he grades well at looking off first and second options to find a third option both on breakouts and while pulling strings in the offensive zone."
There's no shortage of offensive ability in the Toronto native's game, that's for sure. His 2017-18 season with the Owen Sound Attack of the OHL saw him score 15 goals and 49 points in 40 games. This prompted the Toronto Maple Leafs to draft Durzi in the second round of the 2018 NHL Entry Draft.
He'd return to Owen Sound for the 2018-19 campaign, scoring three goals and 17 points in 14 games before being traded to the Guelph Storm mid-season. He ended up with 8 goals and 20 points in 17 games and followed that up with an impressive 27 points in 24 games in the OHL playoffs.
His offensive numbers were clearly impressive in junior and among the top of the league in his age 19 and 20 seasons (charts via QuantHockey):
The trade to Guelph wasn't the only trade Durzi would be involved in that season. Just days later, the Kings acquired him, Carl Grundstrom, and a first-round pick in a deal that sent Jake Muzzin to Toronto.
The 6-foot-0 defenseman began his professional career with the Ontario Reign in 2019-20, scoring two goals and 14 points in 39 games. His first professional goal gave Reign fans a bit of what they can expect from the young defenseman:
With zero hesitation jumping into the play, he glides into the zone with a very quick release to open his account in the AHL.
Here, Durzi again shows off the smooth hands and quick release as well as easy lateral movement to get him into a shooting position:
Though much of this has been about his offense, I am an optimist when it comes to his defense. It needs to improve as it isn't where it needs to be yet, but he's shown to be a good enough skater, and I tend to bet on that helping that part of his game. More on this later.
I've talked about on Making It Reign that providing offense from the back-end isn't necessarily about being the fastest or smoothest skater up and down the ice, but being able to make accurate passes in transition is equally as important. And Durzi certainly has that in his arsenal, hence being compared to elite NFL quarterbacks.
He's spent some time as a QB himself on the power play in Ontario. He led the Reign with six assists with the man advantage. Often making plays like these:
This is subtle but effective. He moves so well laterally to his forehand side, and his look-off of Rasmus Kupari in the right circle freezes the killer just enough so he sucked over to Durzi. And again, his passing is so smooth; it's a very simple play for the skilled defenseman.
He's also effective at making the cross-seam pass from the right circle to the left on the power-play, in part due to his calm demeanor on the puck and waiting for the play to develop.
Another part of what can make Durzi effective on the power play is he isn't afraid to shoot the puck. His release has been shown above, and because he's willing to shoot, the killers have to honor that, which works right into his hands with how good of a passer he is. Here, he uses the fake shot to pull the killer in and, at the last second, moves it to Kupari, which ultimately leads to a goal:
As mentioned with Austin Strand, there's a lot of bodies on the right side of the defense, but Durzi brings a real threat as a puck mover. When you look at his production already in the AHL, he's proving to be among the better playmakers in the league (chart via QuantHockey):
He led all Reign defensemen in assists (16) and was second only to Arthur Kaliyev overall. Those 16 helpers also had him in the top 10 among defensemen in the AHL. He is a legitimate playmaker.
I believe the 22-year-old defenseman has the potential to have a big year in Ontario and should see significant minutes, particularly on the power play.
The questions I have about Durzi are:
1. Is the skating going to be good enough at the next level? I mentioned earlier how he's a smooth skater, which has me optimistic about developing his defensive game. As the game slows down for him, that skating should see him rarely out of position in his own zone, so the question isn't about his skating overall.
Rather, specifically, how he handles the speed of NHL players coming at him and his transition from offense to defense. The very first goal in this clip is an example of where there's an opportunity for improvement in this transition and footwork:
2. Can he physically handle the NHL? I've often talked about how it's not necessarily about size or being big or leading the team in hits – none of that really matters to me. But can you be strong enough to win 1-on-1 battles in front of the net as a defenseman? Can you win wall battles? Little things like that. And to be clear, I'm not sitting here thinking Durzi can't handle that, but I'm curious to see how he does at the next level when he gets his shot.
Along these lines, The Athletic's Corey Pronman listed Durzi in his "Has a chance to play section" in the LA Kings pipeline, saying:
"Durzi is an extremely smart puck-mover who can make difficult passes consistently. He's not the biggest or quickest defender, so that will be his test in the NHL, particularly how well he can defend."
Another consideration is he's yet to really play a full professional schedule. With his only two pro seasons affected by the pandemic, he's played in only 39 games each of the past two seasons. How he holds up for 82 at this level is something else to keep in the back of our minds, but in fairness, that's a question for a lot of players in his position.
In what is the final year of his entry-level deal, the soon-to-be RFA has a plethora of other right-shot defensemen to compete within the organization. While I'm not hoping or suggesting that he's someone that will be traded, with so many right-shot options, a young puck-moving defenseman can have some value, especially if his AHL production continues.
Admittedly, I tend to gravitate toward defensemen like Durzi. A more modern-day, small but smooth-skating defenseman that can make the first pass. It's all about the transition for me, and I think Durzi has that ability going forward. Will the questions (at least the ones I have) be answered as he takes the next step? I'm hoping we get a chance to see this season. But at the very least, an exciting blueliner for the Reign.