LA Kings: Arthur Kaliyev Can be a Consistent 30-Goal Scorer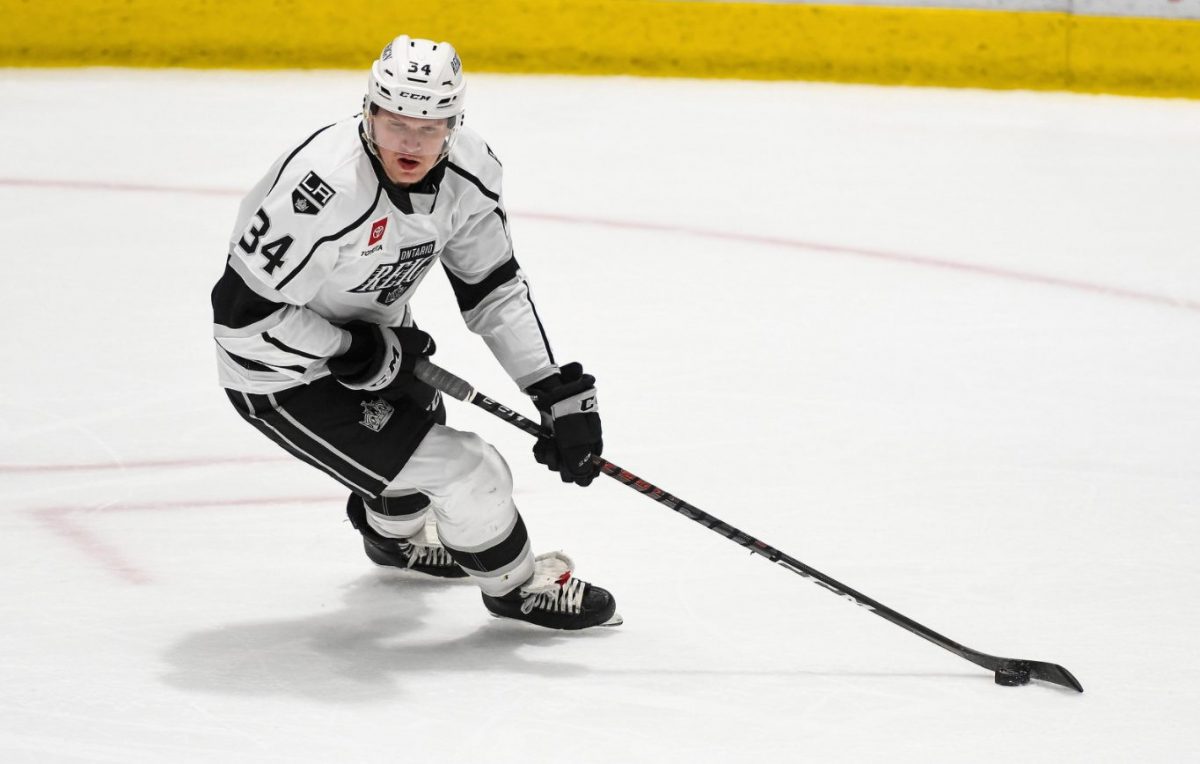 As we prepare for the new LA Kings season, we take a look at Arthur Kaliyev and the argument that he can be a consistent 30-Goal scorer.
The fact that Arthur Kaliyev fell to the second round in the 2019 draft is beyond shocking. What's even more shocking is the fact that in the season of his draft year in 2018-19, the LA Kings prospect had a stunning 102 points and 51 goals in only 67 games.
The 6-foot-2 high-scoring forward is one of the best prospects in the LA Kings prospect pool and is very well the best sniper of them all. He's mastered goal scoring in every league that he's played in (OHL, AHL, and the IIHF World Juniors), and not to mention he's got a one-goal-per-game in the NHL… in one game.
For some atypical reason, to say that Kaliyev will be a top goal-scoring forward in the NHL is out of the question for some people. Once a deeper dive is done on the player, however, the realization sets in that it is possible.
Let's start with the fact that he has an elite shot that contains hard power and the aim of a natural sniper. It's easily the best aspect of his game, and that's what makes him such an empowering goal-scorer.
The goal above was just one of 14 goals that Kaliyev scored in the AHL last year. In the clip, Kaliyev silently swoops into the offensive zone where there is no coverage, letting Quinton Byfield send a sweet pass right onto the tape of Arthur's stick. Arthur then opens up his left foot, creating more of an easy shot for him to shoot. 
If you look at natural goal scorers in the NHL like Alex Ovechkin and Alex Debrincat, they do the same little foot opening when they have that space to let them have an open shot and a better view of where the puck is heading.
Kaliyev keeps his head up the entire time, and once he's got his target, he rifles the puck right past the goalie and goes back-bar down. Kaliyev has done this move multiple times throughout his career so far, and if he continues to master this move, it will help him become that consistent 30-goal-scorer in the NHL.
This goal that Kaliyev scored at the World Juniors is also an interesting goal to look at because he knew where to be when the puck hit his stick.
The first thing to notice is how he knew that he could be wide open if he didn't chase the puck in the corner. Instead, he let another player pick it up so that while that was happening, Arthur found himself in front of the net without having any defencemen on him. The two Finnish defencemen didn't pay attention to Kaliyev as the puck got cycled because they were focusing on the puck rather than the soon-to-be goal scorer. Once he realized he had no one on him, Arthur Kaliyev called for the puck, and the second he got it, he hit them with his quick snapshot and scored the goal without wasting any time.
The analytics side of prospecting also favors Kaliyev and his progression as a player, as the chart below shows how much he's progressed positively in his last few years.
As of right now, the chances of him making the NHL as a full-time player are at 79%, which happens to be higher than many prospects, including former 10th-overall pick from the same year, Vasili Podkolzin, and also 10th-overall pick from 2020, Cole Perfetti. The chances of Kaliyev being a star aren't necessarily as high as we would like them to be, but a 46% chance at being a star is still better than most. 
In the bottom right corner of the graph comes Arthur Kaliyev's closest comparisons from when those players were his age, and one name that stands out is notified sniper, Kyle Connor. Connor had three straight 30-goal seasons from 2017 to 2020 with the Winnipeg Jets and had 26 goals in the 2020-21 season, where he would unquestionably have 30 goals had there been a full season.
Hockey ranks on Instagram have Arthur Kaliyev as a 99 overall prospect rating. The chart above shows that Kaliyev's aP/60 (adjusted points per 60) is almost maxed out, proving that he's one of the most offensive prospects in the NHL — not to mention his iSF/60 (Isolated shots per 60) and GFAx (Goals for above expected) are both far above average making him an even better player.
A common misconception is that offensive players like Kaliyev can't play defense, but as shown in the graph, Kaliyev's GAAx (Goals against above expected) is almost as high as his offensive power, meaning he breaks up plays as much as he creates them.
Finally, Jfresh's model continues to prove our case that Kaliyev is a top-notch prospect with some high chances of becoming a star in the NHL. His chances of being a star sits at 21%, which is ranked 28th among all prospects, and his chances of being an NHLer are almost 100%, and that ranks 25th out of every prospect in the NHL system.
Not only is Arthur Kaliyev an elite goal-scorer, but he's also insanely knowledgeable when it comes to his game smarts. He always knows where to be for the best goal-scoring opportunities, as we saw a quick glimpse of that in the clips above. Kaliyev is also fantastic defensively and knows how to defend rushes against some of the best competition in the AHL. There is absolutely a good argument for him becoming an NHLer come the first game of the season, and since he knows how to score goals, it's going to attract the Kings to play him right now.
The LA Kings are very lucky that an elite sniper such as Arthur Kaliyev fell to the 33rd pick — and years of bardown and top-corner snipes are yet to come. Kaliyev will unquestionably be a 30-goal-scorer throughout his entire career if he doesn't forget how to shoot and if he keeps picking his golden spots to shoot from. He could even have one or two 40- and 50-goal seasons if he gets high minutes with Quinton Byfield and Alex Turcotte in the future.
LA Kings Alex Turcotte: "Feel more than ready for this next season"