LA Kings prospect update – Week 11/13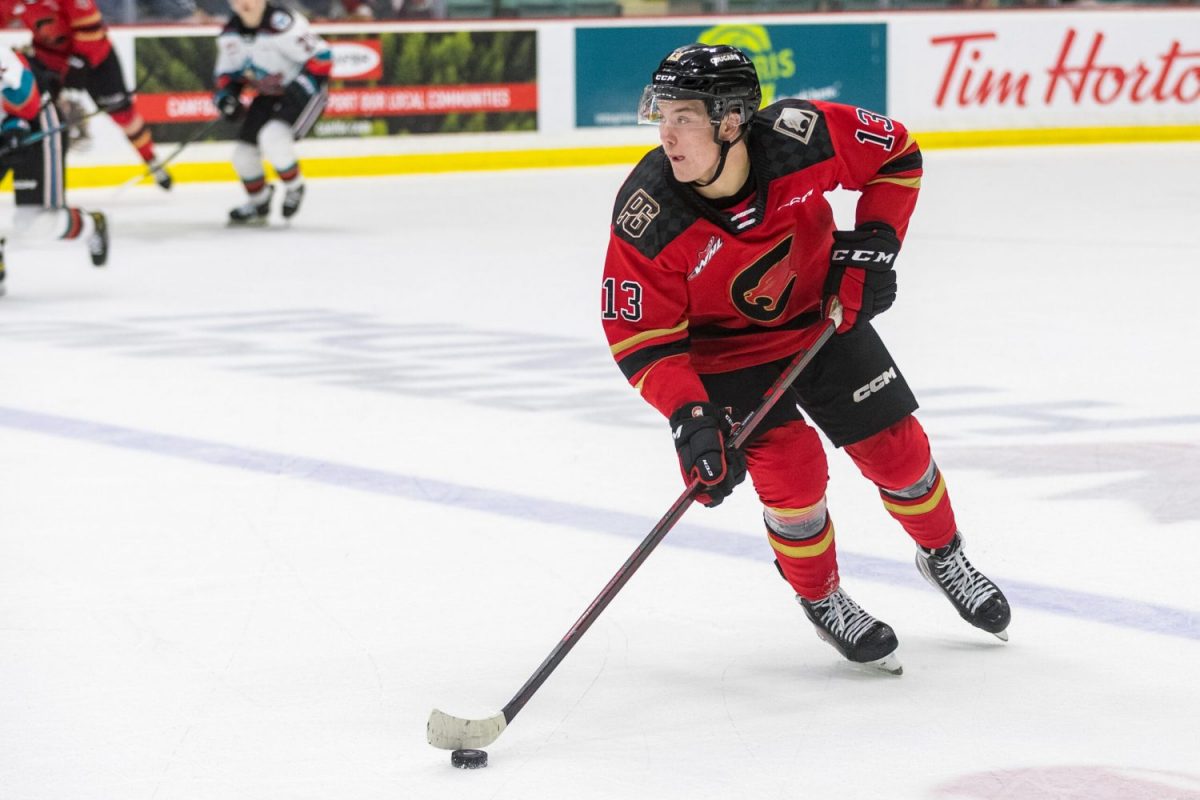 Koehn Ziemmer highlighted this week's LA Kings prospect update with an impressive week for the Prince George Cougars of the WHL.
Have a week, Ziems! 🔥

With nine points in four games, Koehn Ziemmer has been named @TheWHL's Player of the Week!

📝 https://t.co/NpBCs5HKNS@LAKings • #ForTheNorth • #WHL pic.twitter.com/kV0hZftUXS

— Prince George Cougars (@PGCougars) November 20, 2023
In four games last week, Ziemmer recorded nine points (4G-5A), a plus-three rating, and 18 shots on goal. For his performance, he was named the WHL's Player of the Week. In addition to being named the WHL Player of the Week, he was also named the CHL Player of the Week as well, which covers the WHL, OHL, and QMJHL.
ICYMI: Six players were recognized Monday for their performances over the past week! 👏🏻

📰 https://t.co/5krSS4R5lI pic.twitter.com/5FRR39Dwv8

— Canadian Hockey League (@CHLHockey) November 21, 2023
With his play in the WHL this season, the LA Kings signed him to his entry-level contract on Friday.
SIGNED ✍️

We've signed Koehn Ziemmer to a 3 year entry level contract!

📰 https://t.co/XTfLeS4OAD pic.twitter.com/ZKosWQEwDq

— LA Kings (@LAKings) November 17, 2023
Koehn Ziemmer signed with the @LAKings this morning. Koehn Ziemmer has two primary assists tonight.

Confirmed, great signing👍 https://t.co/Ck7oWbQ9mo pic.twitter.com/1uXerxL3ed

— Prince George Cougars (@PGCougars) November 18, 2023
There is plenty to like about Ziemmer. He has good hands and a good shot to go along with it. Could he be a third-round gem for the LA Kings in the future?
Here's how the rest of the players did:
Overseas players:
Jakub Dvorak: No games played
Alexander Dergachyov: 0 G, 0 A, 0 Pts, +/- 0, 5 SOG in three games played
Bulat Shafigullin: 0 G, 1 A, 1 Pt, +2, 8 SOG in three games played
Kasper Simontaival: No games played
Kirill Kirsanov: No games played
Aatu Jamsen: 0 G, 0 A, 0 Pts, -2, 2 SOG in one game played
Otto Salin: 0 G, 0 A, 0 Pts, +1, 7 SOG in three games played
Juho Markkanen: No games played
USHL players:
Jack Sparkes: No games played
Hampton Slukynsky: 2 GA, 16 saves on 18 shots faced in one game played
NCAA players:
Ryan Conmy: 2 G, 1 A, 3 Pts, +2, 13 SOG in two games played
GOOOAAAALLL!!! Ryan Conmy with a short-handed wrap-around goal to put the 'Cats on the board first!

Game Day Central ➡️ https://t.co/x4DNv5YLc2
Watch Live on ESPN+ ➡️ https://t.co/htD5eEdQVU#BeTheRoar @HarvardPilgrim pic.twitter.com/xXyX53RvFP

— UNH Men's Hockey (@UNHMHOCKEY) November 19, 2023
Kenny Connors: 0 G, 2 A, 2 Pts, +/- 0, 1 SOG in two games played
Ben Meehan: No games played
Braden Doyle: o G, 0 A, 0 Pts, -1, 1 SOG in two games played
Jared Wright: 1 G, 1 A, 2 Pts, +/- 0, 2 SOG in two games played
REPLAY: Jared Wright goes top shelf after taking a feed from Carter King.

Both extend their career long point streaks. pic.twitter.com/CnAPrRh8yl

— Denver Hockey (@DU_Hockey) November 19, 2023
Jack Hughes: 0 G, 1 A, 1 Pt, -1, 1 SOG in two games played
ECHL players:
Jacob Ingham: 5 GA, 75 saves on 80 shots faced in two games played
Jacob Ingham will make the his 7th start of the season tonight in Savannah#OurStompingGround pic.twitter.com/yRNEbN36Et

— Greenville Swamp Rabbits (@SwampRabbits) November 16, 2023
QMJHL players:
Angus Booth: 0 G, 0 A, 0 Pts, +/- 0, 1 SOG in two games played
OHL players:
Kaleb Lawrence: 1 G, 0 A, 1 Pt, +/- 0, 5 SOG in two games played
#GoKingsGo prospect Kaleb Lawrence steals and snipes for his sixth of the season! 🎯#CapitalTerritory | @Kaleblawrence9 pic.twitter.com/jBsjpRoVYe

— Ottawa 67's (@Ottawa67sHockey) November 15, 2023
Matthew Mania: 0 G, 0 A, 0 Pts, -1, 6 SOG in three games played
AHL players:
Alex Turcotte: 1 G, 3 A, 4 Pts, +3, 4 SOG in two games played
EVERYONE SAY THANK YOU ALEX!!#ReignTrain | #CGYvsONT | @flyONT pic.twitter.com/ZWVVm57Uge

— Ontario Reign (@ontarioreign) November 18, 2023
Brandt Clarke: 1 G, 2 A, 3 Pts, +1, 7 SOG in two games played
.@brandtclarke55 with a shot from the left circle! 2-0 Reign!#ReignTrain | #CGYvsONT pic.twitter.com/KbNoM9FkeZ

— Ontario Reign (@ontarioreign) November 20, 2023
TJ Tynan: 0 G, 0 A, 0 Pts, +/- 0, 0 SOG in two games played
Mikhail Maltsev: 1 G, 3 A, 4 Pts, +1, 4 SOG in two games played
Maltsev scores a power play goal to give the Reign the lead!#ReignTrain | #CGYvsONT pic.twitter.com/AAaEu8DMti

— Ontario Reign (@ontarioreign) November 20, 2023
Martin Chromiak: 0 G, 1 A, 1 Pt, +/- 0, 2 SOG in two games played
Steven Santini: 0 G, 1 A, 1 Pt, +1, 0 SOG in two games played
Samuel Fagemo: 2 G, 1 A, 3 Pts, +1, 5 SOG in two games played
.@samuelfagemo with the one timer on the power play! The Reign are 3-0!#ReignTrain | #CGYvsONT pic.twitter.com/mQLB1cJBK0

— Ontario Reign (@ontarioreign) November 20, 2023
Akil Thomas: 1 G, 0 A, 1 Pt, +2, 4 SOG in two games played
What a play in front by @AkilThomas2!#ReignTrain | @flyONT pic.twitter.com/NhN1x1uNhw

— Ontario Reign (@ontarioreign) November 18, 2023
Cole Krygier: 0 G, 0 A, 0 Pts, +1, 0 SOG in one game played
Taylor Ward: 0 G, 0 A, 0 Pts, +1, 2 SOG in two games played
Jacob Moverare: 0 G, 1 A, 1 Pt, +/- 0, 3 SOG in two games played
Tyler Madden: 0 G, 0 A, 0 Pts, -1, 2 SOG in two games played
Kevin Connauton: 0 G, 0 A, 0 Pts, +1, 6 SOG in two games played
Joe Hicketts: No games played
Samuel Helenius: 0 G, 1 A, 1 Pt, +1, 2 SOG in two games played
Andre Lee: 2 G, 0 A, 2 Pts, +1, 3 SOG in two games played
.@Andrelee71 is absolutely KILLING it tonight!#ReignTrain | #CGYvsONT | @flyONT pic.twitter.com/MwmIIMEyTt

— Ontario Reign (@ontarioreign) November 18, 2023
Francesco Pinelli: 0 G, 0 A, 0 Pts, -1, 0 SOG in one game played
Kim Nousiainen: 0 G, 0 A, 0 Pts, +/- 0, 0 SOG in one game played
Tobias Bjornfot: 0 G, 0 A, 0 Pts, +1, 3 SOG in two games played
Hayden Hodgson: No games played
David Rittich: 4 GA, 16 saves on 20 shots faced in one game played
Erik Portillo: 0 GA, 19 saves on 19 shots faced in one game played
Sunday's AHL Three Stars of the Night ⤵️

⭐️ Erik Portillo @ontarioreign
⭐️⭐️ C.J. Suess @ManitobaMoose
⭐️⭐️⭐️ Troy Grosenick @mkeadmirals pic.twitter.com/csyCXzW0jw

— American Hockey League (@TheAHL) November 20, 2023
NHL players:
Alex Laferriere: 0 G, 0 A, 0 Pts, +1, 4 SOG in one game played
Jordan Spence: 0 G, 1 A, 1 Pts, -1, 1 SOG in two games played
Featured image credit: Prince George Cougars (WHL)