Three LA Kings players off to quietly good starts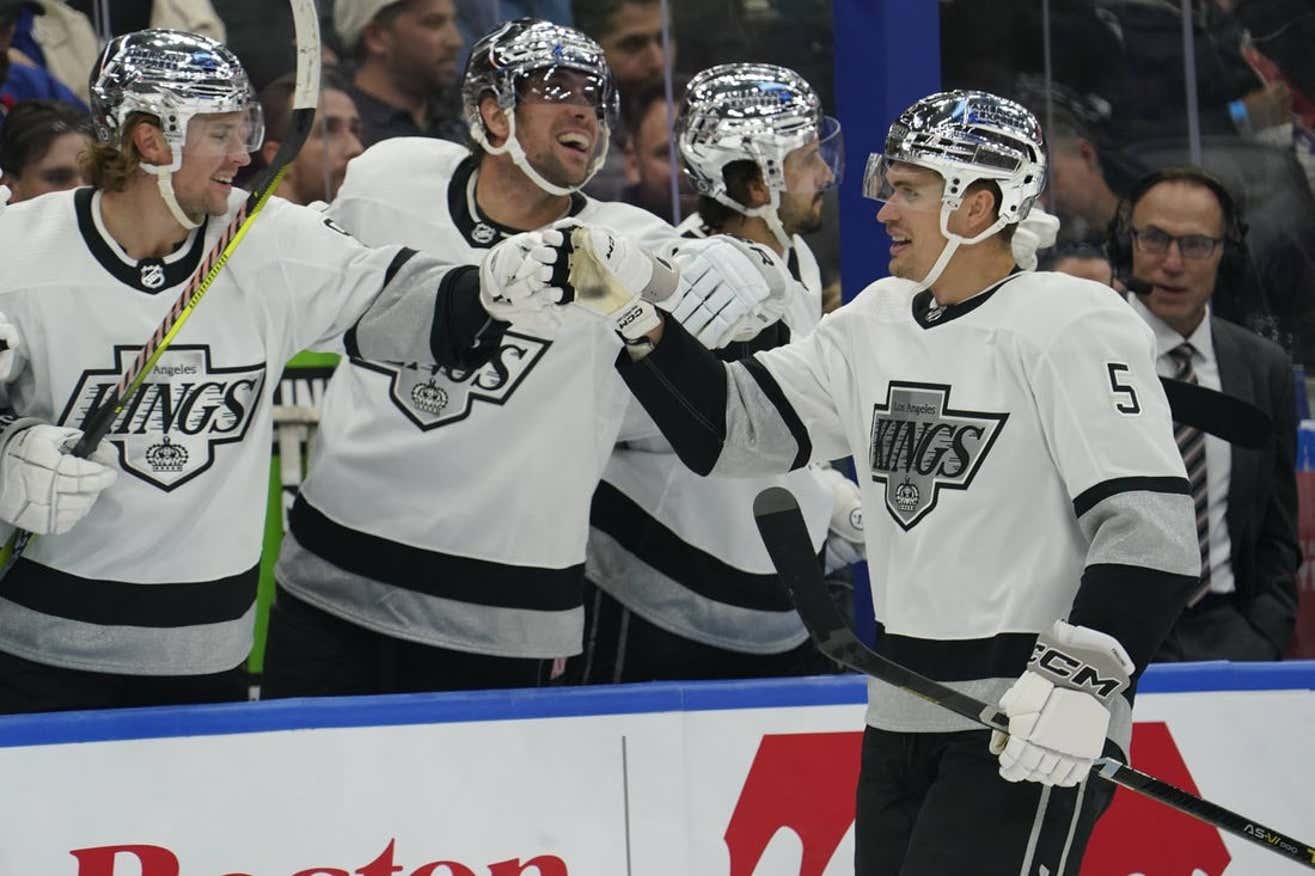 Off to a 7-2-2 start, things are going along quite well for the LA Kings. It's hard to find a player on the team who isn't contributing to the team's early season success in some fashion, but there are a few that seem to be flying under the radar more than some.
Jordan Spence
After a shaky first couple of games, the LA Kings defense corps has started to settle in. Per Natural Stat Trick, the Kings have allowed the fourth-fewest shot attempts per 60 minutes (CA/60) and third-fewest expected goals against per 60 (xGA/60) at 5-on-5. And they're doing it with a brand new bottom pair.
The right side of that pairing is 22-year-old Jordan Spence. Before the 2023-24 season, Spence had played a total of just 30 NHL games over the prior two seasons. With Sean Walker and Sean Durzi moving on in the offseason, the door was open for Spence to take the RD3 role in Los Angeles. He did just that with a strong training camp.
His early start to the season has been very good. Though he's picked up just three points (all assists), Spence is fourth among LA defensemen in shot share (55.4% CF%) and is fourth overall on the team (best among defensemen) in expected goal share (60.8% xGF%) at 5-on-5 per Natural Stat Trick. Spence also leads all LA defensemen in xGF/60.
Offense has been Spence's calling card in his young career, and he's demonstrated that early in this season. He is the quarterback on the Kings' second power play unit and he also leads all LA defensemen in shot assists/60.
It isn't just his offensive game, though, that's excelled. He's been a strong defensive player as well.
We're just scratching the surface of what Jordan Spence can bring to the LA Kings' blueline.
Andreas Englund
Jordan Spence's partner, Andreas Englund, is also putting together an under-the-radar effective season so far. I'll be the first to admit, I didn't quite understand the signing of Englund. I didn't know what he brought that someone like Jacob Moverare didn't already possess (well, that, and I was still hoping for a Brandt Clarke – Jordan Spence pairing).
But here we sit after 11 games and Englund has a higher expected goal share (56.9%) than Vladislav Gavrikov and Mikey Anderson at 5-on-5. Englund is also in the top ten in terms of penalties drawn versus taken differential (per EvolvingHockey).
The 27-year-old Swede is not going to wow anyone with his skating or his ability with the puck. You certainly won't see him pop in any shot contribution list – but he did score his first career goal last week in Toronto and has four points in 11 games. But I think, at least to date, Englund is doing what he's been asked to do: bring size and an element of toughness to the LA Kings lineup (for whatever it's worth, he has been in three fights), and be a positive player on the defensive side of the puck. So far, I think he's done that.
If he's able to maintain this level of play, the Kings are in good shape.
Blake Lizotte
No disrespect to Jordan Spence or Andreas Englund, but here's the reason we're all here: Blake Lizotte. Once again, the 25-year-old center is ho-humming his way to yet another strong season as the team's fourth-line pivot.
Per Natural Stat Trick, Lizotte is sixth on the team in on-ice CF% (58%), second in on-ice Scoring Chances share (60.4 % SCF%), and leads in on-ice GF/60. He contributes as well as anyone to the offense considering his time-on-ice as he is third in shot assists/60. His five slot passes are the fifth-most on the team.
At 5-on-5, he's in the LA Kings' top five in primary points per 60 minutes (per Natural Stat Trick). Overall, his six points have him tied with Drew Doughty and PL Dubois and are three more than the highly lauded Alex Laferriere.
What I've always liked about Lizotte is how he makes those around him better. When looking at his most consistent linemates, Carl Grundstrom, and Trevor Lewis, it's noteworthy how much better they are when on the ice with Lizotte than when they are not:
Per Natural Stat Trick, Lewis is especially reaping the rewards of playing alongside Lizotte. When with him, Lewis has a 55.5% CF% and 52.9% xGF% compared to a 47.6% CF% and 25.4% xGF% when not with Lizotte. The veteran winger has already picked up a pair of goals on the young season with Lizotte assisting on both of them.
It hasn't just been at 5-on-5 either, Lizotte has had a positive impact on the penalty kill as well.
For as little a credit seems Blake Lizotte gets (how?)….can we at least start giving him some PK love? Was a positive influence last season and so far early on this one. pic.twitter.com/NzUkp5k02l

— Joe W. Patarino (@JWPatarino) November 3, 2023
All offseason we heard about how deep the LA Kings center depth was as everyone talked about the impressive top three of Anze Kopitar, PL Dubois, and Phillip Danault. There's no doubt in my mind that Blake Liztotte should be mentioned in that conversation (and credit to Ray Ferraro for noting this as well) as Lizotte continues to be one of the best fourth-line centers in the NHL.
It's not just the stars that are shining in Los Angeles. If the depth continues to chip in the way they have, this will be a tough team to beat.
(Main Photo Credit: John E. Sokolowski, USA TODAY Sports)