Data Driven: LA Kings win comfortably in Toronto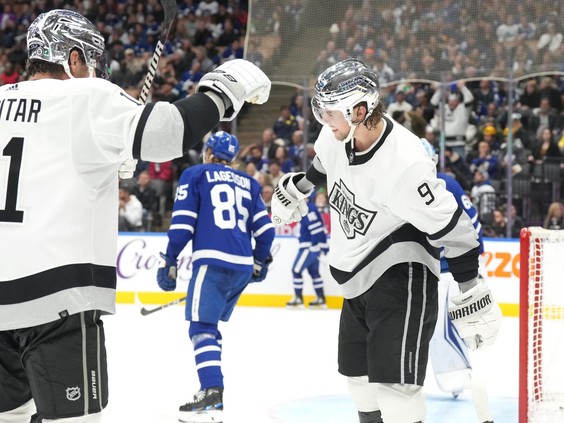 The LA Kings started a four-game road trip with a convincing 4-1 win in Toronto against the Maple Leafs on Tuesday night.
(Stats and Terms via Natural Stat Trick)
5-on-5 Stats
Team Stats
The LA Kings controlled this one pretty much from puck drop, owning edges across the board with possession and scoring chances.
LA ended a dominant first period (72% CF, 61.4% xGF) with a 2-0 lead on Andreas Englund's first career NHL goal and Phillip Danault's second of the season.
The Kings extended their lead in the second period on an Arthur Kaliyev power-play goal, but, Toronto did have some pushback. The Leafs had stretches of time in the second where they generated some scoring chances as they had a 4-3 edge in high-danger chances and a 1.11 – 0.57 edge in expected goals, but Cam Talbot was up to the task in the middle frame.
In the end, Toronto never got going in this one and LA smothered them in the third period. It was an impressive performance from the visiting Kings.
Special Teams
It may sound like a broken record, but the power play did create some looks. It went 1-for-4 thanks to an Arthur Kaliyev laser wrist shot from the right circle.
In 7:44 of power play time, the Kings generated eight scoring chances on nine shot attempts. It still isn't perfect, particularly the top unit as they continue to figure out what works best, but it wasn't without their chances.
On the penalty kill, the Leafs created some chances of their own. They also went 1-for-4 and in 6:30 of power play time, generated seven scoring chances on ten attempts. The goal by John Tavares in the third period pulled the Leafs to within 3-1 as Vladislav Gavrikov got tied up in front of the net with William Nylander, giving Tavares too much time and space to put his shot where he wanted to. That said, I think the Kings will take going 3–for-4 on the penalty kill against that power play.
Player Stats
5-on-5 Shot Share
The line of Phillip Danault, Trevor Moore, and Arthur Kaliyev completely dominated this game. In just over 12 minutes of 5-on-5 time together, they had a 19-8 edge in shot attempts (70.4%), an 8-3 edge in scoring chances, and an xGF% of 55.8%.
PL Dubois' line didn't fare quite as well in the possession matchup as they were the only line sub-50% CF (43.5%).
Vladislav Gavrikov was just over 50% CF when on the ice, but when paired with Matt Roy (as usual), the duo was strong, posting a 58.6% CF.
That was nothing compared to Mikey Anderson and Drew Doughty (68.2% CF) or Andreas Englund and Jordan Spence (70% CF).
5-on-5 Shot Quality
A big night for Andreas Englund. He not only scored his first NHL goal but was an impressive 61.1% CF and 78% xGF at 5-on-5. He was on the ice for the fewest xGA at 5-on-5 on the team. He and Spence held a 92.1% xGF in their time together. The LA Kings can't ask for anything more from the big Swede.
Gavrikov has shown some dents in his armor at times this season. When compared to how dominant last season was, it stood to reason that there'd be some ups and downs this year. Despite posting a 58.5% xGF when with Roy, he finished the game with an overall 30.1% xGF and the 1.24 xGA he was on the ice for was by far the most on the team.
5-on-5 Shot Contributions
It's no surprise to see Danault and Moore atop the shot contribution list. They each tied for the lead in shot attempts (8) while Danault's 12 contributions led the team. Moore also led the LA Kings in slot passes with two. Anze Kopitar, Kevin Fiala, Quinton Byfield, Danault, and Dubois each had slot passes in this one. Fiala leads the way in the slot pass department this season with ten at 5-on-5. Kopitar's five shot assists led LA against Toronto.
A very rare zero shot assist game from Blake Lizotte. He is human, after all.
Quinton Byfield earned the game's First Star as he registered a pair of assists. His numbers don't pop off the charts in terms of on-ice CF, xGF or his individual shot contributions, but he was very involved, as he has been all season. The play he made just before Adrian Kempe's goal was a strong move to the middle, getting himself into a good shooting position before Kopitar sent the rebound over to Kempe for the tap-in.
THE JUICEMAN 🧃 pic.twitter.com/PhnYJYHp9F

— LA Kings (@LAKings) November 1, 2023
Between the pipes
According to Evolving Hockey, Cam Talbot finished the game with a 1.48 GSAx. It was another strong performance from the first-year King, stopping 29 of the 30 shots he faced (.967 SV%). With two more games this week on the East Coast (at Ottawa on Thursday, and at Philadephia on Saturday), it's safe to assume Talbot will get at least one of those games. He's playing well, but the LA Kings should be cautious in riding him too hard, too early.
Up Next…
The young Ottawa Senators will likely give the Kings a tougher game than Toronto did on Tuesday. Ottawa will come into this one well-rested, not having played since their 5-2 win in Pittsburgh on Saturday.
(Main Photo Credit: Chris Young, The Canadian Press)