LA Kings: Bold Predictions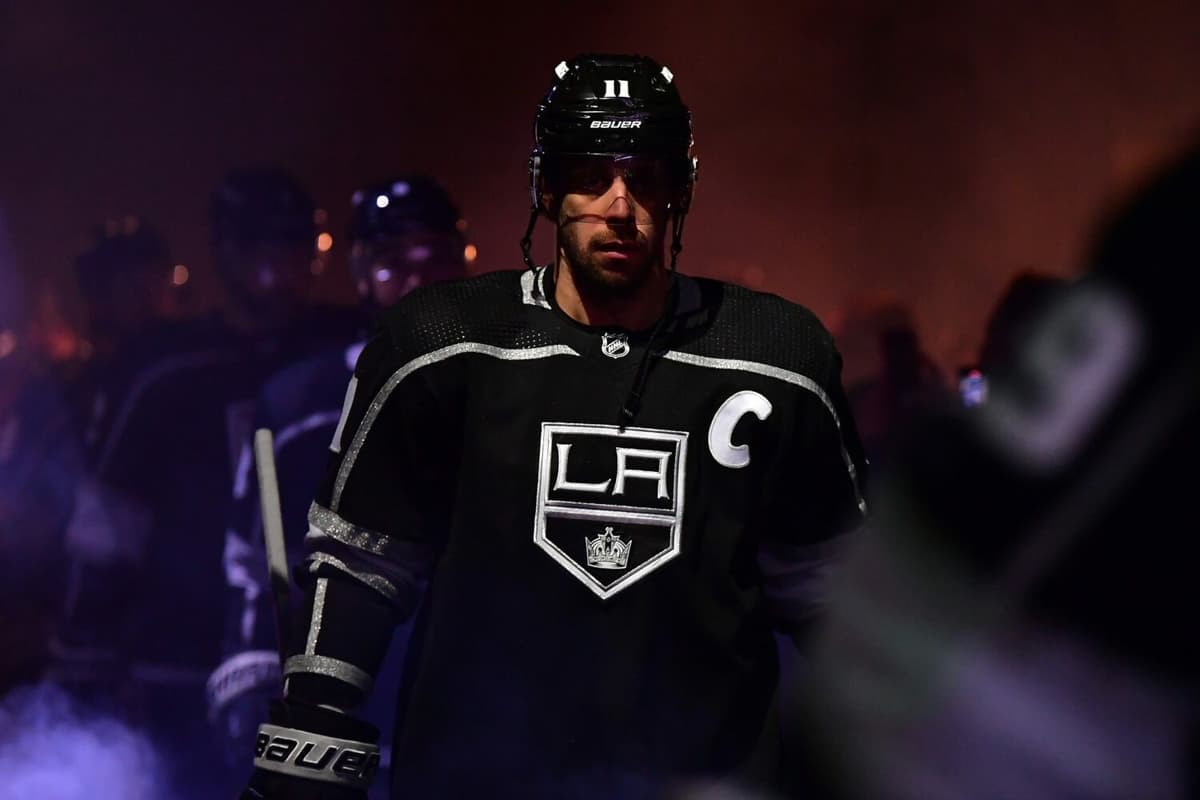 The start of the 2023-24 season for the LA Kings is almost upon us. As we charge closer to the highly anticipated season for the silver and black, fans are filled with high expectations. And with those lofty expectations come bold predictions.
Earlier in the week, I tasked Kings fans to provide their bold predictions on Twitter/X and they did not disappoint. Let's look at a few that could come true and some that are so wildly absurd yet not out of the realm of possibility.
@NHLRussell: Kings set a new franchise record for points in a season (105) and win the Pacific Division.
The Kings are deeper down the middle with the addition of Pierre-Luc Dubois. And have vastly improved the defensive depth with a full season of the Vladislav Gavrikov–Matt Roy pair and a third pair highlighted by prospects Jordan Spence or Brandt Clarke.
While the goaltending isn't anything to get excited about with a group consisting of Pheonix Copley, Cam Talbot, and David Rittich, it can't be any worse than what was iced during the first few months last season.
If the Kings can continue the run they had toward the end of the regular season last year, a 106+ point season and Pacific Division title shouldn't be looked at as a bold prediction but an expectation.
@JWPatarino: Trevor Moore scores 30 goals
My colleague Joe Patarino at Hockey Royalty understood the assignment and went incredibly bold with his prediction. Though is it?
Looking at Trevor Moore's career stats, he's never come close to the 30-goal mark. He hasn't even scored 20+ goals in a season. However, after watching his game in Australia and hearing rave reviews from head coach Todd McLellan, we might be on the cusp of a Kempe-like breakout season for the Thousand Oaks native.
Trevor Moore (1) scores on the rush and gets the Kings within one goal of the Coyotes.

Assist:
Viktor Arvidsson (1)#GoKingsGo #Yotes #ARIvsLAK #GlobalSeries pic.twitter.com/PuaTRJWNQ3

— LA Royalty (@LARoyalty1967) September 23, 2023
Now that the "Nice Line" consisting of Viktor Arvidsson, Phillip Danault, and Trevor Moore seems to be a permanent fixture in McLellan's middle six, a full bill of health and the chemistry those three display should see 'Moore' red lights over their opponent's net.
@bmusgrove_socal: Kempe sets a new career high and scores 50 goals
After breaking out with 35 goals in the 2021-22 season, Adrian Kempe followed up with 41 last year to become the LA Kings' first 40+ goal scorer since Luc Robitaille in 1994.
Kempe's scoring ability has become a big factor in the Kings' success over the last two seasons, especially when it comes to their now-vaunted power play. Yeah, you read that right.
Adrian Kempe is lethal from the circle.#GoKingsGo pic.twitter.com/G9jnR5GZ3E

— Russell Morgan (@NHLRussell) February 20, 2023
The hope for Kempe to become LA's first 50-goal scorer since Robitaille net 63 in 1993, will rely upon another healthy season and taking every shooting opportunity given. But with a tantalizing wrist shot and lethal one-timer from the circle 50 goals might come to fruition.
@Karan8263: If Jordan Spence gets ample TOI he will at least get 30-40 points
Jordan Spence SZN is finally upon us. While many anticipate Brandt Clarke to crack the opening lineup, it shouldn't be at the expense of Spence. The 22-year-old right-shot defenseman has done everything asked of him since turning pro. He's earned the opportunity ahead of him.
Jordan Spence buries one from far for his first NHL goal! ? pic.twitter.com/q1FxfwZYut

— NHL (@NHL) March 27, 2022
In his first two professional seasons with the Ontario Reign, Spence produced 87 points in 102 games played and became the first defenseman in Reign history to have back-to-back 40+ point seasons.
As my friend Karan8263 says, if given ice time, and a look as the Kings' quarterback on the second power-play unit, Spence should replicate Sean Durzi's 38-point campaign from last year.
@LaKingsNick: Fiala is the first King in exactly 30 seasons to break the 100-point mark.
That's right. It's been 30 seasons since an LA King scored 100+ points in a season when Wayne Gretzky finished with 130 during the 1993-94 campaign. And a lot would have to go right for Kevin Fiala to have his first career 100-point season.
Much of the success for Fiala will be predicated on the chemistry with his new centerman Pierre-Luc Dubois. On paper, those two should be a match made in heaven. A hard-nosed power forward to go along with a skilled playmaker could bring fireworks to LA's middle six.
@liontamer18: Alex Laferriere starts the season on the second line, forcing the Kings to send Fagemo and JAD to the AHL and risk waivers, and creating a rotation of Grundstrom, Kaliyev, and Lewis for the fourth-line winger slots.
There's nobody more excited for Alex Laferriere's eventual impact on the LA Kings roster than myself. Ever since this Laferriere showed up to development camp in 2022, he's done nothing but impress. But after speaking with head coach Todd McLellan after practice the other day, the team still thinks quite highly of Arthur Kaliyev.
The Kings tasked Kaliyev with a bit of work to do over the summer and Arty obliged. The spot on the wing with Fiala and Dubois is now Kaliyev's to lose. So we might have to wait for the debut of Laferriere a little longer. But hopefully not too long.
Featured Image Credit: Gary A. Vasquez-USA TODAY Sports