LA Kings: Blake Lizotte a welcome return to the lineup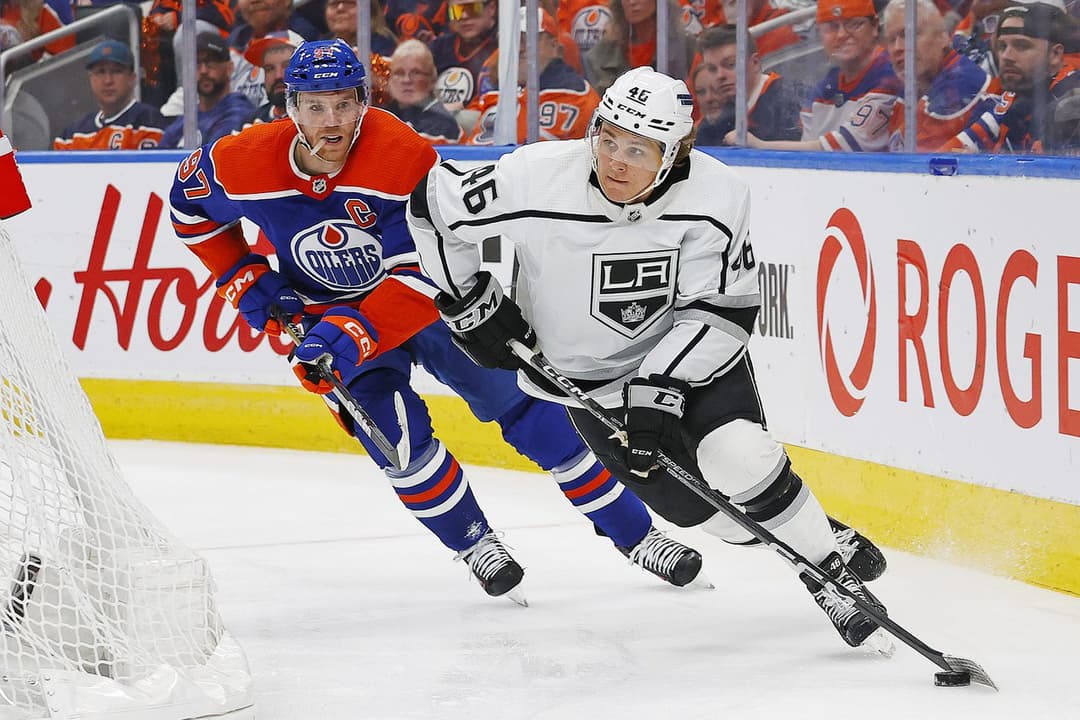 After missing the last three games with a lower-body injury, Blake Lizotte appears ready to draw back into the lineup for the LA Kings in Game 6.
LAK health news:
Blake Lizotte in full contact jersey at LAK practice.

— Dennis Bernstein (@DennisTFP) April 27, 2023
If you're a fan of Hockey Royalty (thank you if you are, by the way!), then praising Blake Lizotte won't come as any surprise to you. Always under the radar, Lizotte is an important cog in the LA Kings' lineup, be it in a third-line or fourth-line role. At 5-on-5, he was one of the best possession players on the team during the regular season (numbers per Natural Stat Trick):
| | | | | |
| --- | --- | --- | --- | --- |
| Player | CF% | xGF% | SCF% | HDCF% |
| Blake Lizotte | 54.3 | 53.5 | 54.8 | 57.5 |
It wasn't just possession, either. Lizotte set career highs in goals (11), assists (23), and points (34) in 2022-23. He was instrumental at 5-on-5, as only one player had more primary assists per 60 minutes than Lizotte:
| | |
| --- | --- |
| Player | Primary Assists/60 |
| Kevin Fiala | 1.2 |
| Blake Lizotte | 0.9 |
In doing shot contribution tracking this season, Lizotte was among the top players on the Kings in Shot Assists (passes that lead to shot attempts) when factoring in ice time:
| | |
| --- | --- |
| Player | Shot Assists/60 |
| Kevin Fiala | 15.9 |
| Phillip Danault | 12.7 |
| Anze Kopitar | 12.6 |
| Blake Lizotte | 12.6 |
He may fly under the radar, but there's no question about his importance to the LA Kings lineup.
When we look at the playoff numbers, Lizotte is among the tops on the team in each of the public 5-on-5 metrics. Virtually no one on the team is having a good series when it comes to possession numbers, so if we look at a player's Relative statistics (which is defined by Natural Stat Trick as the difference between the team's stat with that player on the ice and the team's stat with that player off the ice), Lizotte grades out among the best forwards on the team.
The Kings have missed Lizotte's motor, particularly on the forecheck. He is a relentless forechecker and has done so in this series as well.
With Lizotte's pressure, the Oilers are forced to play right into the teeth of the LA Kings' neutral zone trap.
In this next clip, Lizotte is again first on the forecheck, wins a puck battle, and is able to make a pass to Carl Grundstrom. While it doesn't lead to a direct shot from Grundstrom, the play does move around to the point for a shot. After making his play, Lizotte goes right to the front of the net.
Lizotte's motor helps him through the neutral zone as well. In the following clip, he is able to quickly sidestep an Edmonton player before entering the zone with possession and making a play to Grundstrom for a shot on goal.
While it isn't official that Lizotte will be in the lineup for Game 6, his skating in a regular jersey at practice is a pretty good indication he will be ready to go. The question now is, where does he play? We saw Todd McLellan put Alex Iafallo up with Anze Kopitar and Adrian Kempe in Game 5, and given how well they performed, I would expect that to stick on Saturday. That leaves a couple of different directions that McLellan can go with the bottom six:
Fiala – Lizotte – Vilardi
Byfield – Kupari – Grundstrom
Or
Byfield/Grundstrom – Vilardi – Fiala
Grundstrom/Byfield – Lizotte – Kupari
Usually, this would be an easy decision, and you'd put Lizotte between Kevin Fiala and Gave Vilardi to really bolster that third line. However, the fourth line has been a massive problem this series for the Kings, and if McLellan feels good enough about how Vilardi has looked being back in the middle this series, I could see him looking to shore up the 4th line.
For me, this is do-or-die as far as the season is concerned. In the last game, Fiala and Vilardi combined for just four shot contributions at 5-on-5. That is not good enough. If you put Lizotte between those two, that line has a chance to play a significant impact in Game 6. Quinton Byfield sliding down to the fourth line with Rasmus Kupari and Grunstrom should be a better option than the fourth lines LA has been rolling out for much of this series.
Whatever McLellan decides to do, it's Blake Lizotte SZN again in LA, and the Kings should be better off for it.
Videos via InStat
(Main Photo Credit: Perry Nelson-USA TODAY Sports)