LA Kings hockey is almost here.
Yesterday, the LA Kings announced their roster for the Rookie Faceoff set to take place next weekend in San Jose. It's no secret the Kings boast one of the best prospect pools in the NHL, and it's illustrated by the group of players heading up north to represent the silver and black.
The lineup features three first-round picks, Brandt Clarke (8th overall, 2021), Quinton Byfield (2nd overall, 2020), and Alex Turcotte (5th overall, 2019).
Also making the trip are some other high-profile prospects, including Martin Chromiak (5th round, 2020), Akil Thomas (2nd round, 2018), Helge Grans (2nd round, 2020), and Jordan Spence (4th round, 2019). A talented group indeed.
The LA Kings have announced their roster for next week's Rookie Faceoff in SJ.#GoKingsGo #RookieFaceoff pic.twitter.com/pGxyNIlakc

— Russell Morgan (@NHLRussell) September 8, 2022
A good showing by the young stars would build excitement heading into training camp. And quell concerns some fans have in the development of a few prospects. Most notably, the first-rounders that will be attending.
First-rounders' time to show out
Alex Turcotte
It was great to see Alex Turcotte's name on the roster for the Faceoff. After missing the Kings' Development Camp in July, fans were uncertain what was going on with the 2019 first-rounder. Hopefully, it's a good sign for his status next weekend.
Turcotte was very impressive at last year's event in Arizona, making my All-Tournament team for the Kings. Another good showing by the 22-year-old would go a long way to show he's still worthy of that fifth overall pick. And get his 2022-23 hockey season off to a good start.
Brandt Clarke
It's been an interesting summer off the ice for Brandt Clarke. But on the ice, he has played like that elite defensive prospect LA fans were hoping for.
Clarke showed up to Kings' Development Camp with confidence and played well during the week of on-ice sessions. He then continued that elevated play at Canada's WJC summer camp, scoring an impressive goal in one of the scrimmages. His summer of hockey came to an end quicker than some had anticipated, however, as Clarke was not named to Team Canada's postponed 2022 WJC roster.
After missing out on the Rookie Faceoff last year and, ultimately, training camp, this will be a good event for Clarke to display that offensive prowess he's undoubtedly capable of in a Kings' uniform for the first time.
Quinton Byfield
I was surprised to see Quinton Byfield's name included in the list of players traveling up north. It's fair to say, in 40 games last season, he showed that he's more than capable of performing at the NHL level. Now that he is going, Byfield should flourish in these three games.
Many are anticipating the second overall pick to elevate his game next season and prove he can be that franchise center for the LA Kings everyone is hoping for. A dominating performance at the Rookie Faceoff would go a long way to keep those expectations intact.
Player Notes:
Jordan Spence –  I'm excited to see what Spence can do in his second rookie tournament, as he was one of the best players on the ice for LA last year. I'm expecting another outstanding performance from the fourth-rounder—really like where he's at in his development.
Martin Chromiak – Much like Turcotte, hopefully, Chromiak's presence on the roster is a sign of good health for the 20-year-old Slovakian native. He's so much fun to watch fly up and down the ice. And his shot is already NHL caliber.
Akil Thomas – Akil had a rough start to the year last season. After missing the first half recovering from summer surgery, the 2019 second-rounder came back strong in the second half, finishing with ten points in his last 12 games during the season for the Ontario Reign. This could be the perfect place for Thomas to break out and show promise heading into camp.
Francesco Pinelli – This will be Pinelli's second rookie tournament. He looked really good at dev camp and reminds me a lot of Chromiak without the whopper of a shot. Hoping we see that play continue next weekend.
The Goalies – The LA Kings have some question marks in net after a concerning season last year from Cal Petersen. David Hrenak and Jacob Ingham both aren't considered high-end goalie prospects. But an impressive showing could garner more attention and confidence in LA's goalie pipeline.
Schedule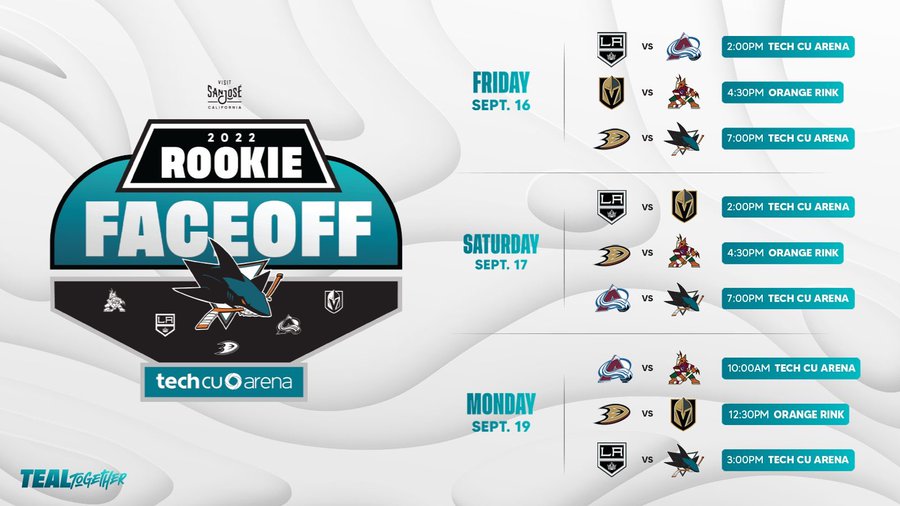 The festivities will kick off on Friday, September 16 at 2 pm against the Colorado Avalanche, in what will be the first sporting event to take place in the new Tech CU Arena. The LA Kings' squad will take the ice at Toyota Sports Center in El Segundo on Thursday morning at 10 am prior to the tournament.
Main Photo Credit: Dailynews.com