LA Kings defenseman Olli Maatta deserves respect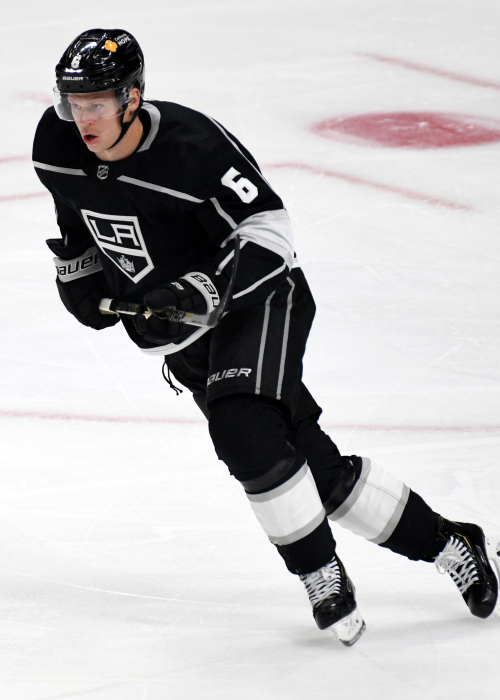 After a tough start to his tenure in Los Angeles, Finnish defenseman Olli Maatta has turned into a solid defensive defenseman for the Kings.
Olli Maatta isn't a stranger to criticism from the LA Kings fanbase. When he was brought into the organization in the summer of 2019, he was seen as a salary cap dump for Chicago. The LA Kings were willing to take a shot on the two-time Stanley Cup champion, and so they willingly took on his contract and welcomed Olli with open arms.
Maatta's first year with the Kings wasn't didn't breed a lot of confidence. The Jyvaskyla, Finland, native had just four points in 41 games. He finished the season with a -8. It was quite the woeful season seeing how he hit 17 points in 65 games with the Blackhawks the previous season. Not to mention how he had six points in nine games in the playoff bubble, too. 
After his debut season with the Kings where he was expected to be a regular, there were questions on where he fit last summer. Coming into the 2021-22 season, Maatta had the role of the seventh defenseman. He wasn't in the opening night lineup, and he only joined the team when there was some sort of injury.
This did quite a number to his confidence and the results on the ice weren't great:
Breakaway SNIPE! 🚀

Victor Hedman gets the @TBLightning on the board first. pic.twitter.com/GjUCojOA5q

— Sportsnet (@Sportsnet) January 19, 2022
The giveaways and the slow-paced skating started to weigh into Olli's on-ice performance. Maatta was receiving more criticism than he ever was.
Although the start to his season was abominable, Maatta has surprisingly picked up his game in the last month. Could it have been the added ice time that motivated him? Whatever it was, it helped him accelerate his game to another level.
This year, the 27-year-old has played in 50 games. So far, he has one goal and five points. He also leads the LA Kings in plus/minus, with +20. That makes him a +20 in his last 31 games. That right there is an improvement from what we've seen before.
If that isn't enough to convince people that Maatta elevated his game to his previous career bests, here's his RAPM chart from February 27th:
As pictured, his defensive game was mediocre at best. His Corsi against wasn't good, his Corsi for was awful. He generated little to no offense seeing how his GF/60 and his xGF/60 were weighing him down.
Pictured above is Maatta's RAPM chart from today. While his offensive skill still clambers, it's seen improvements. His GF/60 and xGF/60 both haven't been greatly improved, but it's slowly getting there. His Corsi still seems to be the biggest problem, but it has ameliorated. The biggest fix has come on the defensive aspect. His xGA/60 has skyrocketed as well as his Corsi against. In a matter of a month, his defensive analysis of a basic RAPM chart completely turned around.
Now, Olli Maatta has proven that his defensive play is becoming a strength. He's legitimately proven himself as a good defensive defenseman game after game. Thanks to his on-ice performance, he's managed to improve his chances at staying on the team when everyone is healthy.
Despite some marginal improvements, he isn't a defenseman that'll be expected to contribute to the offense. But if his defense is going to be as solid as it's been, Kings fans will take it. Ranking at 82 overall on Evolving Hockey's defensive rating, his penalty killing, and his even strength shutdown ability has boosted his stats to show off how much of a positive impact he's made in the back end this year.
Speaking of the penalty kill, he's been one of the best, if not the best, penalty killers on the LA Kings this season. When Maatta is on the ice for the PK, the Kings have managed to have an xGA of 7.06, or in percentage form, -7%. That is a meticulous number to have in the defensive zone.
The lower the number (or the higher in the negatives), the better it is to be in the defensive zone. For a team that has struggled on the kill this year, having an xGA of 7.06 is really impressive. As you can visualize, Maatta's best on the penalty kill comes in from the front of the net. That could mean stick lifts (scoring opportunities taken away), passes intercepted, and shots blocked.
Blocking shots is a huge part of hockey. A hockey player willing to put his body out to stop the puck from going in into his own net is a key part of defensive play, and Olli Maatta has undeniably done that.
Not only is Maatta second on the team in blocked shots with 75, but he's also third on the Kings in isolated blocked shots per 60 with 1.5. This is shots blocked every 60 minutes of hockey.
Additionally, his defensive zone starts have started to overcome his offensive zone starts. That shows how the coaches have started to see him as a defensive defenseman. With the right coaching, Maatta has started to play the role he is destined to play.
At the start of the season, Maatta had a higher xGA than a xGF, which is a sign of him playing a poor defensive game to go along with his lack of offense. Now, his xGA has dominated his xGF, proving to us how he's improved as a defenseman as the season has gone by.
His micro stats continue to favor his defensive play. His denials, PK, and possession exits are some of his strongest skills, and they've managed to bump up his defensive overall to 81 via Andy & Rono's chart. Aside from Drew Doughty and Mikey Anderson, that's the best  'Defensive overall' number on the team.
Olli Maatta has had a few struggle spots in his tenure with the LA Kings, but he deserves some credit for how great he's been playing recently. If this strong play continues, he could get another chance with the Kings next year as the 7th defenseman. It may be time to put a little bit of respect on his name.