Three things to watch for in Ontario Reign vs San Jose Wednesday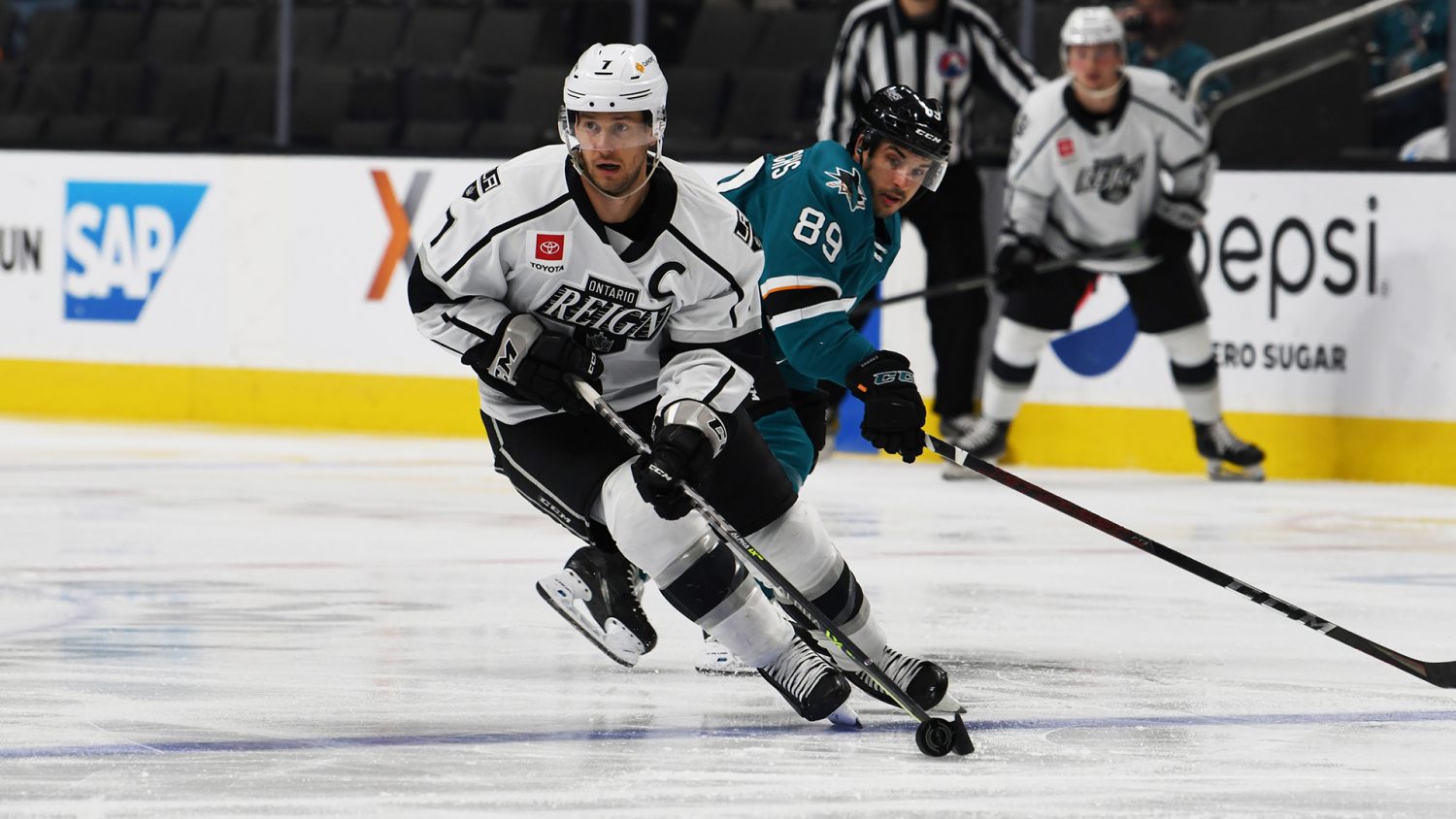 The Ontario Reign will be looking to sweep the five-game homestand with a victory over the San Jose Barracuda tonight.
Tale of the tape:
Powerplay
SJ: 20.2% (11th)
ONT: 27.1% (1st)
Penalty kill: 
SJ: 75.3% (29th)
ONT: 77.3% (25th)
Goals for
SJ: 145 (22nd)
ONT: 200 (1st)
Goals against
SJ: 195 (31st)
ONT: 150 (14th)
Key players
SJ: Joachim Blichfeld – 17 goals, 15 assists, 32 points
ONT: T.J. Tynan – 11 goals, 61 points, 72 points
Three things to watch for in tonight's matchup:
1. Lots of goals?
By now you know that the Ontario Reign can score at will. In their four matchups against the San Jose Barracuda, the Reign have scored a total of twenty-six goals, which comes out to an average of almost seven goals a game. Not only have the Barracuda struggled all season keeping the puck out of their net against the Reign, but they have also struggled to keep the puck out of their net in general.
Their 3.94 GAA (goals-against average), not including empty-net goals and .863 save percentage are both last in the league. In three of the four meetings, the Reign have scored seven or more goals. If Ontario wants to continue that trend they'll need a good start and put the Barracuda behind the eight ball early. If history repeats itself tonight, we could be in for another high-scoring night for the Reign.
2. Sweep the homestand
The Ontario Reign will be looking to complete the sweep of their homestand before they head out on the road for San Diego over the weekend. In order to cap off the sweep, the Reign will need to take down a struggling Barracuda team on the road. San Jose has won just two of their last ten games away from home while Ontario has won eight straight games at Toyota Arena. It's a matchup of the best home team against the worst road team.
It will be important for the Reign to not get off to a slow start because while the Barracuda doesn't have a great record, they are only four points out of the seventh and final playoff spot in the Pacific division. A team scratching and clawing for a playoff spot is always dangerous. If the Reign can get off to a great start and play their game they'll have a great chance at going 5-for-5 on the homestand.
3. Prospect watch
Rasmus Kupari, Samuel Fagemo, Alex Turcotte, Jaret Anderson-Dolan, and Gabriel Vilardi have all played at least a handful of games with the Los Angeles Kings. But one prospect that doesn't seem to get much attention in my eyes is 19-year-old right-handed defenseman Helge Grans. Grans is second in points by a defenseman with 18 for Ontario. He trails Jordan Spence who has 42 points. When you play on the second defense pair on the right side behind Spence, as Grans does, there's a possibility you might not get as much attention as Spence does.
In a pipeline of prospects that has a plethora of right-handed defensemen such as Sean Durzi, Brandt Clarke, Jordan Spence, and Brock Faber, Helge Grans seems to get lost in the shuffle. Grans will not get a call-up to the Kings this year, but the rookie defenseman has had a really great season for Ontario. He skates well, can provide offense, and uses his long reach with the stick in the defensive zone really well when defending. One stat that catches my eye is that Grans has taken only one penalty all season (yes you read that correctly). When he is on the ice tonight, keep an eye on him.
The puck drops tonight at 7:00 pm PT at Toyota Arena and can be seen on AHLTV.