Recapping the Reign's 5-2 win in Henderson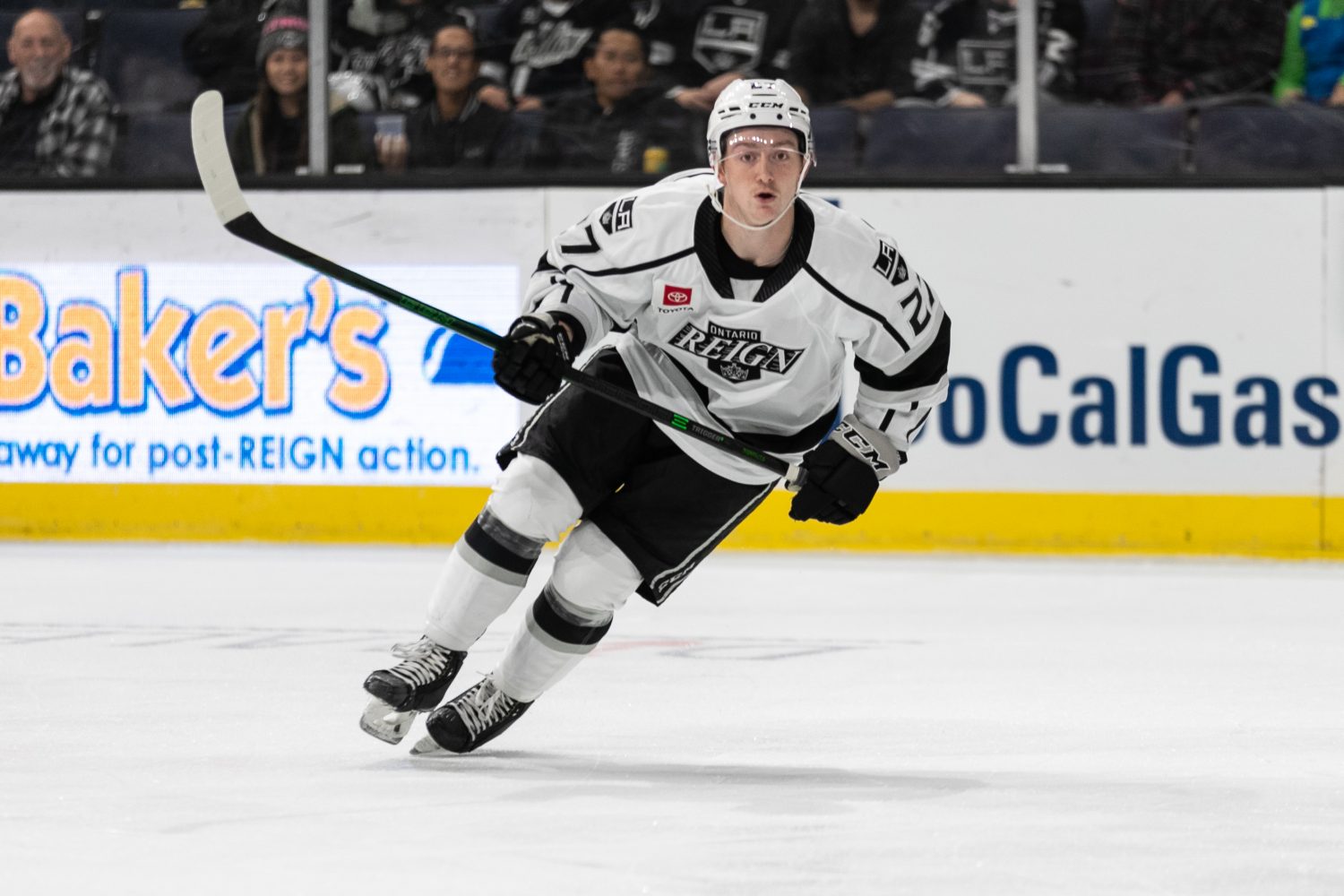 The Reign scored four straight goals on Saturday en route to a 5-2 victory, sweeping the home-and-home with Henderson.
If there were any concerns as to how the Ontario Reign would respond to a tough loss last Sunday, back-to-back wins against the Henderson Silver Knights should end those.
Quinton Byfield extended his point streak to five games while Tyler Madden scored in his third straight contest. Matt Villalta, making his second start in as many nights, made 29 saves in Ontario's 5-2 win.
The Reign have won three of four against Henderson so far this season.
It was an inauspicious start for the visitors as Maxim Marushev put Henderson up just 19 seconds into the game. The Silver Knights held that lead for most of the opening period until Byfield got the Reign on the board with the man-advantage:
Hey if you guys don't want to cover that 55 guy… that'd be fine with us!

🚨 PPG 4 QB! pic.twitter.com/63U5SsrCp1

— Ontario Reign (@ontarioreign) January 16, 2022
Just over two minutes later, Austin Wagner would give Ontario a lead they would not relinquish:
Austin Wagner put us in front 2-1 with this finish! pic.twitter.com/1OSYLmJRUP

— Ontario Reign (@ontarioreign) January 16, 2022
In the second, Nikita Pavlychev scored his first career AHL goal off a feed from Keegan Iverson, who picked up his first AHL point since the 2017-18 season:
You'll always remember your first! Way to go, @nikitapavlychev! pic.twitter.com/LHOCMcYmVQ

— Ontario Reign (@ontarioreign) January 16, 2022
The lead would get extended to three when Madden converted a Brett Sutter pass after the captain forced a turnover:
🔥 @tp_madden10 right now 🔥 pic.twitter.com/qfoquF4HFU

— Ontario Reign (@ontarioreign) January 16, 2022
For the second straight night, Henderson would apply third-period pressure and close the gap on the scoreboard when Pavel Dorofeyev scored a power-play goal to bring the hosts within two. It wouldn't be enough as Villalta came up with a handful of big saves to keep the score at 4-2 before Jordan Spence's powerplay goal regained Ontario's three-goal lead.
Spence quietly has points in five straight games and also has six assists in his last eight games.
Ontario picks up a little more breathing room in the division on Henderson, improving to 18-6-3-1 (40 points). The Silver Knights fall to 16-10-2-1 (35 points).
The Reign return home on Monday for a matchup with the Abbotsford Canucks.