Takeaways from the Ontario Reign's 5-2 win over the Abbotsford Canucks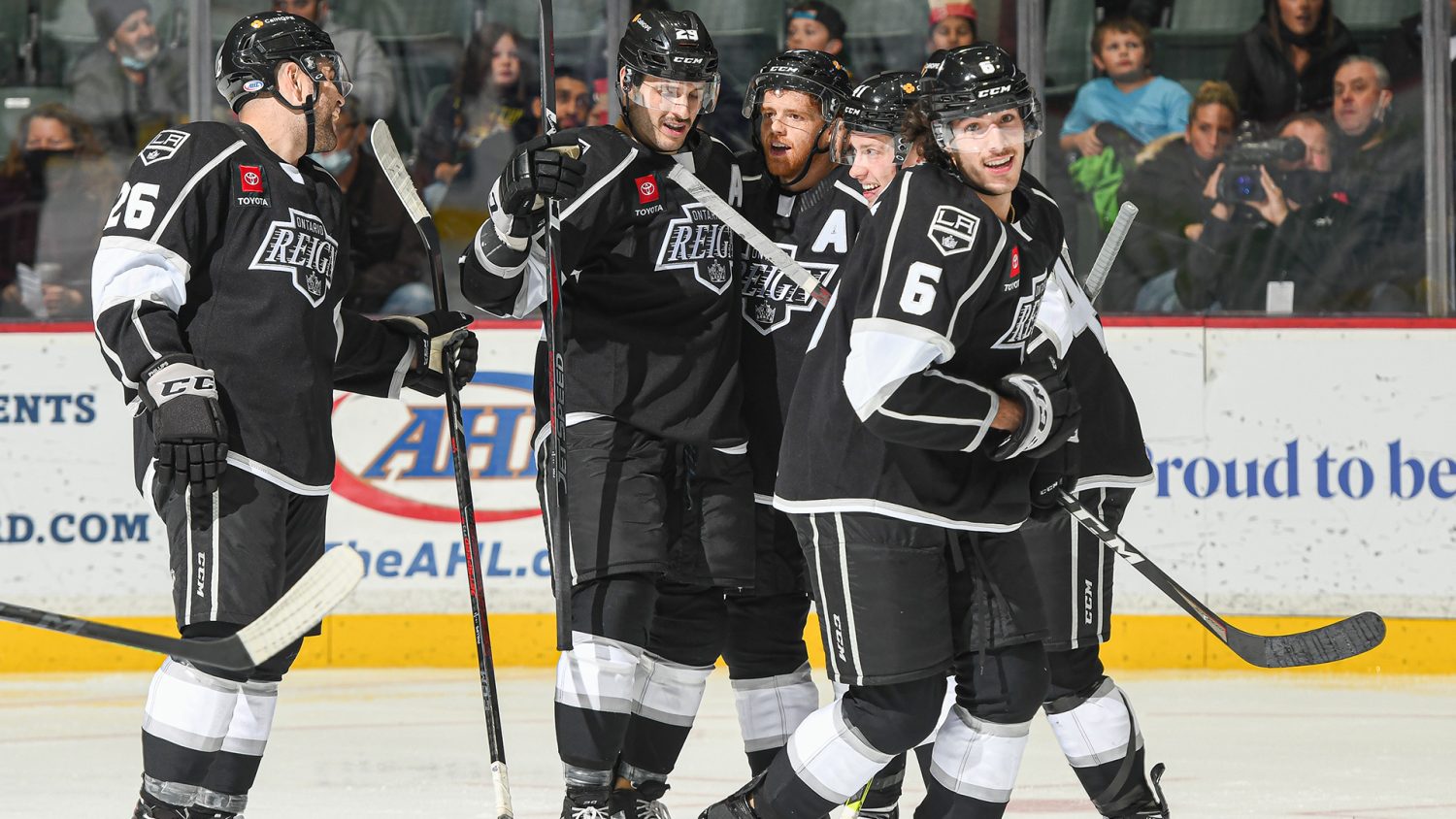 It was a dominant performance from the Ontario Reign as they improved to 5-0-0-1 after their 5-2 win against the Abbotsford Canucks.
Sean Durzi led the way with two goals and two assists. TJ Tynan added two more assists to his ledger, and Matt Villalta made 16 saves for his fourth win of the season.
The Reign outshot the Canucks 36-18.
GAME RECAP
Here is how the Reign lined up for their first road game:
Full Reign projected lineup for tonight's game in Abbotsford:

Burke – Tynan – Frk
Wagner – Turcotte – Madden
Johnson – JAD – Fagemo
Sodergran – Sutter – Dudas

Phillips – Durzi
Moverare – Grans
Gaunce – Spence

Villalta

— Jared Shafran (@ShafReign) October 30, 2021
The Reign were in control for most of the first period but were unable to convert on their two power-play opportunities or their numerous chances at 5-on-5. Ontario held a 14-6 edge in shots on goal and an 18-10 advantage in shot attempts.
Austin Wagner couldn't convert on a clean breakaway. Prior to that, Martin Frk had this chance coming out of the box that was stopped by Arturs Silovs, who was very good in this game despite the scoreline:
A look at Martin Frk's breakaway chance as he came out of the penalty box earlier in the period. pic.twitter.com/UT4hNwaEi2

— Jared Shafran (@ShafReign) October 30, 2021
Jaret Anderson-Dolan had a golden chance from the slot, but he rang it off the post:
One of the many grade-A chances for Ontario in the 1st was a shot by Anderson-Dolan that hit the crossbar.

This is the video replay shown from above the goal. About as close as you can come to scoring but it stayed out. pic.twitter.com/rJbayuNGFK

— Jared Shafran (@ShafReign) October 30, 2021
Despite the dominant opening period, it was Abbotsford who would strike first with Sheldon Dries tipping in a Cameron Schilling shot:
Sheldon Dries' beauty puts the #AbbotsfordCanucks on the board first! pic.twitter.com/DroMAtLFoJ

— Abbotsford Canucks (@abbycanucks) October 30, 2021
The second period was more of the same from Ontario. Aided by six Canucks' penalties, the Reign outshot Abbotsford 15-4 in the middle frame, with a 22-7 edge in shot attempts.
Still, it wasn't until the midway point of the period when the Reign would finally break through. Tyler Madden converted on the power play off a feed from TJ Tynan:
Tyler Madden(2) ties the game with a powerplay goal

Assisted by Tynan(7), & Durzi (3)#Reign pic.twitter.com/MnjsMNOn5e

— Eric (@kingsgifs2) October 30, 2021
Just over two minutes later, Johan Sodergran would give Ontario the lead:
Johan Sodergran(2) gives the #Reign the lead 2-1! pic.twitter.com/i97VAbT9h4

— Eric (@kingsgifs2) October 30, 2021
Dries would answer back from an impossible angle, sneaking one past Villalta from behind the goal line:
HOW DID THIS GO IN⁉️

We don't understand this goal but we are happy about it. Does Sheldon Dries have a hat-trick in him tonight?#AbbotsfordCanucks pic.twitter.com/4LUPOzLzIQ

— Abbotsford Canucks (@abbycanucks) October 30, 2021
In the third, Durzi picked a great time for his first goal of the season:
Sean Durzi makes it 3-2 #Reign with his 1st goal of the season! pic.twitter.com/ZPZGgZk9st

— Eric (@kingsgifs2) October 30, 2021
The captain Brett Sutter took advantage of two Canucks players colliding to pick up his first goal of the season, giving the Reign a little bit of insurance:
4-2 #Reign! Brett Sutter scores his 1st goal of the season pic.twitter.com/Qqc2ttDdhz

— Eric (@kingsgifs2) October 30, 2021
After a late penalty, Tynan put one on a tee for Durzi, and he did not miss:
Durzi with his second goal and 4th point of the game! 5-2 #Reign

Asst: Tynan (8), Anderson-Dolan(3) pic.twitter.com/SKbyfHmonD

— Eric (@kingsgifs2) October 30, 2021
SHOT ATTEMPTS
| | | | | |
| --- | --- | --- | --- | --- |
| at. Abbotsford | Shot Attempts For | Shot Attempts Against | CORSI | CF% |
| All Strengths | 57 | 28 | 29 | 67.1% |
| All Strengths HD | 18 | 7 | 9 | 72.0% |
| 5v5 | 38 | 28 | 10 | 57.6% |
| 5v5 HD | 13 | 7 | 6 | 65.0% |
BOX SCORE
The full box score can be found here.
THOUGHTS & TAKEAWAYS
I've been trying to warn you about Madden. A well-deserved goal for him. I'll add, he is perfect for the bumper role on the power-play. He is such a smart player, knowing when to bump it back out or maintain possession for a shot.
Jordan Spence saw time on the second power-play unit. He continues to look the part at the AHL level – and is especially dangerous in the offensive zone.
The power-play ended 2-for-7. It struggled in the first period but really found its stride as the game went along.
Just one penalty in this one for Ontario. Madden took a tripping penalty, but Chase Wouters ended up going for diving to cancel it out. They had the puck all game, so it makes sense that they wouldn't need to spend any time in the box.
Alex Turcotte seemed to have a little extra jump in this one. I thought this was one of his better games of the season.
The goal Sodergran scored is exactly the type of power-forward type ability he has. Don't forget about him. A healthy season and he could find his way inching up the lineup by the end of the season.
Villalta looked so calm and confident in the first period. He saw virtually no action in the second, and whether that played a factor or not, that second goal is one that just can't go in. That said, he had a strong third period in response when called upon.
In addition to Durzi and Sutter getting their first goals of the season, Markus Phillips picked up his first point of the season, getting an assist on the Sutter goal.
The two teams go at it again on Saturday night at 7 p.m. PT.