Ontario Reign: Previewing Rasmus Kupari's 2021-22 Season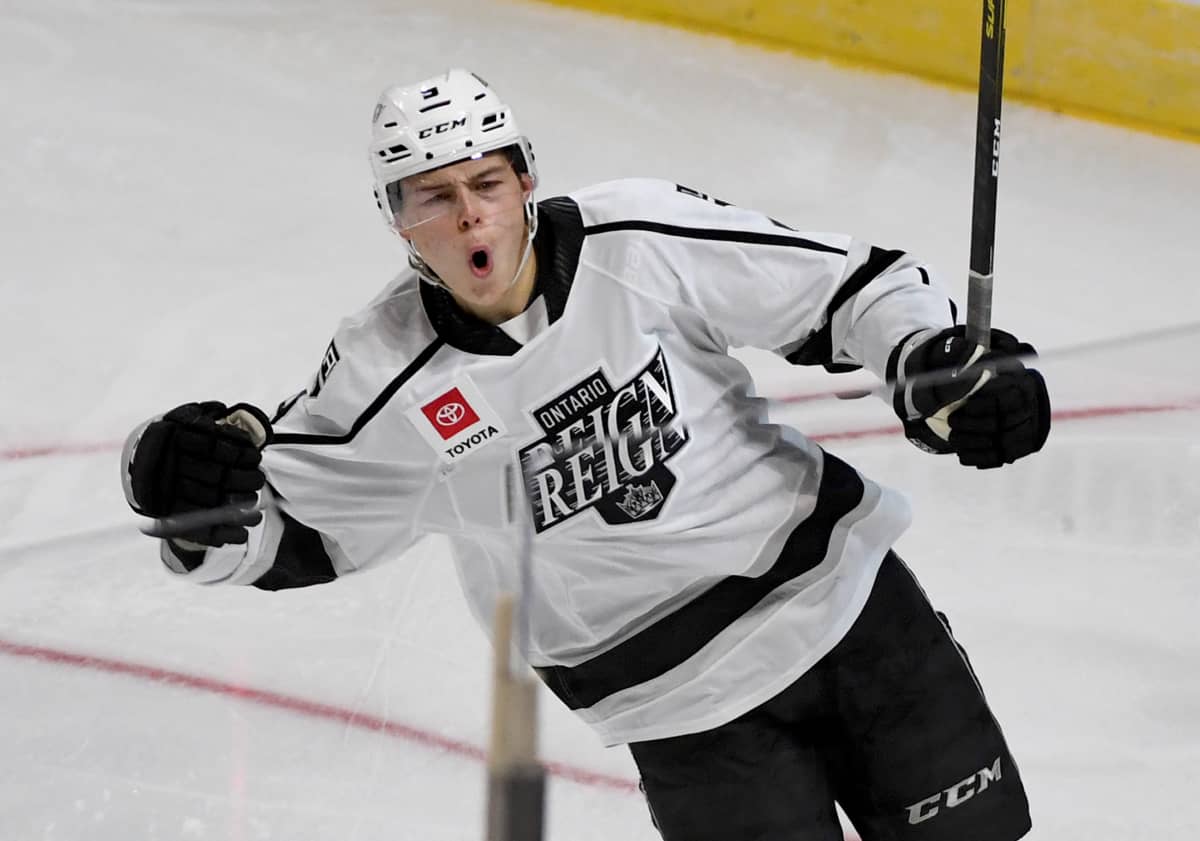 Knocking on the door of the Los Angeles Kings' roster, Ontario Reign Finnish forward Rasmus Kupari is primed for a breakout season.
One player who will have eyes on an NHL roster spot come training camp is Ontario Reign forward Rasmus Kupari.
The Finnish forward is coming off of his age 20 season, where he played 32 games with the Reign and got his first taste of NHL action, appearing in seven games with the Los Angeles Kings. His time in the NHL was brief, so I don't want to go too crazy with looking at numbers, but here's how he fared with his most common linemates:
Moore – Kupari – Kempe: 61.1% xG% in 31 minutes together.
Moore – Kupari – Wagner: 27.3% xG% in 32 minutes together.
There was a big difference in Expected Goals depending on who the other winger was. The sample is small, but playing with the skill and offensive ability of a player like Kempe instead of Wagner was noticeable. We only have seven games of NHL action, so we'll take the info we have and file it away.
In Ontario, Kupari had eight goals and 23 points in those 32 games. The 0.72 points-per-game was second on only to Arthur Kaliyev (0.78) on the team. The 2020-21 season was his second at the AHL level. However, his first year in 2019-20 was cut short due to an injury he suffered at the 2019 World Junior Championships. The injury, which required ACL surgery, ended his rookie season as a pro after just 27 games. He had scored eight points in those 27 games before going under the knife.
After being drafted 20th overall in the 2018 NHL Entry Draft, Kupari had an impressive season with Karapat Oulu of the SM-Liiga, Finland's top professional league. As an 18-year-old, he scored 12 goals and 33 points in 43 games, a points-per-game mark that put him well into the upper echelon of the league (chart via QuantHockey):
Even after the severe knee injury, Kupari's production in his second-year pro had him above the 75th percentile in the AHL in both assists and points-per-game (charts via QuantHockey):
It goes without saying that the expectations heading into 2021-22 will be pretty high for the skilled Kupari. While he will certainly have hopes of making the NHL roster out of camp, for argument's sake here, we'll assume he starts the year in Ontario. Barring an eye-opening camp, I think this is the most likely scenario. He still only has just 66 games worth of professional hockey under his belt, spread over two abbreviated seasons.
What position Kupari plays with the Reign is another question. A natural center, there's a legitimate chance the 6'2″ forward will need to make a shift over to the wing, something he is perfectly fine with. Given the depth down the middle, I'm expecting him to play on the wing as well. Hockey Royalty's Russell Morgan recently noted the chemistry between Kupari and Samuel Fagemo during the Rookie Faceoff, an idea that I subscribe to as well.
In August, I had suggested this could be a big year for the duo of Kupari and Fagemo, partly because of the development thus far but also because I suggested that they could flank reigning AHL MVP, T.J. Tynan. There's plenty of variables, but if Quinton Byfield starts the season in Ontario, I'd imagine Tynan will slot in as 2C, and having the skill of Fagemo and Kupari on his wings would make one of the more exciting lines in the league.
One of the most talented players in Ontario, Kupari brings an elegant skating stride with soft hands:
The smooth-skating forward showed off his wheels against the Vegas Golden Knights during Monday's Rookie Faceoff game:
Yeah so Rasmus Kupari is F A S T. Where did he even come from lololol #LAKings pic.twitter.com/GpHZqypuMz

— Spoked Z (@SpokedZ) September 20, 2021
He is extremely shifty with the puck and is a great skater who uses his edges extremely well. This next clip is of an empty-net goal, but watch how he turns the blade of his stick to flip the puck over the defenseman's stick and then pivots his feet to shield his body and go in alone on net:
For all of his great skill and playmaking ability, he has what is probably a bit of an underrated shot. He's not at all afraid to shoot the puck, as evidence by this bullet streaking down the right-wing:
That high level of skill makes him extremely dangerous on the power-play. For the Reign, he often played on the right circle, and you can see here how patient he is with the puck, pulling the killers close and waiting until the last second to fire a perfect cross-seam pass to set up a goal:
His four power-play assists last season were tied for 2nd on the team in Ontario.
In his seven games with the Kings, he did pick up one goal – which was on the power-play. They used him in the slot/bumper role in the 1-3-1 formation, and his movement here off the puck always has him ready and available as an option. He makes no mistake with his shot when he gets his chance:
Kupari comes in at number nine on The Athletic's NHL Pipeline Rankings. Corey Pronman had this to say:
"He's a good-sized center with legit NHL level speed and skill, and he's dangerous off the rush because of that combination. He's not the best passer you'll ever see, but he can hit seams and make creative plays with the puck under pressure."
Pronman also noted that Kupari spent some time on the penalty-kill in Ontario, praising his overall compete level. During last month's development camp, the 21-year-old talked about adjusting his style of play to adapt to the North American game:
"…the game is a little different here in North America, a smaller rink. So, like I said, last year was huge. I tried to work on being more direct with the puck, drive to the net, all these kinds of stuff. Back in Europe when I played, there's more space, more time with the puck. Yeah, and maybe [I'd like to be] a little more physical."
He mentioned being direct a few times during that press conference, which was already on display last season in Ontario.
Jaret Stoll of the Kings' development staff also noticed some changes in Kupari at Development Camp:
"I could tell he got stronger over the course of the offseason…when he didn't have the puck you noticed his speed, but when he did you noticed his skill. He's gotten better for sure using his size; you don't realize how big he is until you're right beside him. For a big man like that who can skate and have the skill level that he has, that's pretty scary. The sky is the limit for him. He loves working hard and is great to coach."
As he enters the second year of his entry-level deal, if he can continue to add that element to his game to go with his natural ability, there's no doubt there is an NHL player here. Whether it's as a center or a winger and whether he can reach that top-six potential remains to be seen.
I also think it's noteworthy that he wore the "C" in Monday's final game during the Rookie Faceoff in Arizona.
In Episode 4 of Making It Reign, I predicted Kupari would lead the Reign in scoring. I think he's that talented. If I'm wrong, though, it's very likely due to him being in Los Angeles. Which I think we'd all be excited about.