LA Kings: How does Cal Petersen's new contract compare to other goalies?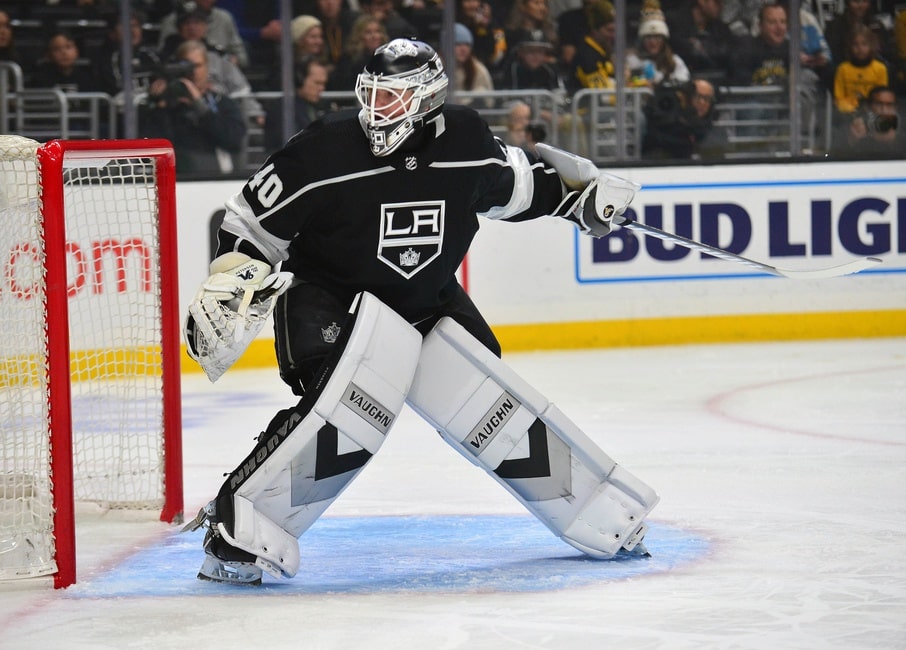 On Wednesday, the LA Kings gave goalie Cal Petersen a well-deserved contract extension. But how does he stack up against other NHL netminders?
I would say the wait is over, but there wasn't really a wait. LA Kings GM Rob Blake wasted no time and finally gave his starting goaltender, Cal Petersen, a brand new contract that not only benefits the team but also helps Cal attain his well-deserved paycheck. 
Petersen's contract wasn't up until the 2022 NHL free agency period. Still, the idea was to get an extension done early and very quickly to secure holding onto the breakout goalie from last season. The deal that was agreed upon was a three-year contract with an AAV of $ million. The deal also comes with a modified no-trade clause which gives Cal a ten-team no-trade list throughout all three years of the deal.
After last season's formidable performance, everyone has enough confidence in Cal to become LA's No. 1 goalie for the present and future. The team is finally trying to make a push for the playoffs after years of rebuilding, and now that the Kings have finally found their No. 1 goalie for the next four years — four because the contract doesn't kick in until 2022-23 — and managing to get that part out of the way. 
Some fanbases considered this contract an "over-payment," but the truth is that Cal is underpaid. Kings fans would agree, seeing how Petersen managed to keep the Kings from utter embarrassment.
Before we compare Cal's new contract to any other goalie in the NHL, we need to get an understanding of Cal himself.
If that chart above doesn't prove to you how good of a goalie Cal is, I don't know what will. When it comes to WAR (wins above replacement), I usually tend to stray further away from it, seeing how it's more of a basic stat, but in this case, I want to show off how even the most basic statistics prove Cal's value.
98% WAR is one of the best WAR percentiles out of any goalie in the NHL. Wins above replacement measures a player's value to his team on the ice and how that player does when compared to a replacement-level player. As you can tell, 100% WAR is considered the best of the bunch, the cream of the crop, the cherry on top — you know where I'm getting with this. 
When you have a goalie on a struggling team that has a WAR percentile of 98%, you can expect the best of the best out of him. That is exactly what we saw from Petersen last year. He saved the LA Kings from so many embarrassing losses last year, and it's kind of crazy to think how underrated he is. That, by the way, is not to mention how his even-strength goaltending ranked at 80%, which is quite impressive considering he was on the Kings. The penalty kill ranks at 52%, which is what an average goalie would have. 
When pucks go high, he'll save them. Jfresh's model lists Petersen's high shot saves at 97%, which once again continues to impress. He's also a fantastic goalie when it comes to shots down low, as his low shots rank at 75%. Some smaller details of his game also continue to impress as Cal has great starts and rarely has bad starts to games. He's a consistent player in net and he knows how to control a rebound better than most goalies around the league.
Now that Petersen's player card is out of the way, we can finally compare him and his new contract to those goalies in the NHL who have a similar contract as the Kings' No. 1 netminder.
When I think of Cal Petersen's new contract, I think of all the recent goalie contracts handed out and how they all look so similar. They all sit around the $5 million mark, which is kind of weird.
Some contracts that come to mind are Thatcher Demko's five-by-five contract which was signed earlier this year, Linus Ullmark's new contract with Boston, which carries a $5 million cap hit, and Elvis Merzlikens new contract, which carries a $5.4 million cap hit, which was only signed a few days ago before Cal signed his.
The first possible comparison, and the closest in my eyes, was Thatcher Demko. Both goalies played on a horrible defensive team, and both goalies helped those teams majorly. Demko had to save the Canucks every single game and stood on his head night after night, just like Cal Petersen did in Los Angeles.
I remember when Demko signed his contract and how fans from around the league commented on how good the deal was. The contract carried an AAV of $5 million, which is exactly what Cal's AAV will be starting from 2022-23. What does shock me is how people thought Demko's contract was great, but Petersen's was an over-payment when, in reality, there isn't too much of a difference between the two.
The above shows Demko's player card from his most recent season in Vancouver.
As you can tell, he's a bit more rounded of a goalie. He's better on the penalty kill, better on the medium shots, and better when it comes to the low shots. Obviously, all important stats, but in reality, Cal exceeds far more in the more important areas.
Petersen is more valuable to his team, as told by the WAR. He controls rebounds better, plays better on even strength than Demko, and is more consistent than Demko. He's built like the better player out of the two, and he was on a worse team. It makes no sense when people praise Demko, but Petersen's skill goes unnoticed.
Another comparable would be Elvis Merzlikens of the Columbus Blue Jackets.
There's not much to say here other than it feels like a monstrous overpay for a goalie coming off of a pretty awful season. Merzlikens isn't a bad goalie by any means, but is he really worth $5.4 million? Easy answer: nope. The contract and its money are comparable to Cal's deal with the Kings, but Cal is better seven days a week, 365 days a year when it comes to the player's skills.
The final comparable that I could think of would be Linus Ullmark, who just recently joined the Boston Bruins. Ullmark's value definitely hasn't been as high, seeing as he was on the Buffalo Sabres, and the Sabres aren't special. This makes the contract very confusing. 
Ullmark is fantastic when it comes to 5-on-5 hockey, but he's pretty awful once it goes down to the penalty kill. Specifying the minor things, he seems to be either average or a bit above average. He wasn't the best goalie in the free agency market this year, but that doesn't make his contract bad by any means. Ullmark is worth $5 million; it's just that Petersen is worth far more.
Some other smaller things also made Cal an amazing goalie, and a good example of one of those things is saves. To be a good goalie in the NHL, you need to make saves. Because if you don't make a save, the puck will go in the net… and you will lose. 
The above shows a chart of the top 10 goalies in the NHL last year sorted by saves. (Number of saves in between the black bars). Connor Hellebuyck had the most saves in the NHL with 1331, but if you look a little lower in the seventh spot, you will see the man of the hour, Cal Petersen. Petersen finished seventh in the league via saves, finishing ahead of goalies like John Gibson, Mackenzie Blackwood, and (not shown in the graph) Vezina finalists Marc-Andre Fleury and Phillip Grubauer.
Again, the above shows the best goalies in the NHL ranked by GSAx (goals saved above expected), and Cal does rank a little lower at spot number 18, but what interests me the most is who he finishes higher than. A few players he finished higher than include Linus Ullmark, Tuuka Rask, Robin Lehner (also a goalie making five million AAV), and Jordan Binnington, a goalie who signed for six million a few months earlier. As you can see, Petersen has roughly saved more goals that were supposed to go in than these players who make as much, if not more than him. It truly shows the value of Cal Petersen.
Finally, a stat we recently talked about, the WAR (in point for this time) stats which are in between the black bars once again. Would you look at that? Cal finished in the top 10 of goalies for WAR. He ranks higher than Igor Shesterkin, who oddly receives more hype than him and also makes more than Cal. Some goalies are better than Petersen, but he does finish top 10 in the league for WAR as of last season.
It truly shocks me how Cal's agent didn't land him more money after the season he had last year. The case that Petersen is a top 10 goalie in the NHL can be easily defended. Now that the Kings have him locked up for another four years, he will surely be able to work harder than ever to become an even better goalie than he was last year and lead the Kings to the promised land like Jonathan Quick did in the early-to-mid 2010's.