LA Kings: Western Conference Outlook for the 2023-2024 season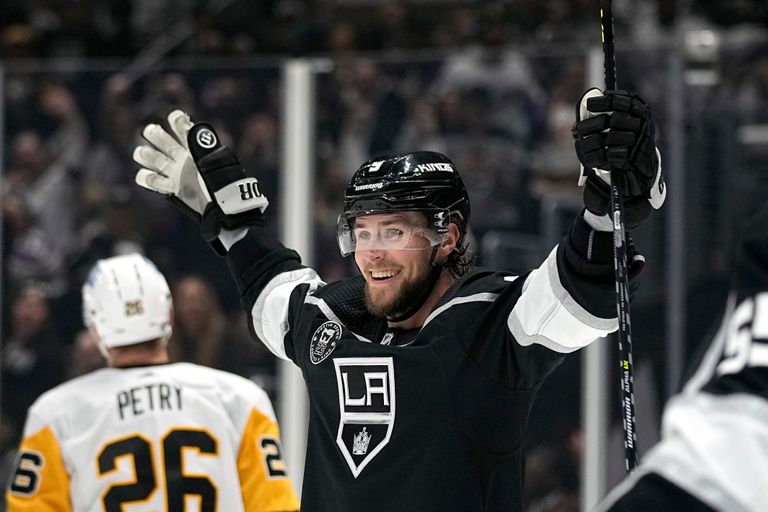 Today I'll be looking at the Western Conference and what it means for the LA Kings.
Los Angeles Kings
The LA Kings are my pick to win the Pacific Division. They added Pierre-Luc Dubois, to give them the most dangerous center depth in the NHL. They also signed Cam Talbot to a one-year contract to be a potential elite tandem with Phoenix Copley. The Kings, to remain near the top of the division, need 2020 2nd overall pick Quinton Byfield to emerge and put up around 50-60 points to continue the projected ceiling he can reach. They also need Arthur Kaliyev to emerge as a 30-goal scorer and he'll be given every opportunity to do so by playing with Kevin Fiala and Dubois. They also will be depending on one or both of Jordan Spence and Brandt Clarke to contribute. If either or both emerge the Kings will be the deepest team in forward Depth and Defensive depth. I believe this will happen and the Kings will go on a deep Playoff run.
Australian born defenceman, Jordan Spence grabs an assist on a beauty of a Adrian Kempe goal. 🇦🇺👑 pic.twitter.com/W1ukt9faZY

— Sportsnet (@Sportsnet) September 23, 2023
Anaheim Ducks
The Ducks will be a contender to finish last in not only the division but the entire NHL. They will be exciting to watch with the continued development of Mason McTavish and the possibility of the number-two overall pick Leo Carlsson making the roster. However, they will struggle defensively and that will be the downfall. At the deadline, they'll probably move out Adam Henrique and Jakob Slifverberg due to both being unrestricted Free agents at the end of the year.
Calgary Flames
The Flames are the most interesting team in the Pacific Division. They had a disappointing season last year and look to remain competitive in a very good division. However, they have a major issue. Mikael Backlund, Elias Lindholm, Noah Hanifin, Chris Tanev, and Nikita Zadorov all become unrestricted free agents at the end of the season. If Calgary gets off to a slow start there is a very good chance they all will be on new teams by the deadline. So, Calgary desperately needs to get off to a great start otherwise they will be major sellers either before or at the deadline.
Flames rookie Matthew Coronato completes the hatty in the preseason opener 🎩 pic.twitter.com/C9ykvpFYoG

— Sportsnet (@Sportsnet) September 25, 2023
Edmonton Oilers
The Oilers are many people's pick to win not only the Pacific or the West but the Stanley Cup as well. They are an absolute juggernaut offensively, led by Connor McDavid and Leon Draisaitl to go along with their role players in Ryan Nugent-Hopkins, Evan Bouchard, Zach Hyman, and Evander Kane. Defensively they'll struggle. Darnell Nurse is slightly overpaid for what he produces and Mattias Ekholm is currently injured and was their best defenseman throughout the playoffs last season. While Bouchard is quite elite offensively, there are questions about his defensive game. In net Stuart Skinner flashed brilliance but also struggled with his confidence as the playoffs rolled on. Jack Campbell, who got paid to stabilize the net for Edmonton, struggled throughout the regular season. If Edmonton will compete they need their defense and goaltending to rise to the occasion.
Coming off a career best 153-point campaign, how many points will Connor McDavid register this upcoming season? 🤔 pic.twitter.com/TLF3d9AWiT

— Sportsnet (@Sportsnet) September 21, 2023
San Jose Sharks
The Sharks are in the same boat as the Anaheim Ducks. They are a contender to finish last in the league. They are a team that will struggle while their prospects develop. By the deadline, all their one-year rentals in Anthony Duclair, Kevin Labanc, Mike Hoffman, and Alexander Barabanov should be dealt and get the assets they desperately need. It'll be a long season in San Jose.
Seattle Kraken
The Kraken were the surprise team of the NHL season last year who almost made the conference finals in their second season. They will continue to improve with the continued rise of Matthew Beniers and Jared McCann. If Shane Wright breaks out, Seattle will have their top 2 centers for a decade plus. Expect Seattle to compete for the division as well.
Vancouver Canucks
The Canucks are the most confusing team in the division. They should honestly rebuild especially with their cap situation but they've decided to both retool and rebuild on the fly which never turns out well. However, they do have absolute Stars in Elias Petterson, Quinn Hughes, and Thatcher Demko, who usually is a brick wall against LA. I don't expect Vancouver to compete for anything but be a team stuck between seller and buyer, so don't be surprised if Vancouver pulls a move that'll confuse the entire league
Vegas Golden Knights
The defending Stanley Champions look to repeat their success. They have a solid core intact and will be getting Logan Thompson back from injury. Unfortunately, Robin Lehner has probably played his final NHL game due to injury, so that is a major loss on and off the ice. Expect Vegas to compete for the division with the Kings again.
For the first time, the Vegas Golden Knights are Stanley Cup champions. 🥹 pic.twitter.com/lH2NWv78g4

— Sportsnet (@Sportsnet) June 14, 2023
The Central Division
Arizona Coyotes
The Coyotes begin their second consecutive season playing in their college arena. They have a lot of young and promising players in Logan Cooley, Dylan Guenther, Matias Maccelli, J.J Moser, and of course, one of the most underrated Superstars in the league, Clayton Keller. Arizona will play everyone tough. I believe they may compete for a wild card spot if their core takes that next step.
LOGAN COOLEY HAS ARRIVED ‼️ pic.twitter.com/vHGGzHWZuk

— Sportsnet (@Sportsnet) September 23, 2023
Chicago Blackhawks
Chicago is in a complete rebuild they'll be expected to finish close to the bottom of the NHL standings. However, they add a generational talent in Connor Bedard. They'll be better than last season however it's going to be a development season in Chicago.
Colorado Avalanche
Colorado Avalanche. This is the Kings' biggest rival in the central. Every game last season was an absolute battle. It'll continue this season as the Kings play Colorado on opening night. I expect Colorado to be a great team which shouldn't surprise anyone with the elite talent on the Roster. What is worrisome for the Kings come playoff time is if they do match up with Colorado, their Depth is vastly improved. With the additions of Tomas Tatar, Johnathan Drouin, Miles Wood, Ryan Johansen, and Ross Colton, Colorado will be a great matchup and I'm excited to watch it on opening night!
We have agreed to terms with Tomas Tatar on a one-year deal.

Welcome to Colorado, Tomas 🎉#GoAvsGo pic.twitter.com/MeXiq1DNLv

— Colorado Avalanche (@Avalanche) September 12, 2023
Dallas Stars
The Dallas Stars are an absolutely scary team to face. They have King killers in Jason Robertson and Joe Pavelski and added a great player in Matt Duchene via Free Agency. Dallas will be a problem, especially as their young guys, like Wyatt Johnston, continue their development. Expect every game with Dallas to be a tough 60-minute+ game.
Minnesota Wild
The Wild are the team that is a thorn in the Kings' side. Every time they play it's a crazy affair which usually ends up with LA losing in the final minutes of the third period. However, this season even with Kirill Kaprizov, Minnesota will be playing against the wall. The cap Crunch from the Zach Praise and Ryan Suter buy-outs forced them to gut the team. As it stands they currently only have $43,079 worth of cap space available. So the current roster will probably be the end-of-season roster. Minnesota has always been a tough team as every game against them will be an absolute battle. Don't take them lightly!
Nashville Predators
I'm very intrigued to watch Nashville for the sole purpose of seeing if Juuse Saros will be available via trade. I believe Nashville will be competitive however, the inexperienced players they'll have in their lineup will cause them to falter behind and have new general manager Barry Trotz willing to sell. Saros would be the perfect answer to LA's goalie situation both Short term and Long term. I'm very excited to watch Nashville just to see how that situation unfolds. Nashville I believe misses the playoffs and sells a lot including Saros.
St Louis Blues
I believe the Blues are a true in-between team that needs to rebuild but due to big contracts they cannot properly rebuild I don't see them as a big threat to the Kings whatsoever. I expect LA to dominate them every time this season. St Louis will miss the playoffs
Winnipeg Jets
This is a team on the cusp of a major rebuild. We all know Dubois was dealt to LA for Gabriel Vilardi, Alex Iafallo, and Rasmus Kupari. I think it was a great trade for LA because Vilardi was unfortunately injury-prone and was rumored to want a longer extension to remain in Los Angeles. Winnipeg, however, needs to make a decision quickly with Connor Hellebuyck and Mark Scheifele both becoming unrestricted free agents after the season. I believe both will be dealt and Winnipeg won't be a problem for the Kings at all. Expect the Jets to be a full seller.
Scheifele to Vilardi to Connor 🤤🤤🤤 pic.twitter.com/P1tkhAPy5O

— Winnipeg Jets (@NHLJets) September 26, 2023
Featured image credit: AP Photo/Mark J. Terrill