LA Kings Prospect Update – Week of 11/21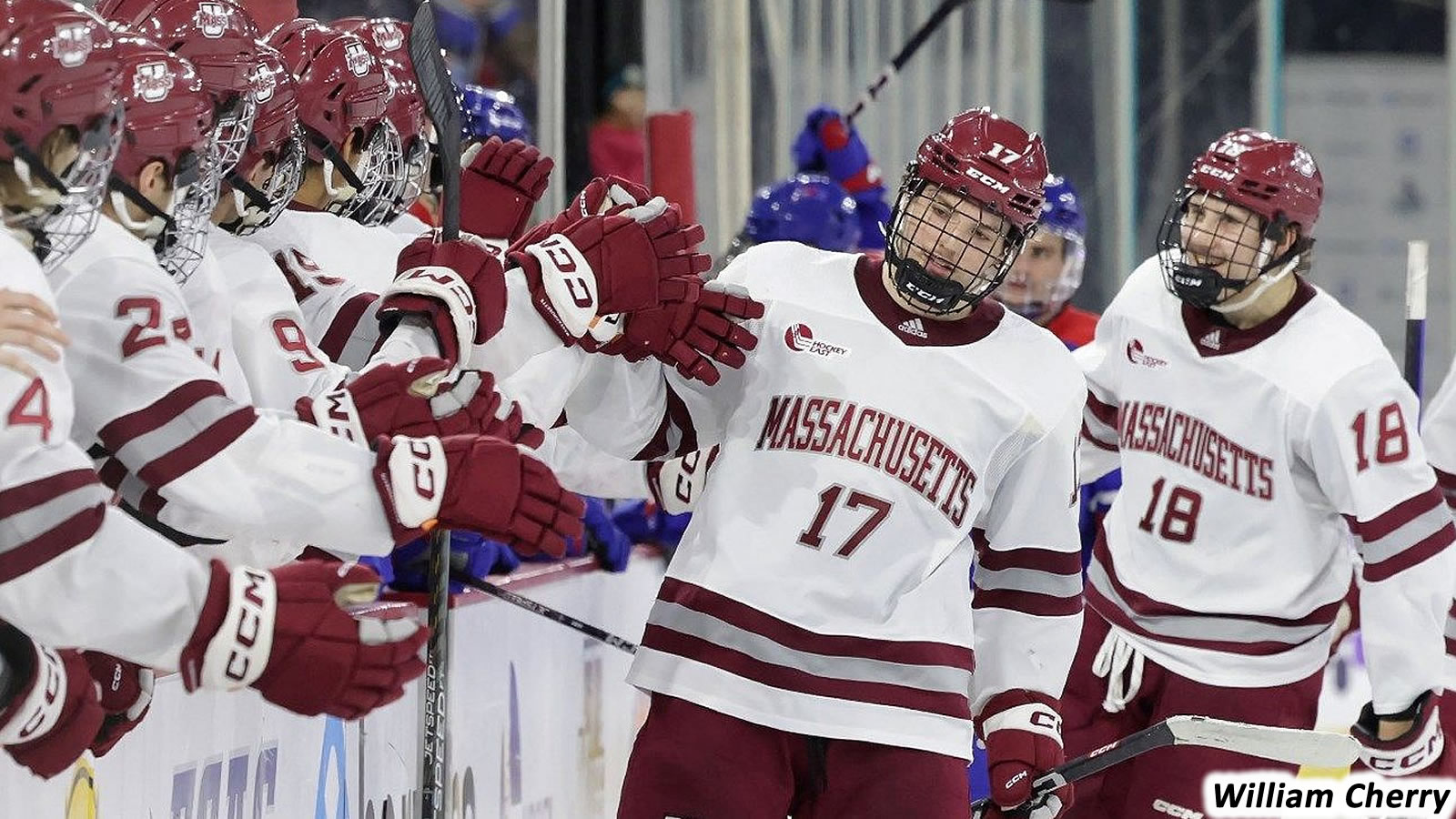 Kaleb Lawrence and his four point week rating highlights the prospect pool this week as Hockey Royalty checks in with the LA Kings pipeline.
Lawrence tallied one goal and three assists in the three games he played for the Owen Sound Attack this week. Considering Owen Sound dropped two of those games, Lawrence's three assists are a bright spot for the attack as they try to rebound from two straight losses.
Kenny Connors has had a similar week, tallying two goals and one assist for U Mass college against UMass Lowell and Quinnipiac. Connors stole the show on the 25th against UMass Lowell, scoring the only two goals U Mass needed to clinch the win.
Here's how the rest of the LA Kings' prospects fared last week:
Francisco Pinelli: No games
Kirill Kirsanov: 0 G, 0 A, -1, 1 SOG in two games
Kenny Connors: 2 G, 1 A, +4, 7 SOG in two games
🎥 Connors from Makar #NewMass X #Flagship 🚩 pic.twitter.com/fazoUqWLaT

— UMass Hockey (@UMassHockey) November 25, 2022
Alex Laferriere: 1 G, 1 A, -3, 8 SOG in two games
Kaleb Lawrence: 1 G, 3 A, -1, 6 SOG in three games
Kasper Simontaival: 1 G, 0 A, +/- 0, 4 SOG in two games
Alexander Dergachyov: 0 G, 0 A, -1, 3 SOG in two games
Ben Meehan: 0 G, 2 A, +/- 2, 8 SOG in two games
Otto Salin: No games
Aatu Jamsen: 2 G, 1 A, -2, 11 SOG in three games
Braden Doyle: 0 G, 0 A, -2, 1 SOG in one game
Angus Booth: 0 G, 0 A, 1, 2 SOG in two games
Jared Wright: 0 G, 1 A, +2, 5 SOG in two games
Jack Hughes: 0 G, 0 A, -3, SOG 2 in one game
Bulat Shafigullin: 0 G, 0 A, +/- 0, 0 SOG, 21:57 TOI in two games
Jack Sparkes: 0 G, 1 A, 2 PIM +2, 1 SOG in two games
TJ Tynan: 0 G, 0 A, – 2, 0 SOG in two games
Jordan Spence: 1 G, 1 A, +2, 7 SOG in two games
Jordan Spence makes it 5-0 #Reign with his 1st goal of the season!

Assisted by: Turcotte(3), Byfield(3) pic.twitter.com/3L1QMNw22Q

— Eric (@kingsgifs2) November 24, 2022
Akil Thomas: OUT INDEFINITELY
Taylor Ward: 0 G, 0 A, +/- 0, 4 SOG in two games
Aidan Dudas: 1 G, 0 A, +2, 3 SOG in two games
Samuel Fagemo: 2 G, 0 A, – 1, 8 SOG in three games
Woooow we love a power play goal @samuelfagemo #ReignTrain pic.twitter.com/ZSRGOTqkAy

— Ontario Reign (@ontarioreign) November 28, 2022
Tyler Madden: 1 G, 1 A, +2, 9 SOG in three games
Austin Wagner: Did not play
Helge Grans: 0 G, 0 A, +/- 0, 5 SOG in one game
Tobie Bisson: 1 G, 0 A, +1, 6 SOG in two games
Quinton Byfield: 2 G, 4 A, +1, 4 SOG in three games
We broke both our ankles just tweeting about this goal from @byfield55 #ReignTrain pic.twitter.com/7uEqbuaXo3

— Ontario Reign (@ontarioreign) November 28, 2022
Brandt Clarke: 0 G, 0 A, -1, 5 SOG in two games
Tobias Bjornfot: 1 G, 0 A, +3, 2 SOG in two games
Samuel Helenius: 0 G, 2 A, 0 PIM, +1, 1 SOG in two games
Alex Turcotte: 1 G, 3A, +3, 4 SOG in three
Alex Turcotte nets his first goal of the season to give the @OntarioReign a three-goal lead in #TUCvsONT. pic.twitter.com/XP0OkjniVv

— American Hockey League (@TheAHL) November 28, 2022
Kim Nousianen: Did not Play
Frederic Allard: Did not play
Martin Chromiak: 0 G, 2 A, +2, 4 SOG in two game
Andre Lee: 0 G, 0 A, +/- 0, 1 SOG in two games
Matthew Villalta: Did not play
Phoenix Copley: 3 GA, 53 saves on 56 shots in two games
David Hrenak: 3 GA, 27 saves on 30 shots in two games
Juho Markkanen: Did not play