Takeaways: LA Kings 2, Blackhawks 1 – With One Second Left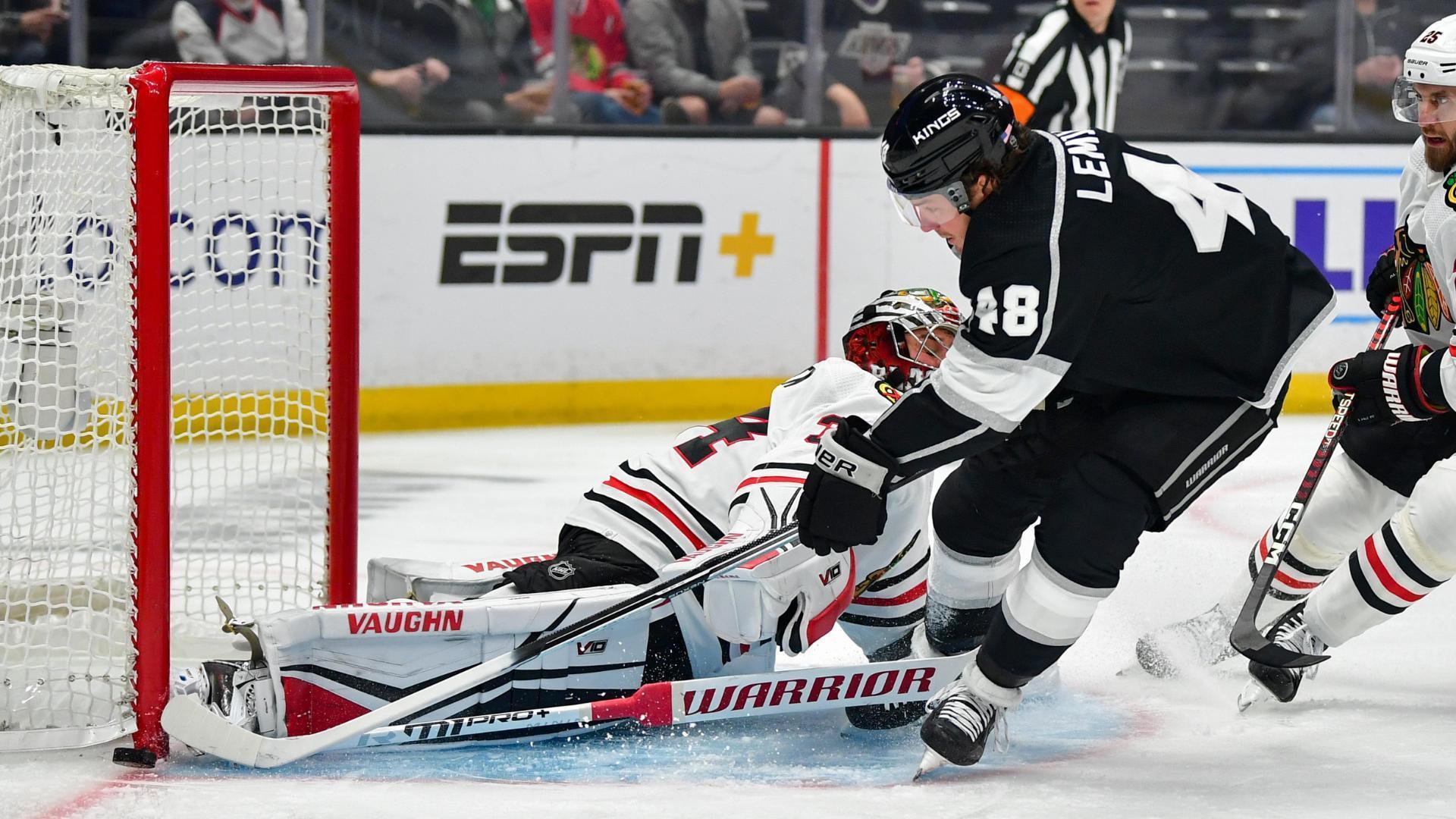 In what looked like a near-carbon copy of last week's game in Chicago, the LA Kings came out on top on Thursday, defeating the Blackhawks 2-1 in overtime.
"There are a lot of similarities […] We didn't have to kill as many penalties in Chicago as we did here, and obviously, with the quality of some of their players on that powerplay, they can make you pay, so that was the major difference in the game. The way it rolled out, the overtime, the score – a lot of similarities," said Kings head coach Todd McLellan after the game.
Scoring
1st Period
CHI – Taylor Raddysh (4) (Power Play), Assists: Jonathan Toews (3), Max Domi (4)
2nd Period
LAK – Phillip Danault (5), Assists: Viktor Arvidsson (6), Trevor Moore (9)
PHIL'S PHIFTH! pic.twitter.com/4sLtIwSbNX

— LA Kings (@LAKings) November 11, 2022
3rd Period
No Goals
Overtime
LAK – Kevin Fiala (4), Assists: Phillip Danault (5), Matt Roy (4)
100 career points for Moore
Just as the LA Kings' powerplay had expired in the second period, Phillip Danault's goal evened the score at one goal apiece. Trevor Moore collected a secondary assist on the play, giving him 100 career points.
Moore continues to be one of Rob Blake's better acquisitions. With only 13 points in 52 games with the Toronto Maple Leafs, the fan-favorite Thousand Oaks native has become a mainstay on the Kings' second line.
In 168 career games with Los Angeles, Moore has 32 goals and 55 assists for 87 points.
Here's to 100 Moore!
Goaltenders Duel
In baseball, a pitcher's duel can be downright boring. I'm sorry, I said it. In hockey, however, dueling goaltenders is downright exciting. Petr Mrazek put on a show for the visiting Blackhawks, stopping Anze Kopitar point-blank in overtime and Phillip Danault twice on back-to-back plays at the end of regulation. Simply put, he willed the Blackhawks to overtime and, thus, a point.
"We were playing better, and they were fresh; they only had one game in 4-5 days, so it was a big two points for us, huge. Their goalie was really good today, but so was Quickie, so I think it was an outstanding job all around," Phillip Danault said of the goalies on both sides.
At the other end, Jonathan Quick was up to the task, matching Mrazek's effort. While he didn't see as many high-danger changes as his counterpart, Quick came up big with notable saves on Max Domi's one-timers and in the final minute of overtime before giving way to Kevin Fiala's heroics.
That Jonathan Quick guy is pretty good, eh? pic.twitter.com/vHz1IPjCRE

— LA Kings (@LAKings) November 11, 2022
Kevin Fia-LA!
Are you not entertained? That felt like a playoff game. That felt like a Kings-Blackhawks game from a decade ago. Both teams could have conceivably come away with a win, as the game was trending toward a shootout. Kevin Fiala recovered a loose puck in his own zone with nine seconds left on the clock.
The Swiss-born forward dished the puck up-ice to Phillip Danault and joined the rush. Danault was initially denied on his shot but received the rebound. Instead of attempting another shot on goal, he found Fiala on the right side with a wide-open net, who buried the puck with 1.4 seconds left on the clock.
"It was a really tight game from both teams; both goaltenders played unbelievable. That was kind of like a playoff game, and it's nice that we've won," said Fiala after the game.
WITH 1.4 SECONDS LEFT, KEVIN FIALA WINS IT IN OT FOR YOUR LA KINGS pic.twitter.com/Min2uqvDBz

— LA Kings (@LAKings) November 11, 2022
"They entered the zone, and what was good about the entry is that Phil's a left-handed shot, and he could pull the puck back across his body and kind of cross and protect it as it went," McLellan said of the play. "He had another lefty with him, so the side of the ice that we came in on was valuable to us. We could go lateral; he made a real good play and still had a lefty over on the outside for the rebound.
"I think that's game management, that's awareness, and they also knew the time on the clock, so there was no fooling around. As soon as the puck went out to Kevin, he knew he had to shoot it, and he made it count. That's how I saw that play evolve; a lot of it had to do with hands and the side of the ice that we entered on."
The LA Kings are 3-0-0 on the current homestand and will look to keep it going against the Red Wings on Saturday.
Featured Image Credit: ESPN.com