The LA Kings look to have a formidable top line
With this summer's addition of Kevin Fiala, the LA Kings' potential first line could be the best it's had in years.
The first line of the LA Kings may be the most talented the organization has had in years. At center, Anze Kopitar will once again assume his role as the team's top-line centerman, and on either side of him will be Adrian Kempe and Kevin Fiala. 
Kempe is coming off a career season in 2021-22 in which he tallied a team-leading 35 goals. The 26-year-old winger firmly established himself as a top-six NHL forward and one of the Kings' core players. Kempe also recently signed a four-year contract extension with LA in July, thus cementing his role on the first line.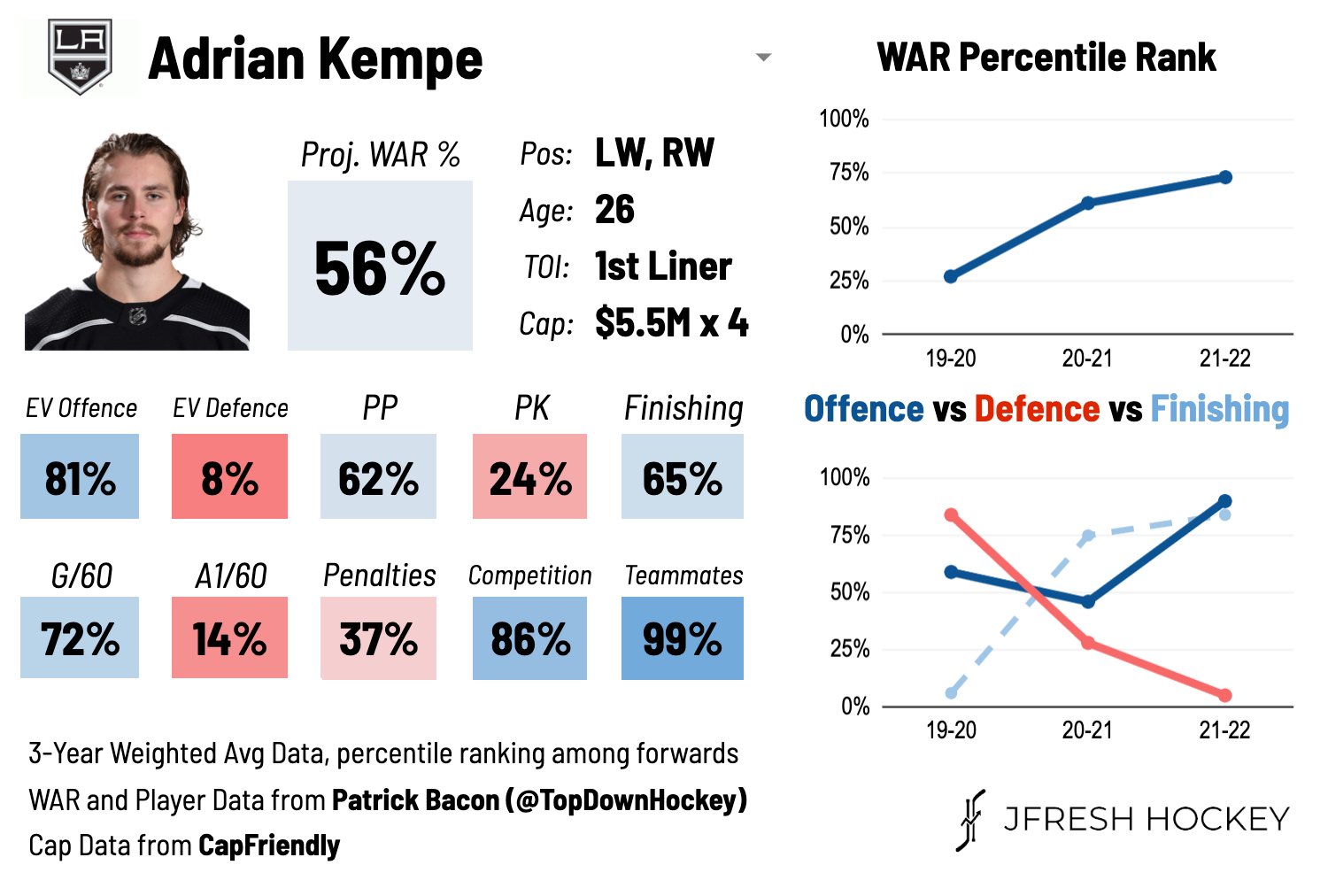 Fiala was acquired in June for a first-round pick and prospect Brock Faber. Last year with the Minnesota Wild, Fiala scored 33 goals and finished with 85 points. His speed and ability to drive play at five on five will no doubt have a positive impact on the Kings moving forward.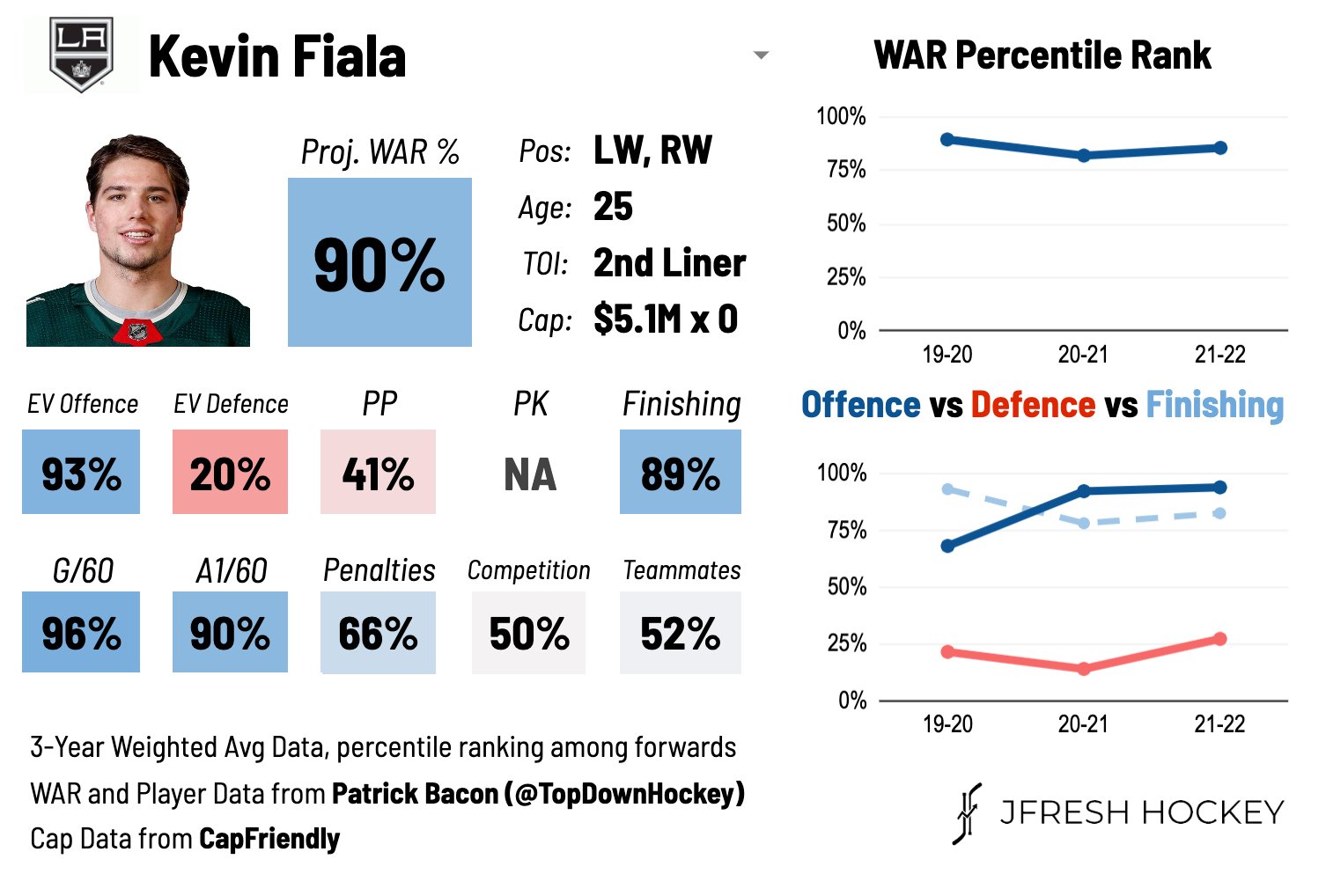 Kempe and Fiala are arguably two of the most effective wingers the Kings have had in quite some time, and no one will benefit from this more than Kopitar. 
It has long been known that the Kings have struggled to find just the right wingers to play alongside Kopitar. While he has played with Kempe on his line for the majority of last year, LA could never find the final piece of the puzzle that would make the top line a consistent force on the ice. In Fiala, the Kings seemed to have finally found it.
A dynamic winger with a scoring touch and great skating ability, he should fit seamlessly alongside Kopitar and Kempe. 
Kopitar will additionally benefit from having Kempe and Fiala streaking down the wings, and the assists will no doubt begin to pile up. 
The Kings' captain totaled 67 points last year, leading LA once again in total scoring. This year, however, with a newly structured first line, look for a significant jump in those numbers. 
After the first couple of days of training camp, the chemistry that is building already seems to be exciting the Kings' veteran, "I'm liking what I'm seeing right now. It should be a lot of fun," Kopitar said of skating with Fiala after the first day of camp. 
The Swiss-born Fiala also recently shared his thoughts on what it is like to be playing with Anze Kopitar, "Having a linemate like that means a lot. He's won some Stanley Cups. I look up to him, and it's a pleasure to play with him."
Kevin Fiala on playing with Anze Kopitar:

"Having a line-mate like that means a lot. He's won some Stanley Cups, I look up to him, and it's a pleasure to play with him."

Have you played with a player like him before? "No, never."#GoKingsGo

— Russell Morgan (@NHLRussell) September 22, 2022
This year's first line is made up of an accomplished veteran, a skilled, solid player whose future with the Kings is unquestioned, and a talented first-year acquisition who can fill in the previous first-line gap. Ultimately, the trio of Fiala-Kopitar-Kempe has the potential to be one of the most dynamic lines in the NHL this season.
(Main photo credit: David Berding/Getty Images)