Takeaways from LA Kings' 6-3 loss to the Minnesota Wild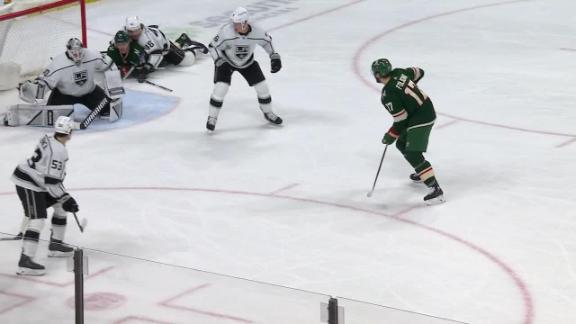 That was… interesting.
Yesterday, the LA Kings squared off with the Minnesota Wild, and while it started off great, things quickly fell off, as the team fell 6-3.
Early on in the game, the Kings went to the penalty kill, and while short-handed, Trevor Moore set up Rasmus Kupari for a nice look and goal to open the scoring.
Rasmus Kupari making it look easy. 🚨#GoKingsGo pic.twitter.com/7YzUtopLFJ

— LA Kings (@LAKings) April 10, 2022
Shortly after, Carl Grundstrom made his way from behind the net and backhanded it in on Marc-Andre Fleury to put the Kings up by two goals.
The Kings extended their lead to three after an Adrian Kempe power play blast from the point.
It appears that @AdrianKempe wanted in on the fun. 🚨

It's 3-0. 😏#GoKingsGo pic.twitter.com/dwhukAaAOM

— LA Kings (@LAKings) April 10, 2022
You're probably thinking, a short-handed goal, power play goal, AND even-strength goal in the opening frame? How could things go wrong?
The LA Kings just began to sit back, and a tripping penalty from Cal Petersen led to the Wild getting on the board on the power play and going on to score SIX unanswered goals.
What was looking like an easy two points for the Kings quickly shifted into zero points, as the team has now lost three straight games in regulation.
"We gave too many Grade-A chances and they took advantage of it," Phillip Danault told the media in the post-game. "We have to learn how to respond after a goal and push back, instead of sitting back."
"Our identity and our structure is supposed to take care of us, and it's not right now," head coach Todd McLellan said following the loss. "When you don't check well, when you don't breakout well, when you're not good around your net, your details erode, and a team like Minnesota and some of the upper teams can punish you, and they did that."
Three takeaways
1. Abysmal game for Cal Petersen
Now, let me clarify that this loss was on the entire team, not just the goaltender. That being said, it was a brutal game for Cal Petersen.
Petersen stopped 27 of 33 shots, good for an .818 save percentage and a -3.44 GSAx… yikes.
The Kings' next game is on Tuesday against the Chicago Blackhawks, and I'd expect Jonathan Quick to get the nod for that one.
2. Arthur Kaliyev, healthy scratch?
In a move that had a lot of Kings fans scratching their heads, Todd McLellan opted to scratch Arthur Kaliyev ahead of the game.
When asked if Kaliyev was one of the Kings' many casualties due to injuries, McLellan said "There's different reasons for Arthur [being scratched]."
Kaliyev, 20, has 13 goals and 23 points through 72 games played with the Kings this season, as he's been in the lineup for the entirety of the year. It was definitely a surprising move, and it'll be interesting to see if he's back in on Tuesday.
3. Kings with another short-handed goal
As I mentioned earlier, the LA Kings scored a short-handed goal, which marks their 11th of the season, tying them for second place with the Florida Panthers, and trailing the Toronto Maple Leafs by two.
This is a pretty incredible feat, and it's been cool seeing what players like Trevor Moore (who has five of the team's 11 shorthanded goals) can do offensively on the penalty kill.
(Main photo credit: ESPN)