Takeaways from LA Kings' 6-1 win vs Nashville Predators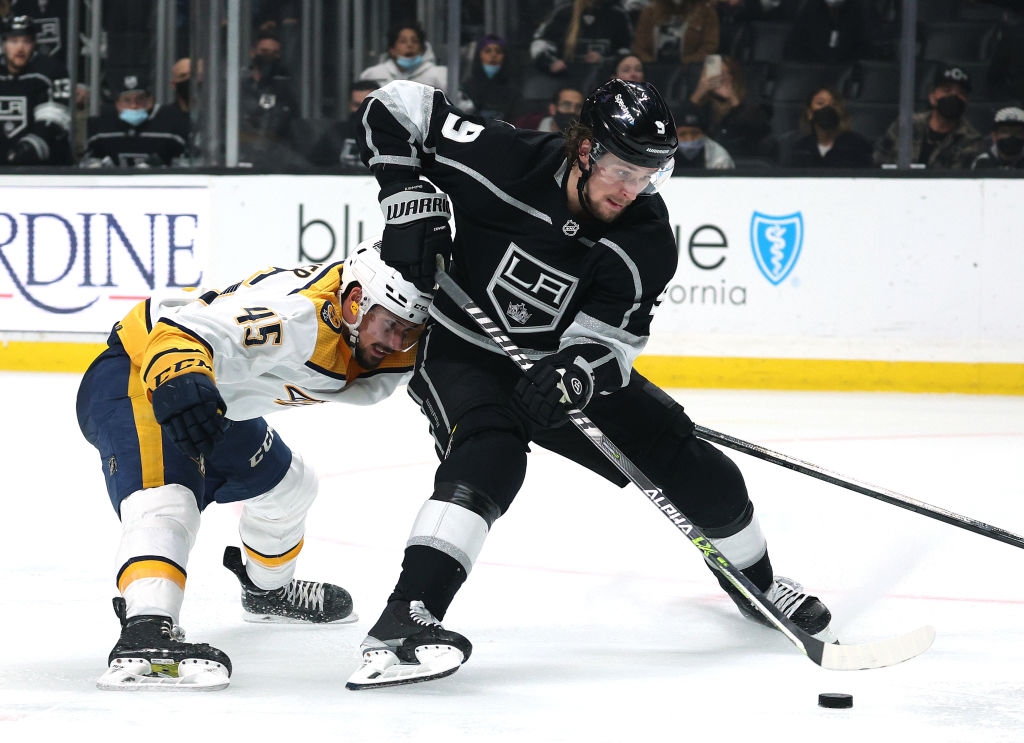 In their first game after the trade deadline, the LA Kings came out with a mission, gaining some ground on their opponents. With the Calgary Flames, Edmonton Oilers, and Vegas Golden Knights all losing in regulation in their respective games, the Kings absolutely crunched the Nashville Predators to earn two points.
Right off of the bat, you could tell the Kings came to play, with three goals in the first 10:39 of the game, all three in a different fashion, as we saw an even-strength goal, power play goal, and shorthanded goal.
In the second period, things slowed down for the Kings, barely creating any type of quality chances and allowing a goal to Philip Tomasino to get the Predators on the board.
"They definitely came out harder in the second period," said Adrian Kempe during the intermission ahead of the third period.
However, after that, the Kings took control back in the game, and scored three goals in the final frame, two from rookie Quinton Byfield, to finish with a demanding 6-1 victory.
Watch @Byfield55 bury. 🚨#GoKingsGo pic.twitter.com/fs3JIvb44H

— LA Kings (@LAKings) March 23, 2022
"We have a great group of guys in there, and I'm just excited to be a part of it. Each game, we come in with a winning mindset, and we know we can beat every team in the NHL right now, so it's an amazing mood and great to be here," Byfield said following the game.
With this win, the LA Kings improve to 35-22-8 and are now three points ahead of the Oilers and six points ahead of the Golden Knights. Next up, the Kings will take on the Chicago Blackhawks on Thursday and then two straight games against the Seattle Kraken. They'll need to take advantage of these matchups.
Three takeaways from Tuesday's win:
1. Rasmus Kupari with his best game of the season
If you're just looking at the stat sheet, you'd be curious as to why all of the Kings fandom is raving about Rasmus Kupari after last night's game, but he provided value that can't be seen on a final score app.
Kupari's forecheck was heavy and hard and resulted in multiple goals in which he wasn't credited with an assist. He did finish with one, but as I said, his value went much further than that lone assist.
Mark Borowiecki goes to the locker room after taking a hard hit from Rasmus Kupari.#GoKingsGo #Preds #LAKvsNSH pic.twitter.com/DdlQeZwRL7

— LA Royalty (@LARoyalty1967) March 23, 2022
Kupari finished with 59.29 expected goals percentage (xG%) and 1.08 xGF, and I'd go as far as to say it was his best game by far this season. He's been invisible for a large chunk of this season, and I've been a big critic, but he had an amazing game.
"He played with authority and really asserted himself tonight," head coach Todd McLellan told media in regards to Kupari.
If he keeps this level of play consistently, it's going to be much harder for the LA Kings to take him out of the lineup when they're fully healthy.
2. Quick with a monster game
After a rough game by Cal Petersen on Sunday, the Kings opted to go back with Jonathan Quick in net last night, and it definitely paid off.
Quick saved 24 of 25 shots, good for a .960 save percentage and 1.60 GSAx. He didn't face an insane workload but still came up big when the team needed him, which is all that really matters.
Quick received the second star of the game, and I'd expect him to get the nod again on Thursday versus the Blackhawks.
3. Kempe's game getting juiced?
It's no secret Adrian Kempe has struggled mightily as of late, as going into last night's game, he had scored just one goal since February 26th, but he definitely changed that trajectory.
Kempe scored two goals, and although one was an empty-net goal, it's still massive for his confidence as the Kings need him to find his game prior to the postseason in May.
.@adriankempe brought the laser show tonight 👀 pic.twitter.com/36ZfsVEuPA

— LA Kings (@LAKings) March 23, 2022
Kempe gets set to play some of the league's worst goaltending through these next four games, so we'll see if he can get on a little streak coming up.