Three takeaways from LA Kings' 5-2 win vs New York Islanders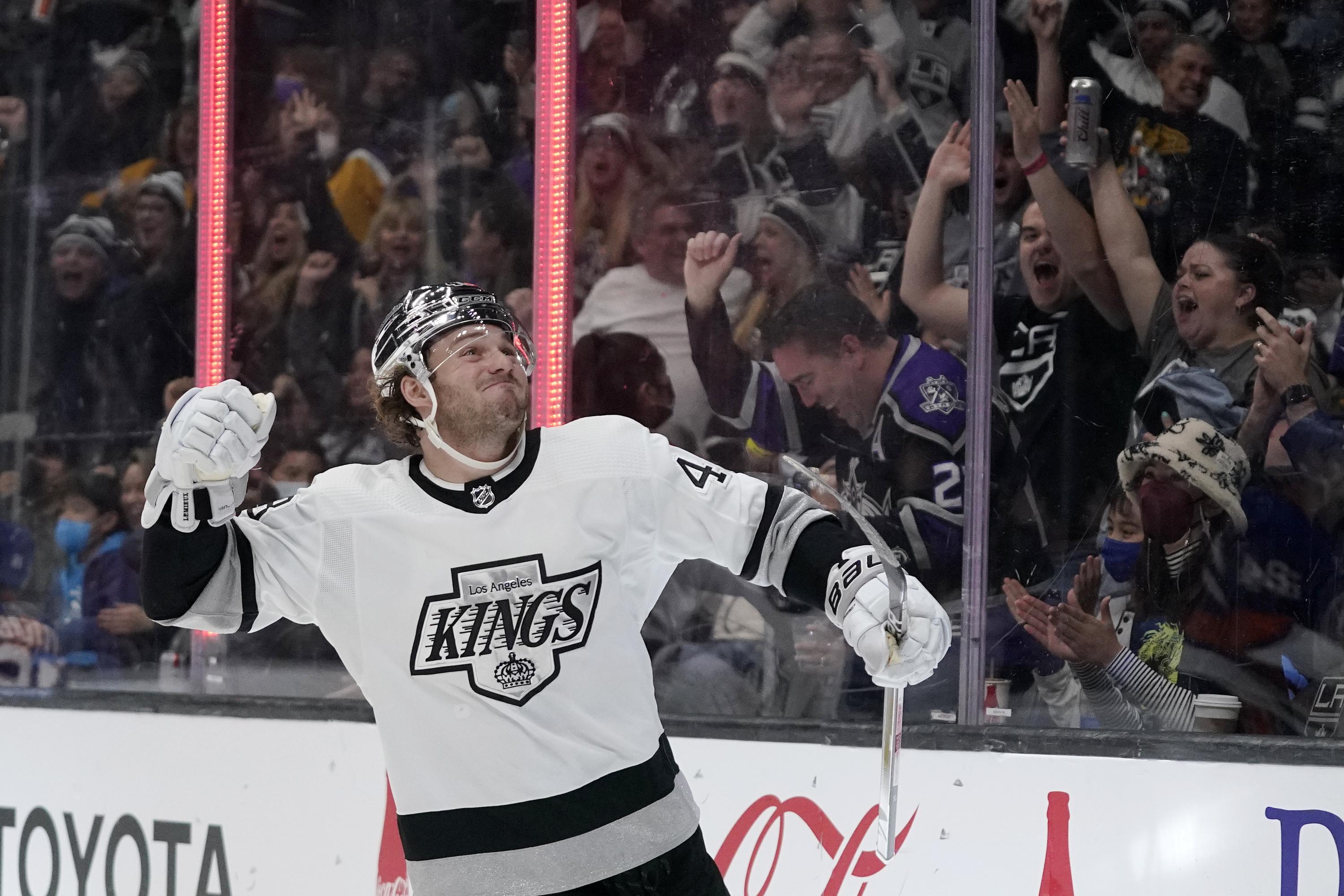 Trevor Moore and Matt Roy each finished with two points while Cal Petersen made 26 saves in the Kings' 5-2 win over the Islanders.
Despite being on the back-end of a back-to-back, the LA Kings didn't bend nor break, as they managed to pick up a convincing win against the New York Islanders, 5-2. The second-place Kings' playoff push continues.
Right from the drop of the puck, the Kings were in the driver's seat. Goals from Phillip Danault and Matt Roy gave the hosts a 2-0 lead before the midway point of the first period. It was an impressive opening 20 minutes from LA, outshooting the Islanders 11-7, and out-chancing them in expected goals, 1.40-0.60.
It didn't stop in the second period either, as Quinton Byfield got his second-career goal off of a weird own goal. Brock Nelson won a defensive zone faceoff but Cal Clutterbuck's swipe at the puck bounced off of his defenseman and into the net. Both of Byfield's goals at the NHL level have come against the Islanders.
3-0 Byfield(2)-Unassisted: https://t.co/A8SirWSgHx#LAKings #GoKingsGo pic.twitter.com/2FHODVTY6a

— Eric (@kingsgifs2) February 27, 2022
"It's funny, sometimes these young guys, you forget their ages. He's only 19 years old and he's learning the league as he goes," interim head coach Trent Yawney told media on Byfield in the post-game.
A defensive breakdown gave the Islanders and Anders Lee their first goal of the game, but Brendan Lemieux made sure to increase the Kings' lead back to three before the end of the second period off of a nice feed from Arthur Kaliyev.
4-1 Lemieux(8)-ASST: Kaliyev(7), Roy(16): https://t.co/UOmaAgYKV3#LAKings #GoKingsGo pic.twitter.com/m4BAOTP1sX

— Eric (@kingsgifs2) February 27, 2022
In the third period, Jean-Gabriel Pageau scored late off of a rebound, but a minute after, Trevor Moore put the game away with an empty-net goal off of a nice defensive play from Viktor Arvidsson.
"It looked a lot like yesterday's game, where everybody had an impact […]. Everybody's hungry for points. There's a lot of good things in our game and there has been for a while," Yawney said when asked about the Kings' energy not dropping on the backend of a back-to-back.
"The fans were awesome tonight, we're excited to play for them for the rest of the year," defenseman Matt Roy said in regards to the high-energy building and the sold-out crowd.
The Kings now have 20 straight games in which they outshot their opponents, and trail the 1971 New York Rangers for first place, which is 22 straight games.
Three takeaways:
1. Matt Roy gets the monkey off of his back
Over the last few weeks, I've noticed a lot of Twitter chatter and discussion about how people thought Matt Roy might have gone the entire season without scoring a goal. Well, he shut those theories down.
Roy found the back of the net in the first period off of a nice feed from Anze Kopitar to put the Kings up 2-0.
2-0 Roy(1)-ASST: Kopitar(35): https://t.co/OPe1W3aJUL#LAKings #GoKingsGo pic.twitter.com/2oJXZKhNdq

— Eric (@kingsgifs2) February 27, 2022
"He was definitely due for that one," Roy's defensive partner Olli Maatta told media. "He has a lot more skill than people give him credit for. He's a good skater, he's strong and he sees the ice well."
"I don't think we try to do anything special out there. It's pretty normal hockey," Maatta said in regards to his pairing with Roy.
2. Danault's hot play continues
Phillip Danault just keeps tearing it up in the City of Angels, as he scored another big goal last night.
Danault is now up to five goals and eight points through his last nine games played. Very impressive and consistent production for the Quebec native.
The entire MAD line has just been amazing throughout this season, and crucial for the team's offensive success, but Danault is really the driver of that trio, and when he's hot so are Moore and Arvidsson.
3. Best game of Maatta's Kings tenure?
Olli Maatta has been the whipping boy amongst Kings fans for the last two seasons, but I have to say, he had a tremendous game last night, and I think it may have been his best in Los Angeles.
Maatta played 17:22 and was a +4. While I don't like using the plus/minus statistic, it's very telling in this case. Maatta also led all players on both teams last night in expected goals percentage, at 89.62%.
"It just feels like you go through ups and downs all the time […] but you just can't stop working," Maatta said when asked about his play this season compared to last season.
If this is the Maatta we continue to get going forward, the Kings may not even be in the market for a top-four left-handed defenseman with Alexander Edler coming back by the end of March.
The Kings welcome the Boston Bruins to Crypto.com Arena on Monday.