Ontario Reign face goaltending questions after 2021-22 season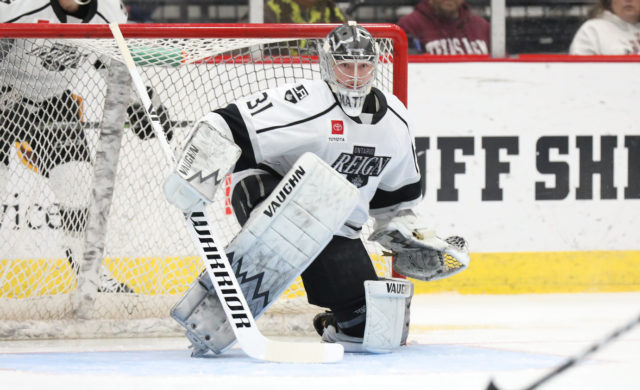 The LA Kings are having a successful season, gearing up for a deep playoff run as the Ontario Reign are hoping for the same during the second half of the 2021-22 AHL season. However, could this be the last time we see the Reign team as it is? Primarily the goaltending tandem and how it could look as early as next season.
The Reign had Matt Villalta, Garret Sparks, Jacob Ingham, and Lukas Parik in between the pipes at times this season. However, they may not have two of the four in the organization come this summer as they could sign elsewhere, leaving the Reign with questions heading into the 2022-23 season.
Villalta, 22, who will be an RFA after this season, has been outstanding and mostly for the team's success this year. The 6-foot-2, 170-pound goaltender is having an All-Star season, going 17-3-6, with a 2.62 GAA and a .914 save % with Ontario.
Prospect Jacob Ingham, who will also be an RFA after the 2022-23 season, is 21 years old and has flipped between Ontario, going 2-2-2 with a GAA of 4.29 and a save % of .861, and the Greenville Swamp Rabbits of the ECHL, where he has a record of 5-3-2 and a GAA of 3.22 and a save % of .895.
Another youngster, 20-year old Lukas Parik, also spent time with Ontario and the Rapid City Rush of the ECHL. For Ontario, the 6-foot-4 and 185-pound Parik is 3-0-1 with a GAA of 3.50 and a save % of .893. For Rapid City, he has a 10-6-5 with a 2.57 GAA and a .921 save %.
The veteran of the group, 6-foot-3 and 201 pound Garret Sparks, is 28 years old and could be a UFA after the season. With the Ontario Reign, he has a record of 5-4-0, a GAA of 3.26, and a .893 save %.
Sparks and Villalta are the key pieces here, either will re-sign with the organization or elect to sign elsewhere and begin a new challenge. These two could also be pieces in an upcoming trade on deadline day, especially Villalta, who has performed well in theAHL and is still young.
Do not be surprised if the goaltending duo for the 2022-23 season is Ingham and Parik. The Kings are going young at forward and defenseman, and it could be time for the club to go that route in Ontario. If Villalta and Sparks do, in fact, leave, this would not be a horrible tandem to go into next season with.