Pacific Division Power Rankings After Week 19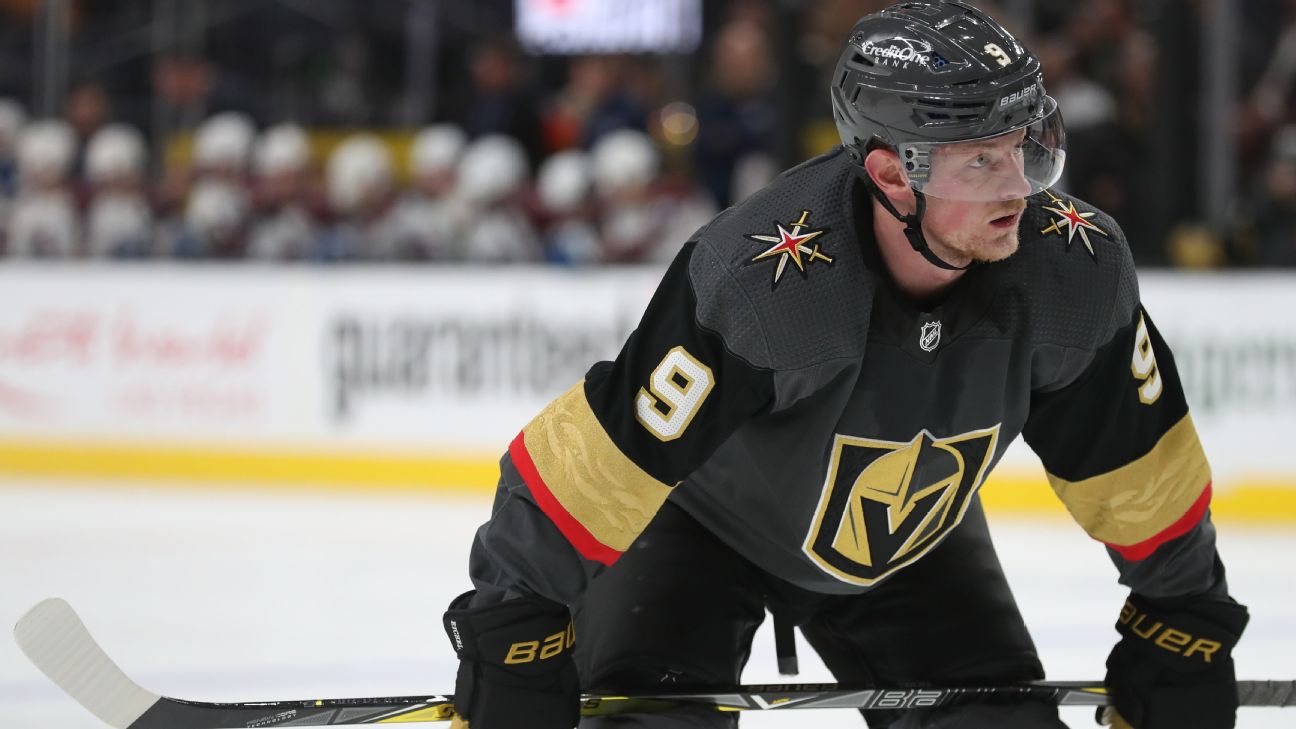 Jack Eichel makes his Golden Knights debut, Tyler Toffoli joins the Flames, and Adrian Kempe can't stop scoring.
8. Seattle Kraken (16-31-4)
Last week: 8
The Kraken didn't pick up any points last week, losing all three games they played in regulation. Their most recent game on Saturday saw Mark Giordano play his first game back in Calgary since Seattle took him in the expansion draft. Giordano played the first 15 seasons of his career with the Flames, spending the last eight as captain and winning a Norris.
The man. The myth. The legend.

Mark Giordano (@MarkGio05) returns to Calgary to a standing ovation. ❤️ pic.twitter.com/l7mrxYKseb

— NHL (@NHL) February 20, 2022
This week: @ VAN, VS NYI, VS BOS, @ SJ
7. San Jose Sharks (22-22-5)
Last week: 6
They'd been hanging around the fringes of the playoff race for much of the season, but the Sharks are starting to fade. An 0-2-1 week, with all of those games being played at home and against teams ahead of them in the Pacific Division, put another dent in their already slim hopes. San Jose's now winless in six straight games and has just one win in eight games since losing Erik Karlsson to forearm surgery.
It doesn't look like it will be enough for the Sharks, but Timo Meier is having a hell of a season. He scored twice and added an assist in last Thursday's 5-4 overtime loss to the Vancouver Canucks.
RIGHT 👏
BACK 👏
IN 👏
IT 👏 pic.twitter.com/2SlB5CSHst

— San Jose Sharks (@SanJoseSharks) February 18, 2022
This week: @ ANA, VS NYI, VS BOS, VS SEA
6. Vancouver Canucks (23-22-6)
Last week: 7
Thursday's OT win over the Sharks helped the Canucks move ahead of them in the rankings this week.
CLUTCH. pic.twitter.com/WyY9VHnOel

— Vancouver #Canucks (@Canucks) February 18, 2022
However, they followed that up with an ugly home loss to the Anaheim Ducks on Saturday. They were down 7-2 in the third period before a pair of garbage time goals helped make the final score a more respectable 7-4. Vancouver played just two games last week and allowed a total of 11 goals.
This week: VS SEA, VS CGY, @ NYR
5. Anaheim Ducks (24-19-9)
Last week: 5
The Ducks didn't have a lot of fun in Alberta, dropping games by scores of 6-2 to the Calgary Flames and 7-3 to the Edmonton Oilers. They had a much better time in Vancouver on Saturday, though. Adam Henrique and Nicolas Deslauriers each scored twice, while Troy Terry potted his 26th of the season to help Anaheim snap a four-game winless streak.
A big hit ➡️ scoring opportunity ➡️ Ducks goal @AnaheimDucks | #FlyTogether pic.twitter.com/fh8ttPibCk

— Bally Sports West (@BallySportWest) February 20, 2022
This week: VS SJ, VS LA, VS NYI
4. Edmonton Oilers (28-19-3)
Last week: 4
I was all ready to move the Oilers up a spot this week. They'd run their winning streak to five games, beating three Pacific Division teams in the process.
Then Sunday happened. Edmonton laid an egg in a 7-3 loss to the Minnesota Wild. They were down 3-0 just over six minutes into the game, and later in the first period, it got to 4-0. The peaks and valleys of this Oilers season have been pretty extreme. They can't let Sunday's loss spiral into another long losing streak as they get set to begin a tough road trip.
One of the lone bright spots for Edmonton on Sunday was the continued production of Evander Kane. He has nine points (5-4-9) in 11 games as an Oiler so far.
Kane's fifth in 11 games gets us on the board tonight. 🚨

#LetsGoOilers pic.twitter.com/lR6h533iON

— Edmonton Oilers (@EdmontonOilers) February 21, 2022
This week: @ TB, @ FLA, @ CAR
3. LA Kings (26-17-7)
Last week: 3
The week began with a tough loss to an Oilers team they're neck and neck with in the Pacific Division but ended with a pair of thrilling comeback wins. The LA Kings erased deficits of 2-0 and 3-2 against the Vegas Golden Knights on Friday before Adrian Kempe's second goal of the night won it in overtime.
🚨 ADRIAN KEMPE FOR THE WIN 🚨

With his second goal tonight, Kempe nets the @SUBWAYCanada OT winner to lift the @LAKings past the Golden Knights. pic.twitter.com/M7dEDKOK4C

— Sportsnet (@Sportsnet) February 19, 2022
It looked for a while on Saturday like the Kings might get Vejmelka'd for the second time this season, but Kempe and Drew Doughty weren't going to let that happen. They each had two goals, and an assist as the Kings scored four unanswered goals to turn a 3-1 deficit into a 5-3 win.
"Last game doesn't mean anything if we don't win today."

Doughty, with his second goal of the game, is leading by example. #GoKingsGo

— Ryan Sikes (@ryan_sikes10) February 20, 2022
This week: @ ARI, @ ANA, VS NYI
2. Vegas Golden Knights (29-18-4)
Last week: 2
The Jack Eichel era is officially underway in Vegas. The Golden Knights were shut out 2-0 by the Colorado Avalanche in his debut last Wednesday before he picked up an assist in Friday's 4-3 OT loss to the Kings. He scored his first goal on Sunday, adding an assist as well in a 4-1 win over the Sharks that snapped a three-game winless streak for the Knights.
Jack Eichel gets his first goal with Vegas, and the @GoldenKnights are up 2-0! pic.twitter.com/y3jACGWtNt

— AT&T SportsNet™ | RM West (@ATTSportsNetRMW) February 21, 2022
This week: @ ARI, VS COL
1. Calgary Flames (29-13-6)
Last week: 1
The winning streak is up to nine in Calgary after 6-2 wins over the Columbus Blue Jackets and Anaheim, then Saturday's 2-1 win over Seattle. The Flames also added Tyler Toffoli to their contingent of former Kings, acquiring him from the Montreal Canadiens to reunite with Darryl Sutter, Milan Lucic, Trevor Lewis, and Brad Richardson.
It didn't take long for Toffoli to make an impact. He scored in his first game with his new team last Tuesday.
Holy moly Tyler Toffoli. And that pass! 🤯

Goal No. 1 with the @NHLFlames. pic.twitter.com/yASNgpS8Ln

— NHL (@NHL) February 16, 2022
This week: VS WPG, @ VAN, VS MIN